The worst of places to get a pimple right after our chubby cheeks is our forehead! People with bangs have a wonderful way of hiding them unlike the rest. But how long can we hide it?
Yes. This article is going to be exclusively about pimples on forehead. Though I will cover their overall causes and remedies for pimples, I will be paying a little bit special attention to their "causes".
How to cure pimples on forehead:
When I had small pimples on forehead, I never paid attention to it. I continued using my normal face wash and it was gone in a couple of days. That's it. I was never interested to know more about them and I never knew that the forehead pimples are NOT the normal ones which come due to excess oil production and hormonal factors.
Regular appearance of the zits prompted me to do a mini-research on why I got regular pimple on forehead unlike the other places.  Before moving on to the main article, I would like to show this image to you all which is an acne-face map. This method was used in the ancient Chinese medicinal practice to map the external abnormalities to their actual internal root cause. They believed that the external abnormalities were actually triggered by internal factors and depicted them in this map.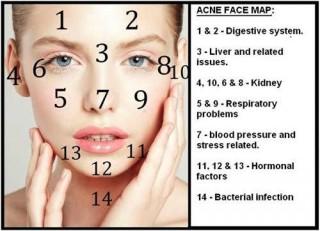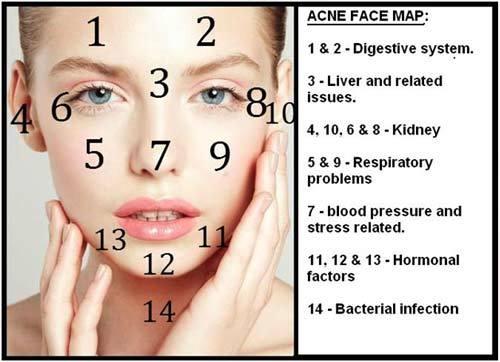 As you can see in the image above, according to Chinese medicine, forehead acne is related to digestive disorders. But there are also other causes that trigger forehead acne. Some of them are mentioned below:
1. Clogged pores:
The main and universal cause of acne. As the forehead lies in the T Zone, which is known for its excess oil production quality, the pores tends to get clogged leading to acne. Clogged pores can easily be dealt with a good CTM routine with a monthly session with the steamer. Please don't overdo the steaming session however relaxing or effective it is as excessive steaming is not advisable for acne-prone skin.
2. Dandruff in hair:
Dandruff in hair can trigger acne in forehead. Try to get rid of the dandruff using a good anti-dandruff shampoo, your acne will vanish like magic.
3. Oily scalp:
If you have oily scalp, the oil tends to seep and result in clogged pores and acne on your forehead. Make sure you wash your hair on alternate days to ensure an oil-free scalp.
4. Certain Medications:
Certain medications like birth control pills have a tendency to trigger forehead acne in certain people. Consult/question your doctor every time he prescribes you medication relating to hormonal issues.
5. Digestive problems:
Digestive problem is probably the main cause of forehead acne if you do not have the issues mentioned above. It needs to be tackled with a balanced diet. Drink lots of water and include green leafy vegetables and fruits in your diet. Avoid fried foods and artificial tasters and almost anything that disrupts your tummy's happiness. Exercising regularly helps too.
6. Excess stress:
Stress is one thing that has something or the other to contribute to most of our illnesses. So beat it by having a healthy life style. Yoga and meditation helps in reducing stress to a great extent. No time for yoga? Indulge yourself in a relaxing spa for an instant stress release. However hard you work, taking some "me" time definitely has its own merits right?
7. Certain Hair products:
Certain hair styling products like hair spray, heat protectant, serum etc has a tendency to trigger acne when they come into contact with your forehead. Ladies with bangs, beware.
8. Over exfoliating:
There is an ancient south Indian proverb that says "if used excessively, even elixir will transform into poison". Though exfoliating helps in removing dead cells and keeping skin fresh, overdoing it could result in skin irritation and acne. Exfoliation is best when not done more than twice a week.
9. Wearing helmets and caps:
If you are someone who drives two wheelers then helmet becomes the most important need. And, we cannot clean our helmets like makeup brushes once in two days etc to keep it dirt free.Hence, it is always advisable to cover your head and forehead with a clean cotton cloth or dupatta before wearing helmet so that your precious forehead is kept away from dirt and possible acne break out. Forgoing helmet is highly dangerous.
[ Read: How To Get Rid of Bumps on Face ]
10. Hormonal causes and other genetic factors:
The final and most difficult to deal with is the hormonal and genetic factors. One of my friends used to get acne on her forehead every time before her periods. Though such factors are difficult to eradicate especially if you are in your teen years or expecting to start a family, they could surely be treated by proper medication.
Ps: all the remedies mentioned here should not be substituted for professional medical advice.
Recommended Articles:
If You Enjoyed This Post, Sign Up For Newsletter
(And get your daily dose of Beauty & Wellness tips straight to your inbox)
The following two tabs change content below.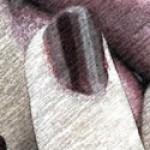 Latest posts by Rajalakshmi Murali (see all)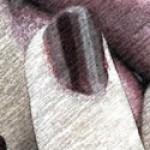 I am a happy-go-lucky girl who happens to love makeup nail arts and stuffs