That hairstyle looks stunning on her but it need not on you.
Angelina Jolie has a lovely square shaped face with a strong jaw line. Pulling her hair off her face completely is an option for her. But if you have a round face, this will not work for you.
Getting a haircut of your choice along with a style and colour to complement it is not enough. Unless the style complements your face shape as well, no hairstyle will give you that desired result that you are looking for.
Women with a round face find it especially difficult to find the right hairstyle.The focus here needs to be on cutting down on the roundness and highlighting the other features. This is how you can go about finding the right hairstyle for round face Indian!
How to determine if your face is round?
Pull back your hair to a tight bun or pony tail and stand in front of the mirror.
Now take a damp chalk and draw the outline of your face in a mirror, which will be your facial shape.
If the width from one side of the forehead to the other is almost equal to the width from one cheek to the other, then you have a face shape that is round.
What you should keep in mind:
Consider hair styles that make the face appear thin and long.
Go for looks that tone down the fullness of round cheeks
Try and keep the hair at the sides of the face till below your chin
Keep more volume around the forehead or the crown and not around the cheeks
What to avoid:
Don't tie your hair tightly back to a pony tail as it will make your face look even wider.
If you are wearing your hair in a ponytail, curl the ends to shift focus from the face or cheeks.
Avoid cuts that end around the chin as this will make your face look more rounded and heavy.
3 Indian Hairstyles for Round Face
1. Messy Long and Layered:
This is one of the most favoured hairstyles for round face Indian girls to remove the chubby round look of a face.
The random layers help make the face look more elongated, while the messy style takes away attention from the face. Make sure that the length of your hair extends below the chin. The parting here is neither side nor middle, but more asymmetrical. You can also go for a zig-zag parting with this look.
[ Read: Beautiful South Indian Hairstyles For Girls ]
2. Long Bobs:
Be cautious while trying a bob cut. Haircut with same length and that falls above your jaw line or just at the chin can make your face look even more round.
Go for a long bob instead, as they are at least 2 inches longer complementing a round face much more. Modern bobs with wispy ends look better on round faces.
Cut the back shorter than the front and make it asymmetrical if possible.
[ Read: Bridal Hairstyles For Indian Women ]
3. Bangs:
Creating bangs is one of the best options of Indian hairstyles for round face that suit them perfect.
Straight bangs are to be avoided at all costs as they will make give your face a flat look. Go for bangs that have a slight wave or curl to add an illusion of length. Wispy side bangs are also a good option.
[ Read: Long Hairstyles For Indian Women ]
The above 3 are some of the most common Indian hairstyles that can go perfectly well with a round face shape. Try them out and let us know how the result looked on you. Which Indian hairstyle for round face did you prefer? You can also check our other article on best Indian hairstyles!
Write to us! Or even better, drop us a picture!!
If You Enjoyed This Post, Sign Up For Newsletter
(And get your daily dose of Beauty & Wellness tips straight to your inbox)
The following two tabs change content below.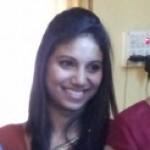 Latest posts by Akshata Shetty (see all)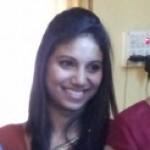 I am Akshata, a Simple and talkative Cancerian, with obviously prominent qualities of the sun sign. I am shy at times and bold most of the times. I believe in enjoying life to the fullest. Having pursed a Degree in journalism, I work as a writer. Well, writing is something I really love apart from my other passions, such as travelling, reading novels, listening to music, photography, and lots more.