5 Potato Face Pack Tutorials With Pictures And Detailed Steps
Potato : it is one of most tasteless and blandest vegetable in the world but is loved by almost every person. Our calorie conscious beauties may not include it in their daily diet, but potato is one of the favourite vegetable for all. Potatoes are a rich source of carbohydrate and contain little protein. They also contain vitamin C and B-complex and minerals like potassium, magnesium, phosphorous and zinc which are very good for healthy and glowing skin.
But do you know that potato is widely used in various face masks too? Potatoes are known to reduce dark spots and blemishes, help in removing tan and pigmentation and also reduce acne and pimples. They also show anti-ageing effects as it contains antioxidants which hinder the growth of free radicals which are responsible for pre mature ageing.
[ Read: Simple Face Packs For Tanned Skin ]
Potato Face Pack Preparation Methods
Read to find out how you can use potato in different face masks.
1. Potato Face Pack for Skin Lightening:
a. Take a medium potato and boil it with the skin.
b. Then take the boiled potato and de-skin it. Mash it properly to get a smooth paste.
c. Add 1 teaspoon of olive oil or sweet almond oil into this.
d. Add 1-2 teaspoon of raw milk and mix.
e. Make a paste and apply it on clean face.
f. Keep it for 10-15 minutes and rinse it off with Luke warm water.
2. Carrot and Potato Face Mask for Skin Lightening:
Carrots contain large quantities of beta- carotene which is converted into vitamin A by the body. Vitamin A rejuvenates the skin and also helps fight wrinkles. Carrots are also known for their skin lightening properties.
a. Take a small potato and a small carrot. Boil them together till they are soft.
b. Cool and chop both of them into small pieces.
c. Add a pinch of turmeric and half a teaspoon on olive or almond oil.
d. Mix them together to form a smooth paste.
e. Apply the pack on your face and keep it for 15 minutes.
f. Rinse it off with cold water.
[ Read: Homemade Fruit Face Packs ]
3. Potato Face Pack for Bleaching and Tan Removal:
This is one of best remedy to remove sun tan. It also controls hyper-pigmentation and lightens blemishes.
a. Slice a medium raw potato thinly.
b. Gently place these slices on your face and keep it for 10 minutes.
c. Rinse with cold water.
d. You can also grate the potato and apply the juice of the potato on your face.
e. Keep two slices of raw potato over your eyes. This helps to reduce the dark circles and puffiness under your eyes.
You feel a healthy glow on your face. For best results, use twice or thrice a week.
[ Read: Ayurvedic Face Packs for Glowing Skin ]
4. Potato Face Pack for Oily Skin:
Potatoes help in soaking away all the excess oil from our skin and also the dirt and grease from the skin. It also heals spotty skin, reduces dark spots on skin and dark patches.
a. Grate a medium sized raw potato
b. Squeeze the grated potato and extract the juice out of it.
c. Add 2 teaspoon of fuller's earth (multani mitti) into the potato juice to form a thick paste. Fuller's earth also helps in absorbing the dirt, grease and excess oil.
d. Apply it all over your face and leave it till it dries.
e. Wash it off with cold water.
5. Potato Face Pack for Wrinkles:
Wrinkles are a sign of ageing. To get rid of fine lines and wrinkles, use potato face pack. It also improves the skin texture, lightens the facial lines and tightens loose skin.
a. Grate a medium sized raw potato.
b. Add 1-2 teaspoon of raw milk.
c. In this mixture, add a few drops of glycerine.
d. Mix them well and apply on the face.
e. Keep it for 10 minutes and rinse with cold water.
Got to know how to make potato face packs? Use these simple and effective potato face packs for a glowing face. Till then take care and keep it stylish!!!!!!!
Recommended Articles:

The following two tabs change content below.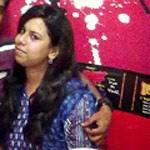 Latest posts by Ankita Biswas (see all)