Did you know that you could have dandruff on your eyelashes too? Yes, it is true, such a condition is known to be severe enough and if you do not treat it at the earliest, it could lead to lashes falling off.
What is this condition?
Seborrheic dermatitis of the lids can be a cause for the lash line dandruff. Your system may be intoxicated by high junk food, caffeine, alcohol intake and less water intake for which the skin is suffering. It can be also the cause of clogged pores on the lash line. Anyhow, we do not know the exact cause of dandruff, regardless of what it could be; you need to treat it right.
Treatments:
There are innumerable home treatments for treating dandruff on eyelashes and since lash line is very near to the eye, chemicals cannot be directly used on to lash line. In case you come across any irritation, visit a doctor immediately to get quick relief.
1. To some extent, you could get rid of this problem by washing your face with a drug store soap which contains either tea tree oil or pyrithione zinc, as it helps to fight yeast germs which are a cause and contributor to the dandruff formation. However be sure that it does not get inside the eye. Wash your face once or twice depending on the severity of the dandruff condition.
2. Another treatment would be to use diluted baby shampoo with cotton swaps to clean lower and upper lash lines. Do this at least 4-5 times for each of the lash lines and notice evident results sooner.
3. If the cause of dandruff is excessive dryness of the eyelids, then massage a little bit with warm almond oil before going to bed at night. It will also help restore, revive and re-grow your lashes that may be falling due to dandruff formation.
4. Now, it comes to what you shouldn't do. Never use lemon juice on the lash line because it may irritate the eyes, though you may use lemon juice for treating dandruff on the scalp, but the case is different when it comes to lashes.
5. If your dandruff condition doesn't improve and you see there is also flakiness of the lids and eyebrows, then you should not waste any time and visit a dermatologist sooner because that is when blepharitis or dandruff of eyelids is flaring up.
6. Eat fresh vegetables, fruit juices and avoid caffeine, alcohol and junk oily food intake. Instead, have boiled vegetable diet for better results and ensure you consume at least 8-10 glasses of water. Adding to this, do not hesitate to visit a dermatologist when you think it's needed.
I hope this article helps you avoid unwanted dandruff on eyelashes!!!
Image Courtesy Google
If You Enjoyed This Post, Sign Up For Newsletter
(And get your daily dose of Beauty & Wellness tips straight to your inbox)
The following two tabs change content below.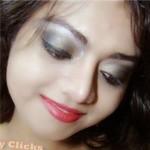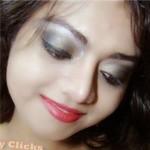 I love makeup,dance,dressing up,singing,writing ,acting (stage drama),eating and nail arts. I live life to the fullest and enjoy every moment as it comes.