Some hairstyles never die. The perm is one of them.
The grass is always greener on the other side.Women with curly hair will want it straight and women with straight hair will want it curly. Let's face it, curly hair has been, is and always will be adorable, sexy and prized.Whether you are looking to change your look out of boredom or simply because you always want to stay in trend, a perm is always a good option. Plus, it gives you a variety in the kind of curls you want too.
Things To Consider Before Getting A Perm:
There are some simple facts you should keep in mind before getting a perm.
First off, a perm just like straightening is all about changing the molecular structure of the hair. The perming solution breaks the bonds that make hair straight so that it can then be set into the curly structure. Chemicals will always equal hair damage which means it will require great care.
Secondly, decide on the texture of your hair and the hairstyle along with the face shape that you have been blessed with.
All types of hair can be permed but the above factors will help you decide what kind of a perm will look the best on you!
[ Read: Perm Wedding HairStyles ]
Permed Hairstyles Based On The Final Look:
1. Body Perm:
The end result of this type of a perm is the addition of a slight wave and large curls from the root to tip. It adds a lot of volume to your hair giving it the body and movement needed to kill the flat hair look.
This makes it highly suitable for women with a square face looking to soften their features. Added bonus is that it easy to style with a blow dryer!
2. Plain Curl Perm:
This type of a perm is what most women opt for.  The result is the addition of soft natural waves that gives it body and volume.  And that makes it suitable for all hairstyles and face types too.
3. Root Perm:
The result of this perm is the addition of height and lift at the very roots of the hair. If the aim is to add life to your otherwise limp and dead hair, this is type of perm is meant just for you. This looks even better on short hair when compared to medium or long hair.
If you have a heart shaped face in addition to limp hair, this perm is a life saver!
4. Spiral Perm:
Are you looking to sport a very African look with tight and bouncy curls? Then this is the type of curl you should go for. They look like tiny and twisted cork screws that have lovely cascading effect.
If you have an oval face, this perm will bring out the best in you. But as fair warning to the all the ladies with a round face shape, pick your hairstyle carefully before getting this perm done. It tends to add to the roundness in your features.
[ Read: Tips To Take Care Of Your Permed Hair ]
The following two tabs change content below.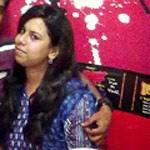 Latest posts by Ankita Biswas (see all)