"Grey hair" is one of the most dreaded night mares for all women, especially those who have crossed the 30 mark! This problem is universal and wide spread among the masses. It is one of the most prominent signs of ageing and premature ageing. Grey hair occurs when our hair is devoid of the pigment called "melanin". It is usually associated with age, it can also occur in young adults. The other factors responsible for the occurrence of grey hair are genetic predisposition, natural chemical changes and exposure to environmental pollution.
We often resort to various methods to cover up our grey hair. In this article, I will talk about home remedies for grey hair. Take a look at them.
How To Cover Gray Hair Naturally at Home?
1. Dye your hair:
This is the number gray hair remedies. There are numerous dyes available in the market which you can use to cover up the grey hair. You can select from the various shades available like black, dark brown, brown, burgundy etc. But always choose the hair colour which does not contain ammonia in it, as ammonia is an industrial bleaching agent and will severely harm your hair in the long run.
However, when you color there are two aspects you must always keep in mind which are how the color looks for your skin tone and the trend for that season.
2. Amla and henna pack:
This is perhaps the most effective and natural hair dye to cover up the grey hair when we speak of gray hair home remedies.
How to:
Make a hair pack with fresh paste of henna and add 3 tsps of amla powder into it.
You can also add 1 tsps of coffee powder into the hair pack.
Mix all of them with a little amount of water to get a paste consistency.
Apply it on hair and keep until it dries.
Then wash it off with a mild shampoo.
Amla and henna not provides the colour, it also nourishes the hair making it soft and shiny.
[ Read: Henna Packs for Hair ]
3. Black tea remedy:
Grey hair can be covered up nicely with by the use of black tea remedy. This is a wonderful combatant  in the list of home remedies for premature gray hair.
How to:
Boil 2 tsps of tea leaves without adding any sugar or milk.
Take the tea water and let it cool at the room temperature.
Then apply it all over your hair.
Rinse your hair with cold water. Do not use shampoo while rinsing your hair.
4. Sage water treatment:
Sage leaves (salvis or sefakuss in Hindi), is one of the most effective of ayurvedic remedies for grey hair. It restores the natural colour of the hair and prevents the growth of grey hair.
How to:
Just add a small bunch of sage leaves in water and boil it for some time.
Cool this liquid and spray it all over your hair.
Shampoo your hair after 2 hours.
This treatment will show visible results in a few weeks.
5.  Coconut and lemon remedy:
It is an effective home treatment to be used twice a week.
How to:
This remedy will make your hair shiny and black and make all grey hair disappear.
[ VIDEO: Natural Way To Cover Up Grey Hair ]
6. Curry leaves remedy:
Another one of the perfect remedies for gray hair at young age. Curry leaves are quite effective too. Boil the leaves in coconut oil and strain. Let the oil cool down. Massage onto hair before wash.
[ Read: Ayurvedic Treatment For Gray Hair ]
7. Ribbed Gourd remedy:
This is an extremely effective remedy to restore pigmentation in gray hair. Dry the pieces of vegetables. Let these vegetables soak in coconut oil for 3 days. Then boil the mixture till a black residue is left. Massage this oil onto your scalp. Rinse out.
8. Vitamin rich food:
A healthy diet always reflects in one's skin and hair. So include vitamin B and E in your diet every day. These vitamins prevent pre mature greying of hair. Also include walnuts, almonds and cashew nuts in your daily diet. Reduce the intake of sodium in your diet, as it only has bad effects on your health, it also triggers the growth of grey hair. Have lots of fresh fruits and vegetables.
[ Read: Vitamins for Hair Growth ]
9. Having lots of water:
If the endocrine system in our body is malfunctioning, lot of toxins get deposited in your body. These toxins lead to various health hazards including pre mature ageing. In order to keep our system clean and flush out the toxins from our body, drink a lot of water. Drinking 10-12 glasses of water daily will ensure proper functioning of our endocrine system and thus prevent the signs of ageing.
Follow these simple and effective tips and have a balanced diet always.
Till then take care.
Keep it stylish!!
Recommended Articles:
The following two tabs change content below.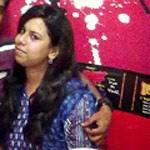 Latest posts by Ankita Biswas (see all)