7 Makeup Basics for Oily Skin
Most people with oily skin face a lot of problems when it comes to makeup. The makeup fades and melts off easily, oxidizes too soon, clogs pores, and causes a number of other skin problems. Fortunately, now we have makeup for oily skin that not only prevents the shine but also helps in controlling oil.
Makeup Tips For Oily Skin
1. Prime Your Skin First
We all know that the primer not only helps in better application of makeup by acting as a base but also acts as a protective layer between your makeup and your skin, preventing the makeup from clogging the pores. It also ensures that your makeup lasts longer. When you are choosing a primer, make sure that it is not silicone-based as oily skin tends to be very sensitive and silicone-based products can cause allergic reactions to such skin, leading to breakouts. Also, look for a primer that has salicylic acid, which helps in fighting acne.
Expert Tip – Use a toner to wipe your face as that would soak up the excess oil without stripping the skin of its essential oils. A great way to prevent excess oil on the skin is by using your primer over your foundation. Use the primer with your fingers and just dab it on the oily area and see the oil get absorbed quickly.
2. Find The Perfect Foundation
Finding a foundation for skin that is oily can be a little tricky. Most foundations melt off quickly and require constant touch ups. The easiest way to tackle this problem is to use a powder-based foundation. This minimizes shine and does not feel heavy on the skin. If you wish to go for a liquid foundation, go for a water-based foundation or a mousse foundation in matte finish. Apply a sheer layer on the oily areas and apply powder over those oily areas. Go for foundations that contain silica as it has oil controlling properties. Also, opt for products that are non-comedogenic and non-acnegenic.
[ Read: Best Foundations for Oily Skin ]
3. Use A Powder Every Time
A face powder is your best friend. It helps in getting rid of the shine and sets your foundation. Most people get confused about whether to use loose powder or pressed powder. Even though both work on oily skin, one should always prefer using loose powder as this kind of powder soaks up more oil. Avoid using powders that provide shine/shimmer as that would make your face look more oily.
[ Read: 15 Best Compacts and Face Powders ]
Expert Tip – Use a blotting paper/blot film through the day to get rid of the excess oil as blot papers absorb the excess oil without disturbing the makeup.
4. Opt For Matte Blushes
When you have an oily skin, you are a walking disco ball – ready to shine all the time. So, always try to go for a matte blush instead of one with shimmer. As makeup tends to melt easily on oily skin, powder blush tends to last longer than the cream based ones. In case you want to apply a cream blush, make sure you set it properly by applying a translucent powder over it.
5. Try Mineral Makeup
Mineral makeup is a big boon for oily skin. Since they are made up of inorganic minerals and are oil-free, they prevent the growth of bacteria, making them the ideal makeup for oily skin. The main ingredients in any mineral makeup are zinc oxide and titanium dioxide. Both of these act as natural sunscreens, saving you from applying that extra layer on your skin. Zinc is also known for being an antioxidant, thus preventing the makeup from oxidizing and helping it stay longer.
6. Less Is Always More (Apply Minimum Layers)
Oily skin is not at all an ideal base to wear makeup, so if you end up putting multiple layers of makeup on your face, it is bound to melt or cake up. Try and apply minimum layers on your face. For example, you can easily minimize the amount of makeup you use by switching to a tinted moisturizer that contains SPF.
7. Choose An Oil-Free Makeup Remover
Always remember, it's easier to apply makeup if your skin is in a good shape, regardless of its type – and oily skin is no different. So, make sure that you clean your skin with an oil-free cleanser and toner before applying makeup.
Don't fret if you have oily skin – people with oily skin remain youthful for a long time. The trick is to camouflage it with makeup so that it looks fresh and flawless. Do comment below if you have any more ideas on how to make makeup on oily skin last longer. We would love to hear from you!
Expert's Answers for Readers Questions
What is the best powder foundation for oily skin?
In the drugstore range, the L'Oreal Paris True Match Mineral Foundation is suitable for oily skin. If you're willing to shell out some money, you can try the Bobbi Brown Skin Foundation Mineral Makeup SPF 15. The important thing to note here is the word mineral. Anyone with oily skin should try and invest in mineral makeup.
What is the best SPF moisturizer for oily skin?
The Olay Regenerist Regenerating Lotion With Sunscreen Broad Spectrum SPF 50 is a good option for sunscreen for those who have oily skin. Another notable sunscreen is the Anthelios 50 Mineral Ultra Light Sunscreen Fluid, SPF 50 Face by La Roche-Posay. Both of these sunscreens feel light on the face and don't leave your skin looking greasy.
Can we apply moisturizer before makeup?
Yes! In fact, it is encouraged that you do so. The moisturizer adds to a flawless base as it provides the moisture that your skin needs. Using moisturizer before allows the makeup to go on your skin better and prevents any chalkiness.
Can we use a cream based blush and eyeshadow for oily skin?
You can, if that is what you prefer, but it is advisable not to do so. Using a cream based blush and eyeshadow only means that you will be adding on more moisture, leading to shiny looking skin much quicker. A powder blush and powder eyeshadows are a much better option for those with oily skin.
Is it okay to apply kajal on the lower lash line in the summers when you have oily skin?
Yes, it is completely okay. Kajal can be worn in whichever season. It's all upto you! However, since you tend to sweat more during the summers, the chnacesof the kajal smudging or wearing off are considerably higher. A simple fix for this would be to set the kajal with eyeshadow. This helps it last much longer.

The following two tabs change content below.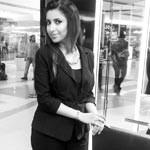 Latest posts by Afsha Rangila (see all)