Blueberries are a rare fruit in India. They are mainly found in USA and Europe and hence they are mostly side lined in our country.  We are missing out a lot on these tiny berries! Not just because they are delicious but also because they are a miraculous for our skin.
Benefits of Blueberries:
They are rich in fiber as well as vitamins – A and C.
Berries are known to be high in antioxidants and are nutritious. Blueberries are miracle fruits for acne, blemishes, pimples and uneven skin tone problems also.
Blueberries normalize the oil level of your skin to a high extent. This plays a major role in maintaining healthier skin.
Blueberries have high vitamin C content which help in strengthening blood vessels, thus repairing broken capillaries and "spider veins" below skin surface.
Blueberries prevent aging because they have high anti-oxidants content giving your skin a fresh, young and glowing look.
Blueberry Face Masks For Radiant Skin:
Below are some recipes to great blueberries facial masks:
Blueberry is of course the common ingredient!
1. Nourishing Blueberry Mask:
¼ cup of blueberries mixed with one tablespoon of olive oil and honey. Blend them together till smooth. Apply for 20 minutes and wash off with warm water.
[ Read: Face Masks For Glowing Skin]
2. Blueberry and Yogurt:
Blend blueberries till smooth. Add the puree into Greek Yogurt – This yogurt is strained through cheese cloth or filter which removes whey and gives you a consistency of that between yogurt and cheese. It has distinctive sour's taste. This mask will slough off damaged layer of epidermis. Spread onto face for 20 minutes. Wash off with cold water.
3. Blueberry and Aloe Mask:
This mask is great for treating under eye circles.
Take some cold blueberries and add aloe vera gel. Mash them together and dab lightly under your eyes. Remove with lukewarm water.
4. Blueberry and Lemon Mask:
This mask is great for oily skin.
Blend 4 blueberries along with powdered oats, almonds and fresh lemon juice. Apply the mask all over face for 15 minutes and wash off with warm water.
5. Acne prone skin:
Mash blueberries with a pinch of turmeric and lemon juice. Apply on face for 20 minutes and wash off with lukewarm water.
6. Anti Aging skin blueberry mask:
Blend 1/4th cup of blueberries, 1/4 teaspoon each of vitamin E, aloe vera, olive oil and honey.1/4th cup dried crushed oats and a teaspoon of fuller's earth. Blueberries, vitamin E, olive oil and honey are potent anti-oxidants. These combined with Vitamin C in berries is excellent for aging skin. Make sure you blend the mask just before you need it. Use all of it right away.
7. Blueberry Toner:
This mask is great for achieving an even skin tone.
Do not store this mask. Use it right away. Mix steamed and crushed blueberries with plain yogurt. Blend them together. Refrigerate to set the mask to consistency that you desire. Apply on face for 20 minutes. Wash off with lukewarm water.
8. Spa Blueberry Mask:
Mix 2 tablespoons each of rose water and honey. Add few blended/crushed blueberries along with 1 tablespoon of white clay/fuller's earth/ Cornstarch. Apply on face for 20 minutes and wash off with warm water.
So very tempting right? Next time you a spot a blueberry eat some but make sure you save some for one these lovely face masks!

The following two tabs change content below.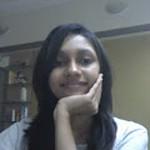 Latest posts by Riddhi Jholapara (see all)