Who doesn't want those perfect baby soft lips? Chapped and dry lips are not only an ugly sight for the eyes, they are also extremely uncomfortable, often leading to pain, bleeding and peeling off of the tender skin. Unless you get your lips back to their healthy condition, no product in any amount will be of help. Lip sticks, lip gloss, lip colours – no matter what your choice is to get that perfect 'lip' look, the first step to create those healthy lips is a good lip balm.
While you may be on the lookout for a lip balm that works great on your lips, a big factor that works in your selection is how the lip balm smells.
Here is a list of the top 8 smelling lip balms
1. Body shop sweet lemon lip butter:
If you've ever loved scents that are citrusy, especially that of lemon, this is the lip balm for you. The Body Shop's Sweet Lemon Lip Butter is one of the best smelling lip balms ever. The other lip balm scents from The Body Shop are shea, pink grapefruit and coconut. These come in a cute packaging of a small pot and are very easy and light to travel with. The lip balm works great on damaged and chapped lips.
2. Avon lip naturals lip balm:
Avon Lip Naturals is a range of lip balms that comes in various lip balm scents like lemon, green tea, rose, lavender, almond and milk, strawberry, grapefruit and mint, aloe and peach. The scents are lingering yet not too strong, and not typically too fruity. The lip balms have a great formula and work wonders on lips that need care.
3. The Body Shop Roll on lip balms:
The Body Shop's other range of lip balm comes in a roll-on packaging and has scents in the flavours of cocoa butter, berry, rose, orange, mint and coconut. As with any other The Body Shop product, these are a great go-to product when it comes to lip care.
[ Read: Best Butter Lips ]
4:  Maybelline baby lips:
The Maybelline Baby Lips has been a big hit worldwide, especially among the younger crowd. These are available in 7 flavours and come in a fruity scent. Though the lip balms were launched with the promise of 'colour', these are sheer, and otherwise, work great on dry lips. Maybelline claims that regular use for at least 4 weeks will make your lips baby soft.
[ Read:  Maybelline Baby Lips Lip Balm Shades Review ]
5. The Lotus herbals lip balms:
The Lotus Herbals Lip Balm comes in delicious scents of strawberry, orange, raspberry and fruity fusion.
6. Nivea roll on lip balms:
(Image courtesy healthkart.com)
Nivea roll on lip balms in the fruity shine is available in four scents of pearly shine, strawberry, and pomegranate and cherry.
7.  Vaseline lip therapy:
Vaseline Lip Therapy roll on tubes are available in four scents of cocoa butter, natural, rose and aloe vera.
8. Neutrogena revitalizing lip balm:
The Neutrogena Revitalising Lip Moisturizer is available in India online in two scents of Healthy Blush and Soft Caramel.
Take your pick! They will all leave lips soft and enviable!

The following two tabs change content below.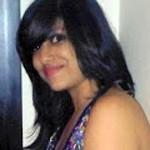 Latest posts by Debolina Raja Gupta (see all)