Style Your Short Curls In 50 Ways!
You can experiment with curls; yes you can twirl them in numerous ways and attain the style you wish for. It's not just straight hair you play with; curls too have a lot of fun. How to style short curly hair?
Here are 50 ways in which you can style your short curly hair:
1. Short Pixie Cut:
If you are not able to manage your curls, then pixie with short layers is one of the best short haircuts for curly hair.
2. Shoulder Length Tight Curls:
If you have naturally curly hair cut those curls till shoulder length and show off those lovely tight curls.
[ Read: Curly Hairstyles ]
3. Tight Curls:
Cut your curly hair to the nape of the neck. Looks modern and stylish!
4. Tumble Down Curls:
Cut your hair really short at the nape, so much so that the front hair tumbles down in sexily. The front hair should have long bangs which could be made into side swept bangs too.
[ Read: Curly Bob Hairstyles ]
5. A Line Bob Curly:
The exact opposite of the earlier style! Let the hair behind come back till the nape of the neck, the sides be a little longer
6. Short Even Length Curls:
Get the curls cut in the same length and you get an even style. Keep the length till shoulder level.
7. Short Bob With Bangs:
Get the bangs in front when you get the bob haircut. Straighten the hair or leave it curly.
8. Blonde Spirals:
The blonde spirals give a chic coif. It's like all your curls are in a spiral curly fix.
9. Supercute Pixie:
Try the pixie cut which became a cult during the 50s after the movie Roman Holiday which showed the style for the first time.
10. Wavy Bob With Layered Bangs:
Cut your hair with layered bangs in the front. This gives a volume effect to the head. Side part the hair and let few layers fall right above your eyes.
11. Shoulder Length Curls:
Alicia keys sports this shoulder length cut with a deep middle part.
[ Read: Long Bob Hairstyles ]
12. Wavy A Line Bob:
This bob is sported with a side part. Not the usual straight a-line bob, with a wavy touch.
13. Curly & Wavy:
This style has intricate twirls on a few strands in the midst of thick waves.
14. A Line Bob With Layers:
Trim the hair in A-line shape, layer it out at the end and then curl it at edges. Excellent for naturally wavy hair!
15. Messy Bobs With Elongated Bangs:
Straighten the hair on the top and let the curly edges be. The elongated cuts turn into bangs. A punk coif to wear!
16. Clip It Up:
Tie the hair behind just like Archie Panjabi. Straighten it or let it be curly.
17. Wavy Rolls:
Actress Melisa Joan Hart wears the curly hair to her shoulders. Rolled at the edges!
18. Curly Twirls:
Make a side part and let the curls embellish the shoulders like Zoe Saldana.
19. Twirly Waves:
Joan Smith wears the very messy wavy style. Another variation for curly short hair!
20. Cute Curls:
Actress Aisha Dee wears this very cute and curly style. Round and full of curls, it gives a neat impression.
21. Messy Waves:
Side part with curls, not neat but messy.
22. Blunt Twirls:
This sleek blunt cut also has twirls at the edges, so a quite curly coif.
23. Curly Bun:
Tie up those curly ringlets or pin it up like a bun.
24. Waved Curls:
Why I call it straight? Unlike the fluffy puffy effect it plays up sleek with the round ringlets.
25. Wavy Messy Long Bob:
Tyra Banks wears this very wavy and messy long bob with a middle part.
26. Bouncing Curls:
Side part and straighten your hair and curl them from the edges. Bouncy and wavy at the same time!
27. Fluffy Blunt:
Brush the middle part back and let the curls be at the sides. This blunt style makes the head feel of volume.
28. Very Short Curly Bob:
The cut has made the strands shorter, the curls are more prominent. Smaller from the front and longer near the nape. The strands look longer with a middle part.
29. Classic Bob:
Sporting a classic bob cut which also displays volume and fullness.
30. Straight Side Bob:
Iron out a bit and wear this straight bob style with side swept bangs and a side part.
31. Curly Pony:
Put the curls into a high pony and get the cute curl effect.
32. Kiss of Twirl:
Twirl your pony and tie it up.
33. Pixie With Long Bangs In The Front:
Anne Hathaway's pixie with long bangs in the front to give that layered effect makes your short hair look full.
34. Tinsel Ringlets:
The curls fringe the forehead like a flower creeper. The ringlets fall just above the eyebrow and looks like she is wearing a shiny brown tinsel crown.
35. Purple Pixie:
Color your curly top a bright purple, and see the magic!
36. Blue And Tousled:
These blue curls are a total head turner.
37. Undercut Curls:
This spunky hairdo will add a lot of sass to your look!
38. Retro Splash:
Dita Von wears this retro coif. A deep red colour just complements the style.
39. Fiery Red Curls:
This red and fiery hairdo will complement a lot of outfits, and look supecool.
40. Ash Curls:
This grey and black hairdo is a refreshing change. Try this uber cool look by dying your ends ash-grey.
41. Wavy Classic:
The wavy bob looks classic and is perfect for a set of curly waves. Simple yet chic!
42. Bubblegum Curls:
This spunky hairdo is totally sugar and spice, and everything nice!
43. Mad Curls:
This super voluminous hairdo can make you look like a carefree rockstar. We are sure you will rock the look!
44. Playful Messy Bob:
The playful intricate waves and the uneven edges give a bubbly effect.
[ Read : Natural Ways To Curl Your Hair ]
45. Messy Trims:
Soft disconnected waves, rough trims are what this cut offers.
46. Topheavy Curls:
This look is so low maintenance, and high on style.
47. Green Curls:
This head full of green curls can brighten up your day. Go green, girl!
48. Retro Classic:
Retro effect yet chic on blonde hair!
49. Curly Edges:
The Kelly Lynch bob gives the full flower display at the end of her curls. The curls at the edges, a bunch of them make the face softer.
50. Bunny Curls:
This two-bun hairdo is very cute and spunky, and super low maintenance
Do you know any other cute hairstyles for short curly hair? If you think there are more, then do drop your suggestion below. We highly appreciate your feedback.
Recommended Articles:

The following two tabs change content below.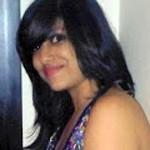 Latest posts by Debolina Raja Gupta (see all)