You can experiment with curls; yes you can twirl them in numerous ways and attain the style you wish for. It's not just straight hair you play with; curls too have a lot of fun. How to style short curly hair?
Here are 50 ways in which you can style your short curly hair:
1. Short Pixie Cut:
If you are not able to manage your curls, then pixie with short layers is one of the best short haircuts for curly hair.
2. Shoulder Length Tight Curls:
If you have naturally curly hair cut those curls till shoulder length and show off those lovely tight curls.
[ Read: Curly Hairstyles ]
3. Tight Curls:
Cut your curly hair to the nape of the neck. Looks modern and stylish!
4. Tumble Down Curls:
Cut your hair really short at the nape, so much so that the front hair tumbles down in sexily. The front hair should have long bangs which could be made into side swept bangs too.
[ Read: Curly Bob Hairstyles ]
5. A Line Bob Curly:
The exact opposite of the earlier style! Let the hair behind come back till the nape of the neck, the sides be a little longer
6. Short Even Length Curls:
Get the curls cut in the same length and you get an even style. Keep the length till shoulder level.
7. Short Bob With Bangs:
Get the bangs in front when you get the bob haircut. Straighten the hair or leave it curly.
8. Blonde Spirals:
The blonde spirals give a chic coif. It's like all your curls are in a spiral curly fix.
9. Audrey Hepburn's Pixie Cut:
Try the pixie cut which became a cult during the 50s after the movie Roman Holiday which showed the style for the first time.
10. Wavy Bob With Layered Bangs:
Cut your hair with layered bangs in the front. This gives a volume effect to the head. Side part the hair and let few layers fall right above your eyes.
11. Shoulder Length Curls:
Alicia keys sports this shoulder length cut with a deep middle part.
[ Read: Long Bob Hairstyles ]
12. Wavy A Line Bob:
This bob is sported with a side part. Not the usual straight a-line bob, with a wavy touch.
13. Curly & Wavy:
This style has intricate twirls on a few strands in the midst of thick waves.
14. A Line Bob With Layers:
Trim the hair in A-line shape, layer it out at the end and then curl it at edges. Excellent for naturally wavy hair!
15. Messy Bobs With Elongated Bangs:
Straighten the hair on the top and let the curly edges be. The elongated cuts turn into bangs. A punk coif to wear!
16. Clip It Up:
Tie the hair behind just like Archie Panjabi. Straighten it or let it be curly.
17. Wavy Rolls:
Actress Melisa Joan Hart wears the curly hair to her shoulders. Rolled at the edges!
18. Curly Twirls:
Make a side part and let the curls embellish the shoulders like Zoe Saldana.
19. Twirly Waves:
Joan Smith wears the very messy wavy style. Another variation for curly short hair!
20. Cute Curls:
Actress Aisha Dee wears this very cute and curly style. Round and full of curls, it gives a neat impression.
21. Messy Waves:
Side part with curls, not neat but messy.
22. Blunt Twirls:
This sleek blunt cut also has twirls at the edges, so a quite curly coif.
The following two tabs change content below.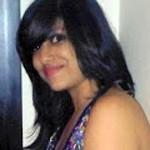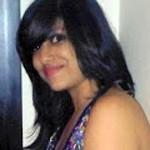 Latest posts by Debolina Raja Gupta (see all)