8 Party Hairstyles For Wavy Hair
We all love to have perfect hair days especially on special occasions. Different hair textures have different options and when it comes to wavy hair beauties, they certainly can experiment enough to get different looks on different days.The following tips are very useful for Women with wavy hair.
Take a look at the 8 best Party hairstyles for wavy hair:
1. The Natural Waves:
To get this hairstyle, start by blow-drying your hair using a round brush.
Create a centre part, wrap wide sections of your hair around the curling iron and hold it for about a few minutes before releasing.
Spray the shine serum throughout the hair avoiding the roots and move your fingers throughout your hair to distribute the product evenly.
Finish with a medium hold spray.
2. Versatile Look:
This is the best party hairstyle for curly hair!
Blow-dry your hair straight using a paddle brush.
Side part your hair and straighten your hair from roots to around eye level.
Once you reach the eye level, twist the hair slightly using curling iron until you reach the roots.
Brush through your hair to create waves, pull your hair to the opposite side and finish with a medium hold spray.
3. The Day Look:
For this look, blow-dry your hair evenly.
Create a deep middle partition; begin from the back by wrapping your hair from the root to tip on the curling iron.
Once you are done with the curls, move your fingers through your hair to separate them.
Finish with a shine serum all over your hair
4. The Hassle Free Look:
[ Read: Indian Party Hairstyles for Long Hair ]
Yup. This hairstyle takes the cake when it comes to curly party hairstyles long hair!
This look is ideal for girls with long hair.
Immediately after shower, apply a texturing product and comb through the hair.
Part your hair into 2 sections, and create long two braids.
After your hair dries, take out the braids and finger comb through them.
Use a shine spray to complete the look.
5. The Pulled Back Look:
This look is ideal for a party or a dinner.
Make a side part and curl your hair halfway to the end.
Pull the hair into a bun leaving a few bangs in the front. Secure your hair with bobby pins.
Curl your bangs in the front lightly to create soft waves.
Use a medium hold spray for it to last long.
6. Half up-do Look:
Apply some serum to your hair and scrunch your natural hair to create soft waves.
Use a wet comb to slick the hair on the back, front and the sides. Poof a bit on the crown to give some height.
Pin hair in place with some bobby pins and use a medium hold spray to give a final touch.
7.  Casual Meets Glam Look:
Gently comb your hair with a smooth brush.
Put your hair into a high ponytail and curl your ponytail section by section using a curling iron.
Comb through the curls and pin it in place.
Finish with a medium hold spray.
8. Side Pony Tail Look:
Apply a hair serum throughout your hair.
Brush out your hair to get soft waves.
Take your hair at one side and tie it up like a low ponytail, leaving a few side bangs.
Leave the face framing curls loose to keep the effect pretty and romantic.
Finish it off with a shine spray.
You can try them for any party, a casual day or a dinner date.

The following two tabs change content below.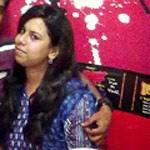 Latest posts by Ankita Biswas (see all)