Many of us admire nail art designs but are scared to do it on our own nails because we think it is a complex art. But creating a nail art design is simpler than you thought but it needs patience and practice. Go easy on yourself and start with these easy nail art designs for beginners. So all set to get started?
Simple Nail Art Designs For Beginners:
1. Alternate The Colours:
Alternating nail polish colors on each finger or painting each finger with a different color is sure to grab attention. It is simple and needs very less effort.
2. Use Effect Polishes:
There are several effect nail polishes available in the market like Crackle effect, Croc effect, Magnetic effect, Colour changing polishes etc. You can easily use them for a quick and a different nail look.
3. Water Decals/Nail Stickers/Nail Wraps:
There are several ready to use nail art designs available in market like Water decals, Nail stickers and full nail wraps. Instructions for applying these are generally mentioned on them and are quite easy for beginners. For more details about this nail art tutorial, read the post water decal nail art.
4. Dotting Manicure:
It is the easiest and let's say first step towards free hand nail art design.  Dots look simple and elegant. You can start by drawing dots on your nails to make flowers.
5. Stripes Nail Art Design:
Stripes look very attractive on nails. To create stripes, you need a nail art striper pen or you can even create stripes using a thin brush.
6. Simple Flower Nail Art Design:
Flowers can be created by connecting the Dots mentioned above. Get complete tutorial of this design in the post – flower nail art tutorial.
7. Animal Prints:
Animal prints like zebra, leopard are very easy to do and look very cute on your nails.
8. Rhinestones Nail Art:
Adding some bling to your nails is very easy. Rhinestones Nail Art is perfect for a party look.
9. Cartoon Nail Art Design:
Just use a stick and contrasting colours to get this design. To get this nail art, follow the instructions from the post cartoon nail art designs.
10. Newspaper Nail Art Design:
This nail paint is easier than it looks. Get the step by step tutorial for this nail art from the post – Newspaper Nail Art Design.
11. Pastel Burst Nail Art Design:
Another simple nail art tutorial that you can get by doing more than one stripes on the nails.
12. The 'V' Nail Art Design:
This is a very attractive, yet extremely easy-to-do nail art. Color your nails bright red and let them dry. Take a deep blue nail polish and apply the color on the end of your nails in such a way that the red nail polish forms a 'V' at the tip. Finish by applying a top coat. Voila – you are done! You can choose between several contrasting colors to get this look.
13. Caviar Nail Art Design:
You can get the Caviar Nail art design by using beads and a fast drying top coat.
14. Leaf Nail Art Design:
Another nail arts design for beginners, create this Holy Leaf nail art design using Rhinestones and glitter.
15. Christmas Nail Art Design:
Use a Nail art brush to create the hat and beard to create this simple Christmas nail art. The rest of the nail paint is very simple.
16. Polka Dot Heart Nails:
Though Valentine's Day has just gone by, you can still wear this design for a whole year! Pink is cute no matter what time of the year it is!
You can do this nail art design by painting your nails powder pink except ring finger. Paint your ring finger white and put polka dots using toothpick in heart shape. Use different hues of pink for making dots and seal your design with a good top coat and you are done.
17. Polka Dot Bow Nails:
Bows are very much in trend and they look very pretty on your nails too. To get this look paint your nails blue and add polka dots using toothpick and make rhinestone bow on your ring finger. Stick rhinestones using nail glue. After it dries apply top coat.
18. Braided Nails:
Doing this look is quite easy and with little patience you can get this right on your nails. For this choose three fast dry nail paints and overlap each color as shown in the picture and allow enough time in between to dry the layers and you are done.
The following two tabs change content below.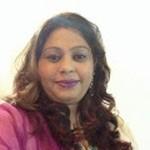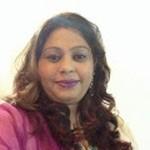 Latest posts by puja malhotra (see all)