50 Winter Medium-Hair Hairstyles to Inspire You!
As the temperature drops down, and the weather takes a turn for the worse, we seek a change – to spice up our regular hairstyles. Our hair bears the brunt throughout the seasons; winter is a season that demands a change from your routine hairstyle. Medium hair is a good way to maintain as hair of this length is easier to maintain and groom. The medium hair tends to look thicker if you had thin long hair.
Here are 50 winter hairstyles for medium length hair:
1. Side Swept Waves:
Shampoo your hair, spice up the curls with fingers, set it with a good hairspray and there you are ready to hit the floor. This style can be worn for a special night out or even for an all night party.
2. Braids:
Try the varied braid styles to achieve a neat and classy look. A simple braid without any twists also looks stunning! A simple dress, a gown or just a pair of jeans would look great with this hairstyle. Skirts too can be a good choice.
3. Fishtail Braids:
This braid is always a hot favourite! Braiding your hair in this style certainly adds the oomph factor. The braid detailing makes you look more sensuous!
4. Twist Braids:
Twirl your ponytail or just weave it in a messy way. You just can't go wrong with this one.
5. Buns:
This style is simply and easy. Grab your purse, put on your shoes, tie your hair together in an old-fashioned simple bun and dab your favourite lip colour.
6. Side Bun:
Messy or neat, anything will spice up the look! Pull your mane to one side and tie it up loosely.
7. French Bun:
French buns mean sophistication, and yes they go a long way in accentuating the sex appeal!
8. Messy Buns:
Puff it up and tie up in whatever way you like. Messiness just ups the oomph factor. A puffed up bun gives a little more texture and detail to a medium length hair.
9. Top Knot Bun:
A top knot bun in winters with a pair of jeans and sweater or a jacket would make you look like a runway model!
10. Sleek Ponytail:
When you tie it up neat, your features are enhanced. You certainly are the show stopper!
11. Short Messy Fish/Simple Braid:
A fish braid or a simple braid can be messy and sexy. A cold winter outing can all be naughty and hot with this one!
12. Wavy and Layered Hair:
The hair do gives great texture, luscious and a wavy allure. This style is a must if you are active outdoors during the winter season. The style is again easy to maintain, though keep a hair clutch handy to bind them if you get sweaty.
13. Curly Hair:
The style includes curls that are soft, full and radiant. You do require a styling product to add to the shine. The soft curls give a tender and cute touch!
14. Subtle Free Wavy Hair:
This style is low on maintenance and has great layers. If you have a long face the hairdo would help you frame it in all tenderness.
15. Blonde Layered Hair:
Blunt cut with subtle layers falls over the shoulders. A blow dryer and styling gel can spice up more.
16. Cute Two High Pigtails:
Tie up the hair in a knot or braid them and roll up into small buns or just two small pigtails. The style makes you appear cute and bubbly.
17. Bouncy Wave:
The hairdo has thrilling volume and a brilliant tone. The enticing curls and side swept bangs enhance your beauty. So bounce off your evening with this chic and fun style.
18. Straight Hair:
This style exudes feminine charm in a pretty casual way. The side fringe combines with the side of the face magnificently.
19. Long Bob Cuts:
The long bob cuts has thrilling and smooth feel to it. The style gives more definition to the hair.
20. Luscious Heavy Waves:
The layer in the style helps attaining volume. The wavy layers are luscious and thick. Wear the style to the next get-together party you have.
21. Bob Haircuts With Blunt Bangs:
This hairstyle gives you a versatile makeover. The hairdo is perfectly smooth and sleek. It looks edgy and has the attitude.
22. Curled With Side Swept Bangs:
The hairdo has tons of layers and loose curls. The style imbibes classy elegance combined with casual chic sophistication.
23. Blunt Haircut:
This hairstyle embodies high fashion. Smooth and sleek hair displays glamour and elegance.
24. Centre Part Haircut:
The hairstyle appears to have naturally flowing wavy tresses and exudes seductive elegance. The style helps in accentuating your facial features.
25. Tousled Curls:
The big and small curls together make the whole head look voluminous and full of hair. The curls above have tousled effect with loose bangs dangling free on the face. These loose bangs give a soft touch to the face.
26. Side Swept Long Fringe:
The layers help create a very modern classic look with the side sweeping fringe. You would need a styling product to maintain the layers in the shape.
27. Classic Bob:
It's trendy, offers fresh fashion and attitude. Bangs are a plus as they give lightness and softness to the face.
28. Curly Hair:
The soft curls boost of sensuality. This style can make heads turn in business meetings.
29. Fringe With Subtle Waves:
The long subtle waves with full fringe on the front exude a soft feel to the style. This is an easy to wear style which would not require a lot of maintenance. You can wear the style even if you have a hectic schedule.
30. Straight Bob:
The hair edges have a subtle inward curve. Overall the style is sleek and shiny. A styling gloss would help it shine flawlessly.
31. Large Curls:
The large curls give a stylish and dynamic movement to the hair. The pulled back style makes earrings and makeup visible.
32. Playful Curls:
This hairstyle accentuates your face; softly complements your personality. Wear the playful curls for a tender touch to your style.
33. Retro Curls:
The defined glamorous waves and well-formed curls make this hairstyle irresistible. Glam up the style further with a dark shade lip colour and you are sure to make heads turn.
34. Messy Hair With Bangs:
The short and neat bangs offer a bit of fun and feminine finish. The dynamic curls add freshness to the tousled effect. The style could be worn for a Christmas event.
35. Small Curls:
The stunning and eye catching curls reveal your personality. The style is best suited for those with natural curls. The style helps reveal the diva in you. The style is best suited for the New Year's Eve.
36. Stylish Updo:
Create the bounce by clamping the roots and then tie your hair into a ponytail or a bun. Leave a few strands to frame your face. The strands give a tender touch to your personality.
37. Beehive Style:
Comb the hair and take it back, create a lift up as high as you dare. Secure the 'lift' using hairpins and then leave the hair as it is or curl it up.
38. Vintage Wavy Style:
Blow-dry your hair to get this lust-worthy style. Use a good wavy spray for the styling. Wear the style for the winter party. Match the hairdo with bright lip colours of your choice.
39. Modern Retro Curls:
The 50's come alive with this classic hairstyle. Use a curling tong, instead of heated tongs. Spray to hold the waves longer.
40. Sleek Side Swept Hairstyle:
This style is super feminine and would suit everyone. Blow-dry the lower section of hairs and finish with a spray of cold air to secure the sleek element. The style is very elegant.
41. Long Blonde Waves:
Blonde waves are now easy to get. Use a waving wand according to your hair length and create the waves you want. The blonde colour and the round waves make an exciting combination.
42. 60's Pony Hairstyle:
Curl the mid lengths; pull the waves back into a low ponytail. Comb the top of the hair to add volume to the crown, the classic sexy pony is ready!
43. Side Ponytail:
Spice up the ordinary pony with a dash of the 60's. Keep the pony loose, curling it will help to soften the look. Wear the side ponytail with simple denims.This is one of the best suited winter hairstyles for medium hair.
44. Voluminous Updo:
Just pin up sections of your hair in the crown of your head to attain this hairstyle. The sections of the hair have to be pulled into a big bun to create this do. Spray a styling spray to secure the style for a longer period of time.
45. Wavy Hairstyle:
These elegant curls flattering your features are easy to get. Use heated rollers and hairspray to create the hairdo. Decorate it with flowers or any other accessory and you are set for the rest of the day.
46. Poker Straight:
Take hold of professional straighteners and pull your hair straight. Be careful to not over style as it may lead to broken ends and flyaway hair. The hairdo you get is poker straight without any waves or curls.
47. Totally Twisted:
Flirt with curls and layers on a medium length bob.
48. Tousled Bun:
Tousled ringlets pulled into a loose bun give a tender and flirtatious touch. Pair this with a frock or a dress.
49. Glam Waves:
Make ringlets, waves bounce dance to the tune of Friday night fervour. Caramel highlights and golden brown hues would add the glamour.
50. Straight Hairstyle:
Sleek locks never go out of trend. They are always part of High Fashion. Use a simple straighter and get the look by yourself at home.
Hope you liked all these winter hairstyles for medium length hair! Experiment as much as you can for medium hair is not boring. There's lot that can be done. Play around with your imagination and you can always come up with something new! We appreciate your feedback about this article; don't forget to leave your comments.
Recommended Articles:

The following two tabs change content below.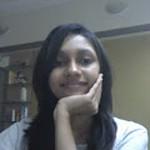 Latest posts by Riddhi Jholapara (see all)