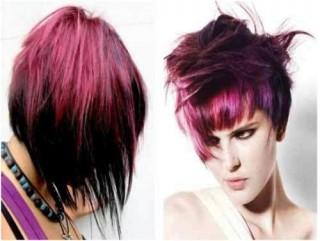 Edgy hairstyles are bold and vivid. They are eye catching but are difficult to carry. Edgy hairstyles should suit ones facial structure, features and hairtype.It is the cut that makes the hairstyle edgy and suit ones bold personalities.
Edgy hairstyles can be done in short, medium or long length. The deeper the cut, that edgier the hairstyle. So let's have a look at the latest edgy hairstyles.
Latest Edgy Hairstyles
Short Edgy Hairstyles:
Not everyone can carry choice of the short and new edgy hairstyles, as it should suit their facial features.Someone who have a strong defined jaw line and wants to accentuate their facial features can go for this hairstyle. Short edgy hairstyles can be worn soft, smooth or with spikes depending on your choice.
1. Edgy hairstyle with spikes:
This hairstyle is perfect for all those women who love to carry the bold look. This spiked look will grab attention in no time and adds a lot of edginess to the hairstyle and makes the whole look much stronger.
2. Sleek edgy hairstyle:
This one of the new edgy hairstyles 2013 is worn by most of the celebrities and the hair band adds to the edginess of the entire look.

[ Read: Hair Styles ]
3. Edgy hairstyle with side swept bangs:
This edgy hairstyle with side swept bangs is seen on many girls as this hairstyle is bold yet feminine. This edgy hairstyle looks great and is very popular among women.
4

. Pixie edgy hairstyle:
Gennifer Goodwin's hairstyle is the most talked about this year. This edgy hairstyle would suit people who have an oval face. She styled it with gel and tried to play around with it, Kudos to her for carrying it off so well.
Medium edgy hairstyles:
If you have medium length hair, then you should go for these medium edgy hairstyles. Medium edgy hairstyles looks great with round face shapes as the length goes beyond the chin touching the shoulder.
5. Edgy hairstyle with bangs:
Here the choppy layers add an edge to the look. The golden locks accentuate the hairstyles by adding more edginess to the hairstyle. This hairstyle is perfect for all girls who don't want to experiment a lot with their hair; this look is safe yet edgy.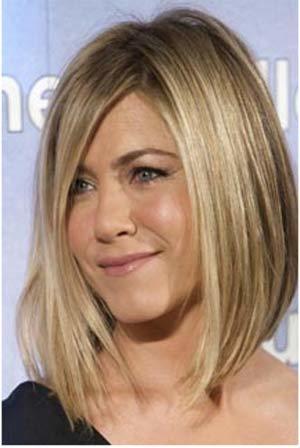 [ Read: Long hair styles ]
6. Bob edgy hairstyle:
Jennifer Anniston has been seen rocking this latest trend. This bob hairstyle is very polished and the edgy length adds a lot of sleekiness to it.

7. Colored edgy hairstyle:
If you want to accentuate your hairstyle even more, then you can add color to the hairstyle.
Long length hairstyles:
If you wish to keep the length of your hair and yet look edgy then long length edgy hairstyles are the best for you. You can go for sharp short edges from the back and go for long locks in the front like in the below hairstyle
[ Read: 30 Beautiful Hairstyles For Girls ]
8. Long and short edgy hairstyle:
This hairstyle is edgy yet sophisticated. The purple color adds a whole new dimension to the look. The short edges at the back and the long edges in the front help in defining the shape of the face.
9. Blonde Edgy hairstyle:
Nicky minaj went all blonde with this edgy hairstyle with bangs which is perfect for the personality that she has. She's kept the length yet managed to add edginess to the hairstyle using color and bangs. These edgy hairstyles are for all women out there who would like to get noticed for their bold personalities. So play with your tresses and enjoy experimenting.
[ Read: Most Popular Hairstyles For College Girls ]
If You Enjoyed This Post, Sign Up For Newsletter
(And get your daily dose of Beauty & Wellness tips straight to your inbox)
The following two tabs change content below.