Want to make your yoga sessions more adventurous? Well then, you must try aerial yoga. Read on to know more about aerial yoga and its health benefits.
Aerial yoga is a yoga that uses fabric hammock as a tool to help practitioners practice the traditional yoga positions. It combines traditional yoga with the physical training of an aerialist.
Anti gravity aerial yoga, as it is also known as, offers you an opportunity to practice yoga in air with the support rendered by the silky hammock. However, this is not just simple yoga. It's the amalgam of yoga, pilates, dance, acrobatics and calisthenics designed to render a energy-rich workout for the entire body.
[ Read: Yoga ]
The body of the practitioner remains suspended in the air on a special swing like structure, about 3-4 feet from the ground. This exercise style comes with a bouquet of benefits, including elimination of localized fat collection, better blood circulation, a toned body, lower stress levels and delayed ageing. The spine is decompressed and you will enjoy an enhanced level of coordination as you hang, fly and flip on the swing while performing the postures.
Anti-gravity yoga, the most popular among aerial yoga style, was born in the mind-cradle of Christopher Harrison, a dancer and gymnast. The graceful sequences of this style allow you to coddle in a graceful indulgence under the guidance of your mind and body. You will definitely feel as if you are back in your mother's womb, lying there without any stress or tension, just like you are sleeping in a cocoon.
[ Read: Yoga positions ]
Health Benefits of Aerial Yoga 
Here are some of the benefits of this form of yoga:
Give your body a new level of flexibility by toning it.
Eases back pain and strengthens your back muscles.
Improves the circulation of blood, thus, combats ageing and its symptoms in a better way.
Renders better creativity by boosting your mental abilities.
Lowers the level of stress and endows you with better relaxation.
Bid adieu to flabs and thwart off cellulite deposits.
Healthier respiratory system from better breathing abilities.
Stronger and toned muscles.
Strengthens the joints.
Detoxifies circulatory and lymphatic systems, thus, lowering the onset of various cardiovascular issues.
Improves the digestive system, thus, helping in healing various digestion-related issues, including constipation and indigestion.
Helps in combating phobias.
Fortifies your neural connections, thereby, rendering better memory power. Thus, in turn, boosts the level of intelligence.
Anti-gravity physiotherapy helps in better rehabilitations.
Allows you to know your body in a better way.

Things to Consider while Doing Aerial Yoga:
Always practice this yoga style on an empty stomach as it involves lots of spinning, inverting and exerting pressure on your abdomen. However, you may do it at least after 3 hours of your meal.
Dress comfortably, preferably loose long pants paired with half-sleeved cotton tees or tops. This will prevent the hammock from interlocking with your dress while practicing the asanas.
It's advisable to consult your doctor and trainer before indulging in this yoga style.
Pregnant women and people with physical restrictions should keep away from this style of yoga.
Always practice aerial yoga under professional guidance and not at the comfort of your home.
Here is a short video that demonstrates how you can perform Sarvangasana in aerial yoga:
[Please do not attempt this pose at home without proper professional guidance.]
It needs immense level of your patience and uncompromising willingness for challenges to know aerial yoga and practice it. Once you get to know your body completely, allow yourself to be immersed in complete serenity and tranquility. Let your body guide you through the entire journey.
Hope, you would love to try this out. It is good you go for an aerial yoga training under a professional. Do share your experience with this yoga style.
The following two tabs change content below.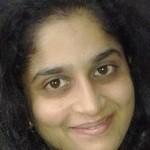 Latest posts by Nithya Shrikant (see all)