The Cannes is a huge affair! The much awaited event is as much about its style quotient as it is about the movies. Celebrities come photo-ready in their best looks and makeup.
The one name from India that has been synonymous with Cannes is our very own Aishwarya Rai. The actress has been a part of this festival for over a decade! Her appearance has always generated curiosity. Her wardrobe, makeup and hairstyle choices inspire many young girls to recreate a similar look.
In this particular hairstyle, Aishwarya Rai is seen in an Abu Jani-Sandeep Khosla saree. The look, paired with her makeup and hair, exudes charm and elegance. It is such a versatile look that it can easily be worn in other settings too.
An up do is a classic hair style that is sported by many celebrities. The one that Aishwarya Rai wears here has some unique detailing to it. This can work on anything – from a dress to even jeans – with nice pair of high heels! The best part about it is that it will also work well with women of all age groups.
Break Down Of Aishwarya's Hairstyle
Things You Would Need:
Blow dryer
Thin Elastic bands
Bobby pins
Metal chain
Styling gel
Steps To Recreate The Hair Look:
Wash and blow dry your hair.
Take a waft of her hair from the front – make sure you take it from a little more towards the right side. Now let it hang on the face.
Once you have created the partition, comb the rest of the hair neatly. Remove all knots and tangles.
Now tie this into a ponytail.
Part the hair on the left side from the front. Part it into three equal portions. Back comb each section.
Slowly twist each section to a length where the front hair reaches the already tied ponytail.
Once all the 3 sections are twisted, tie the hair and the existing ponytail together. Use another elastic band to secure the hair firmly.
Tie the entire ponytail into a back bun. Now secure this section firmly using bobby pins.
Run a thin chain from under the front twists. Bring it back to the bottom of the bun. You can fasten the chain using bobby pins.
Now pull a couple of hair strands from the sides of the ears. Let them fall loose over the ears.
You can apply a styling gel to tame your hair or let it be a little messy.
Aishwarya Rai Bachchan chose to leave it a bit messy and it definitely worked well.
Here are some more up do looks that we absolutely love:
1. Sonam Kapoor ringlets hair up do look:
Sonam Kapoor shows us that there are many ways to wear an up do. She moves away from the regular look by wearing her hair in ringlets and pulling it up in a fashionable up do.
2. Deepika Padukone classic hair up do look:
Deepika Padukone keeps it elegant and stylish in this classic look to the up do. This is a great hair style that will suit all Indian dresses, especially the saree.
An up do is a great hairstyle choice that can work at various events and goes with most clothes. These are immensely popular and stylish and are easy to create.
Do try it out once and tell us how much of the Aishwarya Rai look you managed to recreate.
The following two tabs change content below.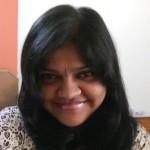 Latest posts by Revathy Agrawal (see all)