Multani 'mitti' (mud) is a natural earth material known as 'Betonite'. It has the ability to remove impurities without causing any side effects. The history of this versatile material dates as far back as the ancient roman times when it was used to bleach sheep fur, as a cleaning agent and for laundry and cosmetic purposes. It is a naturally occurring sedimentary clay composed mainly of alumina, silica, iron oxides and water in variable proportions, with a strong ability to absorb impurities.
Also known as fuller's earth, it is a popular ingredient in various beauty products and treatments. Multani mitti has amazing cleansing and absorbing properties to tackle excess oil, acne, blocked pores and hyper-pigmentation based issues like freckles and dark spots. In this post, let us look at how it helps hair:
Benefits Of Multani Mitti For Hair:
Multani mitti pack for hair is an effective hair cleanser, besides making the hair strong. Here are the following multani mitti for hair benefits.
Being a mild agent, it doesn't cause any harm.
It is used in the preparation of various hair packs due to its mild nature.
It effectively absorbs oil from the hair and scalp.
It helps facilitate blood circulation.
When used as a hair mask, it helps condition the hair.
Cleansing properties of multani mitti removes toxins from the scalp.
It also helps remove dandruff, scalp acne, eczema and similar scalp conditions
Regular application of multani mitti makes the hair radiant and beautiful.
It removes impurities naturally, without stripping the hair of its natural moisturisers.
It is a cost-effective method of managing dull and damaged hair.
[ Read: Multani Mitti Face Packs ]
Multani Mitti Hair Packs:
It is very effective in improving the moisture content of your hair. Massage your hair with sesame oil and keep it for an hour. Now apply multani mitti paste on it and wait for a few minutes before washing.
1. Hair Mask For Dry Hair:
Ingredients:
4 teaspoons of multani mitti
½ cup of plain yoghurt – to help prevent hairfall and to condition hair.
Juice of half lemon – which adds natural shine and removes dandruff from the scalp
2 teaspoons of honey – to condition and beautify your hair
Mix all these ingredients together and apply this pack on your hair. Leave it for a while, and then shampoo and condition for beautiful and radiant hair.
2. Hair Mask For Oily Hair:
Multani mitti keeps our hair radiant and clean from the roots itself. Soak multani mitti in a bowl of water for at least 3-4 hours before washing your hair. Just before 30-40 minutes of applying this pack, add one or two tablespoons of reetha powder in multani mitti and apply it all over your hair. Massage your hair well and keep this pack for 5-10 minutes. Wash it off and experience shiny hair.
[ Read: Homemade Beauty Tips For Hair ]
3. Hair Mask For Split Ends:
In order to treat split ends, massage your hair with olive oil at night. In the morning, wrap your hair with a towel dipped in hot water. After an hour, wash your hair with multani mitti soaked in curd. Rinse your hair thoroughly with water and shampoo the next day. Apply conditioner as usual. This pack should be used once in a week to see noticeable reduction in split ends within months.
4. Hair Mask For Straight Hair: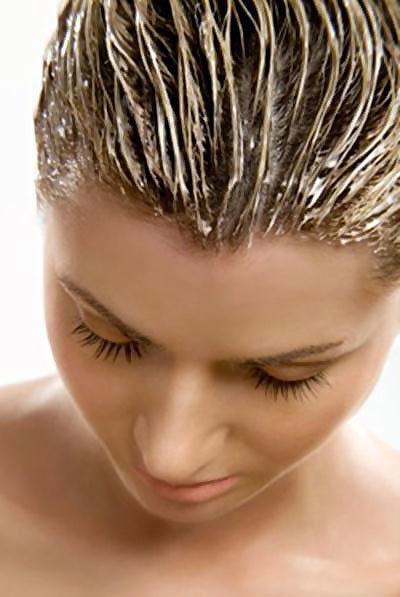 Take one cup of multani mitti. Add 5 teaspoons of rice flour and one egg white. Mix all the ingredients together and add a little water to make a loose paste. Apply this pack on your scalp and hair.
[ Read: Benefits For Multani Mitti ]
There are few things which have to be taken care of while using this multani mitti hair pack
a. Take a wide comb and comb your hair down 2-3 times before you apply the pack.
b. Massage your hair with oil at night and use this hair pack the next day.
c. While applying this hair pack, keep combing your hair to keep it as straight as possible.
d. Allow the pack to dry completely, which would take around 40 minutes. Wash it off with water.
Take ½ cup of milk in a spray bottle and spray it on your hair. Comb your hair thoroughly 4-5 times. Let the milk penetrate your hair for 15-20 minutes. Shampoo and condition your hair as usual. This will make your hair straight, silky and bouncy. Its effect will last till your next hair wash.
Hope this article was interesting and helpful for you. If you have any more ideas on how to use multani mitti for hair, you can share with us in the comment section.
Recommended Articles:
The following two tabs change content below.