10 Amazing Snacks You Should Try For Weight Loss
Studies and research have shown that munching on the right snacks can keep your energy levels high. High-nutrient snacks can keep the body energized and also assist in weight loss. Smart snacks are loaded with proteins and fiber that boost metabolism and eventually burn calories. Healthy snacking not only satiates hunger pangs but also helps in cutting down your meal portions.
Mentioned below are the top 10 snacks for weight loss and their ingredients.
Healthy Snacks For Weight Loss
1. Apple and Skim Milk:
A glass of skimmed milk in between your meals will give you long-lasting energy. This will also fulfil your dietary calcium requirement. Moreover, when you team it with a protein rich fruit like apple, the combination will help you sustain hunger and energy levels for longer hours.
2. Nuts:
Nuts are packed with protein and can keep you full for longer hours. The monounsaturated fat in this snack helps to lower cholesterol level and prevents the buildup of arterial plaque. Nuts are also a good source of fiber, magnesium and antioxidant vitamin E. They can be eaten as it is or you can add them to your favourite smoothie, fruit or crackers.
[ Read: Extremely Effective Weight Loss Tips ]
3. Low or Non Fat Yogurt:
Low fat yogurt makes an ideal snack between meals. It is also a good source of calcium and protein. A cupful of yogurt contains nearly three grams of fat and has 150 calorie count. Studies have shown that consuming yogurt daily can help you lose weight easily.
4. Smoothies:
Fruit smoothies make a healthy and delicious snack option. If you pack it with enough ingredients they also make a great alternative for meals. Smoothies contain about 600 calories that is good enough to keep you filled for long. Make a great smoothie at home with your favourite fruit, peanut butter and yogurt. For the extra dose of protein add some whey powder.
5. Popcorn:
Popcorn is a healthy munching snack only if it is devoid of excess salt and butter. The calorie count is substantially low and the fiber content is high. Pop your corn in the stove using little olive oil or microwave it. When buying air popped popcorn, check the labels for low fat and sodium content.
[ Read: Best VLCC Products For Weight Loss ]
6. Sunflower Seeds:
Sunflower seeds have more or less the same nutrient quotient as nuts. Low salt sunflower seeds are a good munching snack that will help you in losing those extra pounds. If you want quicker results opt for salt free seeds.
7. Soy Chips:
Soy chips are a healthy snack that is high on fiber and low on fat. It is also a great source of soy protein that facilitates weight loss and prevents fat deposits. Team it with appetizing bean dip for extra taste and nutrient.
8. High-fiber Granola bars:
These high-fiber bars are a perfect snack option. These are high on nutrients and taste. Made from whole grain and real nuts, these bars have the right calorie count and are low on sugar and fat content.
[ Read: Top 10 Weight Loss Smoothies ]
9. Edamame:
Edamame is an ideal snack that can be eaten hot or chilled. Add a dash of salt and it turns into an easy and fresh snack to be enjoyed between meals.
10. Cottage Cheese-filled Avocado:
This dairy and fruit combination snack is a healthy option to munch between meals. This delicacy is best when you wish to satiate your palate with something creamy, rich and scrumptious. Slice the avocado into two and remove the pit to form a scoop. Fill this with cottage cheese and you are ready to satiate your hunger pang without adding calories.
To sum up, choosing a right snack is crucial for your weight loss program. Packed with appropriate ingredients these healthy snacks will help you lose few extra pounds without much ado. These are some of the healthy snacks recipes for weight loss. Do leave a comment!

The following two tabs change content below.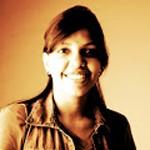 Latest posts by Shruti Goenka (see all)