Bored with your natural hair color? Check out some of the best ammonia-free hair colors to flaunt a brand new, exciting look. Read on to know the top 10 ammonia-free hair color brands available in India.
Hair colours can add flair to your personality. Flaunting natural black or brown hair color can be boring and monotonous sometimes. Today, there are a multitude of hair color brands who offer a wide selection of colors right from plum, burgundy and red to daring greens and blues. However, when experimenting with hair color, it is important to choose ammonia-free hair color brands. Being natural, these ammonia free hair color brands have become immensely popular these days.
List Of Top 10 Best Ammonia Free Hair Colors In India:
1. L'Oreal Paris:
L'Oreal Paris is one of the first hair color brands to launch ammonia-free hair colors. The brand is promoting 'INOA' that stands for Innovation No Ammonia. It's the benchmark for ammonia-free hair color and other such products. L'Oreal's excellence crème color range is highly popular. Being ammonia-free, the hair dye imparts excellent color and conditions your hair without damaging the roots and scalp. This is the best hair color without ammonia. What's more, the time taken to impart color to your hair is just 10 minutes.
2. Clairol:
This is another reputed brand to offer ammonia-free hair colors. Clairol promotes its products under the name of 'Natural Instincts'. Use any of their products range to get healthy looking hair color in not more than 10 minutes. The formula in their products covers grey hair naturally. The hair color is however not permanent and lasts until 28 shampoos.
[Read:Streax Hair Colours In India]
3. Garnier:
Garnier offers you a wide range of ammonia-free hair colors from brown and burgundy to daring reds. Garnier hair color is one of the best hair colour in India. Their Herbal Shine Hair Color Crème gives you unbelievable 22 different shades of fortified hair dye colors. With almost nil drips and clean up, the dying process lasts only 10 minutes. Easy availability and affordable pricing are their USP.
4. Organic Color Systems:
Organic Color Systems offers you a complete range of ammonia-free organic hair products and colors. Unlike ammonia-based hair colors, the organic formula in their products retains the protein level and moisture of your hair. It shields your hair from any damage during the coloring process.
5. Matrix:
Matrix Hair Color provides you with salon quality ammonia-free hair dyes to match your coloring needs. Their product line includes a range of highlights and greys to choose from. Being ammonia-free, they are free from any smell also. They give maximum color impact with minimum stress to hair cuticles. This is the best hair dye without side effects.
[Read:Side Effects Of Hair Dyeing]
6. Wella Kolestint:
Kolestint is one of the most recently launched hair color brands in India. A Wella Kolestint Color Creme hair color gives you a widespread range of salon quality hair color right in the comfort of your home. Besides being ammonia-free, the products are high on quality and easy to use.
7. Revlon:
Revlon is an established and reputed brand name in the beauty industry. With the launch of their ammonia-free hair color range, they have become the leading choice among consumers in India. Revlon offers you a widest selection of hair colors to choose from. Easy availability and decent pricing make their hair products a favorite choice for many.
8. Naturtint Hair Color:
Naturtint is a renowned ammonia-free hair color brand. It's the top choice for salon professionals. Their hair dyes are created using 100% plant based ingredients to protect your hair and scalp from damage and irritation. Naturtint offers you 29 super shades of hair color that are long lasting and radiant.
[Read:Cute Hairstyles For Long Hair]
9. Godrej:
Godrej offers you a quality range of ammonia-free hair colors at easily affordable prices. Starting from black, brown and burgundy, they offer you an entire range of hair colors to suit your likeliness. Made from natural ingredients, their hair dye imparts long lasting hair color in no time.
10. Radico Herbal:
Radico Herbal offers you a complete range of herbal hair colors through their extensive research and formulation. Their ammonia-free hair color range is suitable for all hair types. Besides coloring your hair naturally, their products also add luster and shine to your hair.
Have fun with these gorgeous and safe no ammonia hair colors brands in India! And, don't forget to write to us your views and feedback in the comments section below.
Recommended Articles:
The following two tabs change content below.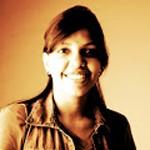 Latest posts by Shruti Goenka (see all)