Avocado Homemade Hair Mask For Damaged Hair
A homemade hair mask for dry damaged hair is different from that of a hair mask made for frizzy hair, which is dry but not damaged. This Homemade hair mask is great for brittle, dry and lack luster hair which just snaps at the slightest touch.
Avocado Homemade Hair Mask For Damaged Hair
Ingredients:
The ingredients required for this Hair mask are real easy to get except for the main ingredient, Avocado – which you should find in Big Food markets like Spencers or More.
Things you need (for treating shoulder length hair):
Avocado:
Mashed over ripe Avocado.This gives great moisture locking properties and is perfect for a hair mask which provides nutrients and nourishment to the hair. You need about 2 cups in mashed form for making this hair mask for damaged hair at home.
[Read:3 Hair Mask Recipes]
Tomato:
Take the pulp of a ripened tomato that will work best towards restoring the PH balance of hair! We will need not just the juice but also the pulp! (One tomato medium sized is good enough or two small ones mashed)
[Read:Is Your Hair pH Balanced]
Soy bean oil (easy to get any grocery store):
About ¼ cup
The Extra virgin Olive oil:
half a cup
[Read:Necessary Hair Care Tips]
Mayonnaise:
Fresh about 2 big teaspoons.It has all the moisturizing goodness and protein content of egg.
Preparation and Use of this Homemade Avocado hair mask for damaged hair:
Use the above ingredients in the ratio as mentioned above and make a thick paste. Apply this on your Hair. If you have longer hair then, increase the quantity of this mixture in the same ratio as mentioned above.
Wear a plastic cap for about 20-30 minute
Ultimately rinse off under running tap-water
You don't have to use a shampoo to rinse off the entire mixture. Just rinse by mixing 5-6 tbspn of honey to a mug of water.

 

Do not aggressively towel dry your hair but do it in a slow pressed motion.
Use this Homemade hair mask at least once or twice a week for best results. Do let me know the results.
Share on Facebook
Share on Pinterest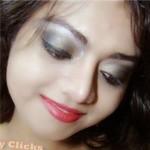 I love makeup,dance,dressing up,singing,writing ,acting (stage drama),eating and nail arts. I live life to the fullest and enjoy every moment as it comes.