I am a big fan of wild nail art designs or let's say animal prints and always seek to find new ideas on how to incorporate them onto nails.
In nature, may be zebras and leopards cannot stay together as friends but after all your nails are your canvas, so let your imagination run wild and let us create a story.
The backdrop: So once upon a time, gold was dug out of the ground and both these creatures, the zebras, and the leopards, started to guard it and keep it out of the human's clutches. Hence, these two species of animals came to stay together.
Leopard and Zebra Nail Art Tutorial
So today I will show you a duo wild animal nail art depicting this special story.
Things You Need:
A base coat
White acrylic paint
Muddy yellow acrylic paint
A black acrylic paint (or striper)
A brown acrylic paint
Cotton bud and polish remover
Golden nail art foil or golden striper or golden glitter polish
A Black Striper
A toothpick
A nail art brush
A good quality, transparent top coat
Let's get started with this wild nails design
Step 1:
Use a nice layer of base coat on your nails to prevent nails from harmful effects of acrylic paint. Paint up your nails with two colors in the way that I have used them.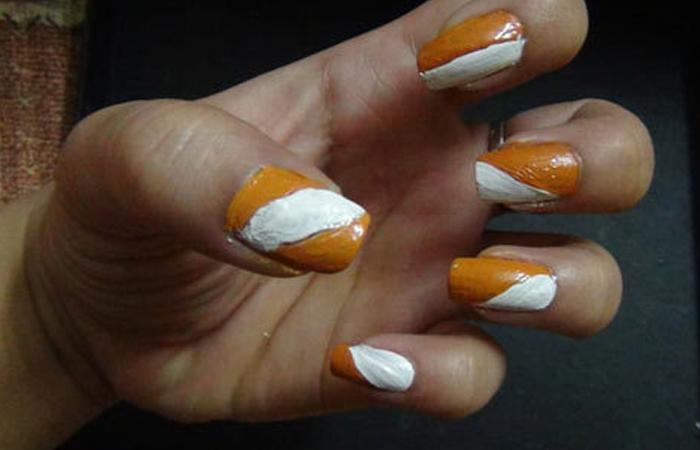 Step 2:
With the help of your striper, give some black stripes on the white portion to make the zebra print. You can use your nail polish and nail art brush too for this one or nail art brush and black acrylic color too.
Step 3:
Now complete the leopard part by giving some uneven dots with the blunt end of the toothpick or you can also use your dotting tool. I have used brown acrylic color for this. You can use brown nail polish too.
Step 4:
Border the leopard dots with unjoined crescents to complete the leopard print. I have used black acrylic color for this. You can use your nail polish too.
Now at the demarcations, use a fine lining of top coat. Immediately take bits of golden foil and stick them on this lining with the help of the pointed end of the toothpick. If you are using a golden striper, then you can directly use the striper to make demarcation lines. If on the other hand you are using golden glitters, then on again you need to use top coat on to these demarcations and pat golden glitter over these.
Step 5:
Now clean up traces of paint on edges with the toothpick and polish remover. Apply a thick layer of top coat and rest your hands, if possible near a fan or air conditioners air flow so that it gets dried to perfection. If needed use another layer. This should last quite good for about a week with a top coat application every 2 days.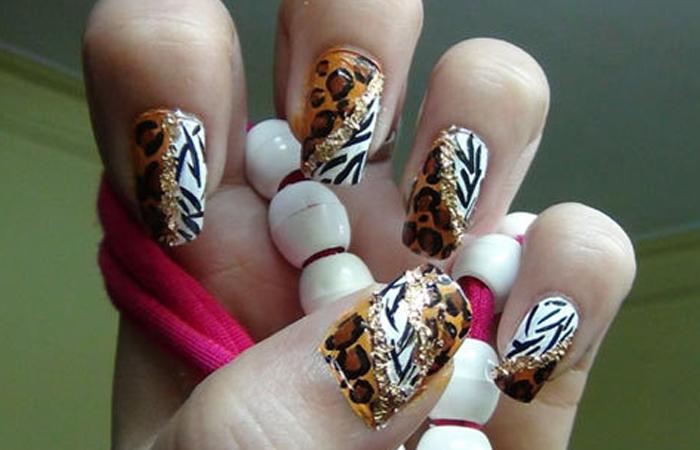 Step 6:
So here are your wild nails. This is how your nails should look like. Using golden glitters, the look will be a bit different; nevertheless, it will still be ravishing. Try it out and make others envy your sexy nails.
Things You Need:
A base coat. Try: Essie Ridge Filling Base Coat
White acrylic nail paint
Light pink acrylic paint or a nail polish like Cadillac Pink from Revlon Street Wear
Black Nail Lacquer by Maybelline
Cotton bud and polish remover
Toothpick
A thin, nail art brush
A transparent top coat. We recommend, Umbrella Oxygen Raincoat Top Coat (it has a UV filter too – perfect for your nails while you are hitting a beach.)
Silver long bits of metallic chains.
Here's how to do this cute and easy chained Leopard nail art.
Let's get started with the Chained Leopard Nail Art
Step 1:
Begin by applying a good layer of base coat on your nails to prevent it from harmful effects of acrylic paint. Let it dry. Once done, with the help of your nail art brush paint your nails with white acrylic color. Refer the image below.
Step 2:
Now for the remaining empty space, fill in with pink nail color. Next, take a toothpick and with its blunt end place some uneven dots on the white section.
Step 3:
For the next step, dip your toothpick's blunt end or your nail art brush in the black polish and draw an abstract border around the pink dots. Use crescent half circles to border the dots. Even better you can draw a "U" or a "C." And don't worry about the shape not being perfect. In fact, if they are little jagged, even better because you see in the wild, nothing is perfect!
Step 4:
Now, apply a coat of transparent polish at the joints of the two colors according to the shape and insert long sparkly pieces of metallic silver chains. Make sure you adjust their shapes accordingly after placing them with the help of a toothpick.
Step 5:
Use a cotton swab dipped in acetone to clean the color off your fingers.
Step 6:
Apply two good layers of the transparent top coat to seal in your design and to keep your chains stuck properly. So, here you have the girly pink leopard trapped in chains in its final form.
With a fancy nail art that easy, we'll be donning this leopard print for days to come.
Cheetah Nail Art
Things Required:
A base coat (optional)
A skin colored nail polish
A white polish
A metallic brown and golden nail polish
A small piece of sponge
Acrylic paints in black, greenish yellow or muddy yellow, brown and white
A transparent polish
Method of Applying Nail Art Cheetah Print:
Step 1:
Paint your nails with two nice coats or a single layer of base coat. This is important, especially if your nails are prone to chipping or breaking. This also prevents nail stains from acrylic colors. Wait till the base coat is completely dry. Now use two layers of a skin colored nail polish. This will make the base more opaque.
Step 2:
Now use the white polish. Apply at least 2 coats of white polish or till your nails become completely opaque.
Step 3:
Now take the muddy yellow color and draw a shape like above. It should be a bit diagonal.
Step 4:
Now follow up the shape with a nail art brush and black acrylic paint to give it the shape of cheetah's eyes.
Step 5:
Do the same for the next finger. It should look something like above.
Step 6:
Now cover up the other nails with the same muddy yellow color. You can also use a bright orange colored nail polish or acrylic paint.
[ Read: Nail Art Tutorial ]
Step 7:
Now take your nail art brush and take brown colored acrylic paint. Use a dotting tool or just your nail art brush to make some uneven small and big cheetah prints. Also, use a big, diagonally stretched dot of brown for each of the cheetah eyes. Use another dot of black with black acrylic color at the center of the brown mark. Use a very small bit of white onto one side of the black eyeball. This will make the eyes look more alive. This tiny white mark will represent the reflection of light in the eyes. When all these detailing is completed, it should look something like above.
Step 8:
Now take the golden and metallic brown colored polish onto a palette. Use a small piece of sponge to sponge up the two colors onto the white areas of the two nails where you have drawn the eyes. It should look something like below. Let the whole design dry completely. When dried, seal up this awesome design with a nice layer of top coat.
Snow Leopard Nail Art
Things you will need:
2 or 4 toothpicks
A sky blue color (I mixed two colors in a palette Hawaii From Tips and Toes and Blue Bell from Revlon Street Wear )
A light rose pink color (I used Revlon Street Wear Rose Pink )
A very light pink color (I Used Hong Kong from Tips and Toes )
A bright yellow (I used Amarelo Sol From Colorama, you can also use Moscow From Tips and Toes )
A black polish (I am using black from Gaits )
A matte white polish (I am using Matte White from Gaits )
A top coat (I am using Transparent From Lotus )
A base coat of your choice (Optional)
Stepwise Procedure:
Step 1:
Apply a base coat of your choice if you have a base coat. Let it dry completely and next follow up with 2 coats of matte white polish.
Step 2:
Now if you have the perfect blue, then you don't have to do any mixing. Else mix Hawaii and Bluebell to get a light blue hue. Use the blunt end of the toothpick to make random shapes which are a little oval to a bit curved like a crescent.
Step 3:
Now make similar shapes with the yellow using the same blunt end of the toothpick. Don't make them too big or too crowded.
Step 4:
Do similar shape painting with the Rose pink and some light pink with Hong Kong.
Step 5:
Now take black polish in a palette and pour out a little amount. Remember to keep the ceiling fan off during this time as it will dry out fast and not give you enough time for completion of the design. Now take the pointed end of a toothpick and apply black color bordering the shapes in a haphazard manner. Cover from sides in uneven bordering and leave some shapes to be covered fully. Use some crescent dots of black at sides and also in places left out.
Step 6:
Finally, once the black polish borders dry, you can finish off with the top coat. Use two coats of the transparent top coat and seal in your Snow Leopard Nail Art Design.
Here is the finished look.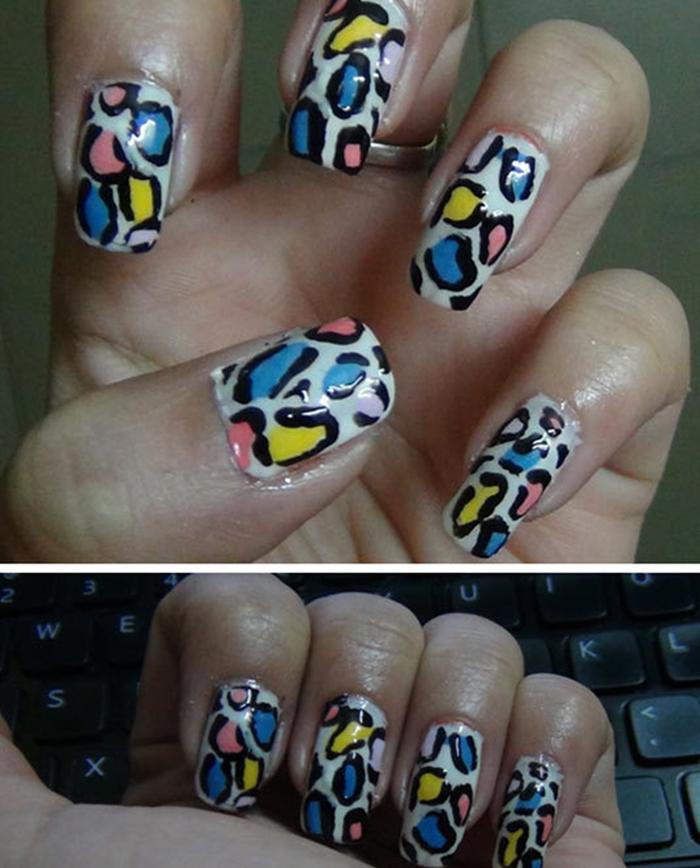 This is just a simple leopard design nail art that never fails to look neat and definite. This can be perfect nail art that can be chosen to wear at any time.
The following two tabs change content below.