21 Amazing Benefits Of Almond Oil For Skin, Hair And Health
Of late, almond oil has become one of the most popular oils as more and more number of people have become aware of its many uses and benefits. Its popularity might have increased in the beauty industry in recent times, but you can easily find this oil and its benefits mentioned in the history of various civilizations.
Almond oil comes in two variants – sweet and bitter. The more popular one is sweet almond oil which is basically extracted from sweet almond seeds. It is loaded with beauty and health benefits which is the reason behind its wide usage in beauty products and for the purpose of consumption. On the other hand, bitter almond oil is extracted from the bitter almond plant and is not meant for consumption or external application.
Almond Oil for Skin:
As I have mentioned, sweet almond oil is a very popular ingredient in beauty products. It is particularly used in a lot of skin care products as studies have found that its composition is somewhat similar to the natural oil found in a baby's skin. This composition helps in protecting your skin, prevents common skin problems and keeps it youthful and healthy.
Here are a few ways in which you can use this oil to take care of your skin:
1. Makes Skin Healthier:
Almond oil is a rich source of Vitamins A, B and E which are great for your skin's health. Pick up any expensive skin care product and I am sure they will claim to have these Vitamins as ingredients.
The biggest reason to use almond oil instead of these chemical-laden products is the fact that it is really mild on your skin and suits all skin types. It helps in maintaining the moisture levels of your skin and gets absorbed in a jiffy without blocking your pores which we all know is one of the most common reasons behind a number of skin problems. It particularly helps if you have extremely dry or sensitive and irritated skin.
2. Reduces Dark Under Eye Circles:
If you want to get rid of those big bad dark circles, just rub sweet almond oil under your eyes daily before going to bed. Doing this religiously and regularly will not only help in reducing dark circles but also prevent blemishes and fine lines.
3. Delays Signs of Ageing:
Almond oil is one of your best bets when it comes to reversing and preventing signs of aging. It helps in renewing the skin cells and revitalizes the skin, making you look fresh, young and radiant.
4. Removes Impurities and Dead Skin Cells:
Almond oil is not only a good moisturizer but also works as a great ingredient in scrubs which can help you to get rid of impurities and dead skin.
All you need to do is mix 1 tbsp. of almond oil and 1 tsp of sugar and gently rub this mixture on your face in small circular motion. Regular usage of this scrub will help in preventing blackheads, acne and other skin problems
5. Good Solution for Psoriasis & Eczema:
Almond oil helps in reducing inflammation, redness, and itching of skin and thus acts as the perfect solution for skin problems like psoriasis and eczema.
Mix 2 tablespoons of almond oil with 2-3 drops of vitamin E oil, 4-5 drops of German Chamomile essential oil and 4-5 drops of true Lavender essential oil. Apply this several times a day to ease the symptoms and get rid of cracked skin that comes with these skin problems.
Almond Oil for Hair:
Almond oil is known to strengthen hair and add shine to them. It also stimulates hair growth and reduces breakage and hair fall. Regular usage of this oil ensures that your scalp and hair remain healthy.
Here are a few ways to use almond oil to get beautiful and lustrous hair:
6. Makes Hair Long & Healthy:
The simplest way to take care of your hair is to give them a regular oil massage. Add almond oil to this routine and you would get long and healthy hair.
Warm the almond oil and massage onto your scalp. If you want, you may also add some essential oils to this. Once you are done with massaging the scalp, take a towel, soak it in hot water and use it to wrap your hair. This simple step will ensure that the oil gets absorbed in your scalp and hair for better results.
Regular usage of this oil for hair massage also helps in nourishing the hair from the cuticles, which makes them all the more smooth, soft and manageable. It also promotes blood circulation in the scalp, promotes growth of new hair, fastens the process of repair of damaged hair, protects the hair from breakage and all in all makes them stronger.
7. Works on Splits Ends & Heavy Hair Fall:
If you suffer from heavy hair fall and split ends, mix almond, castor and olive oil in equal proportions; heat it and apply this combination to your hair. Apply this once a week and you will notice a change in a few weeks.
8. Good Substitute for Shine Enhancers & Leave-In Conditioners:
Almond oil has a very light texture which makes it an ideal substitute for shine enhancers or leave-in conditioners for hair. This natural substitute works better than the chemical-laden hair products.
9. Leaves Hair Shiny & Soft:
To help in repairing damaged hair, mix mashed avocado with almond oil and apply it as a hair mask. Leave it for 20-30 minutes followed by hair wash with your favorite shampoo and conditioner. This will leave your hair shiny and soft.
10. Treats Dandruff:
To get rid of dandruff, mash gooseberry and mix it with almond oil. Apply this mixture to your scalp. Keep it on for 20-30 minutes followed by a regular hair wash.  This hair mask will help in soothing your scalp and will ensure that your hair appears black and shiny.
Other Beauty Benefits of Almond Oil:
Almond oil has innumerable beauty benefits which are not restricted to hair and skin.
Here are some other beauty benefits you can derive from almond oil:
11. Treats Chapped Lips:
We all want to have soft and pink lips. One of the simplest ways of preventing and treating chapped lips is using almond oil instead of petroleum jelly or your artificial lip balms.
Make your own natural lip balm by mixing 5-6 drops of almond oil with 1 tbsp. of honey. You can store this in an empty lip balm container and use it on your lips whenever they feel dry. You will notice that your lips are soft and smooth and have that natural healthy pinkish glow to them.
12. Makes Nails Healthy & Strong:
There is no need to invest in expensive nail and cuticle treatments.  To get those healthy and strong nails, all you need is a few drops of almond oil. Presence of almond extract, potassium and zinc in almond oil ensures that your nails are left strong and hydrated, thus making them less prone to peeling and breaking.
Just take a few drops of sweet almond oil and massage it on your cuticles to get rid of rough, ragged cuticles.
Almond oil also helps in maintaining the moisture balance in your nails and prevents them from getting dry.
Take half a bowl of almond oil; heat it so that it's warm enough to put in your fingers and soak your nails in it for 5-7 minutes. This trick helps in getting strong and shiny nails and also keeps problems like splitting and hangnails at bay.
13. Great Substitute for Hand & Foot Creams:
I am sure nobody appreciates the greasy feeling that most hand and foot creams leave behind. While you can easily substitute these hand and foot creams with a large number of natural oils, almond oil is a preferred option because it is much lighter and less greasy than most of its natural counterparts. The fact that it is light weight helps in its easy absorption by the skin in no time with the added advantage of a sweet fragrance that it leaves behind.
Almond oil is also rich in zinc, which is known to heal the skin that in turn helps in getting rid of dry and cracked skin on the hands and feet. The presence of Zinc also ensures that dead skin is renewed and the complexion and tone of the skin are evened out.
14. Promotes Eyelash Growth:
If you want those big flirty eyelashes then make sure you have a bottle of almond oil in your kitchen. Just dip an old mascara brush in the almond oil and apply the oil on the eyelashes just like you would apply mascara. Repeat it a few times just like you would when you are trying to apply multiple coats of mascara to ensure that all the eyelashes are covered in oil.
15.Ideal Makeup Remover:
As almond oil is one of the least greasy and light oils it acts as an ideal makeup remover.  It opens the pores and ensures that all the makeup is removed. It also prevents chances of acne and pimples, thus making it a good makeup remover for all skin types.
Health Benefits of Almond Oil:
Now that we have discussed the beauty benefits of almond oil, let us take a look at the health benefits of this amazing oil:
16. Prevents Heart Ailments:
Almonds oil is rich in potassium, folic acid, monounsaturated fats and protein, which help to prevent various heart diseases. Just add half a teaspoon of sweet almond oil to your regular cooking oil.
17. Regulates Blood Pressure & Maintains Blood Cholesterol Levels:
Almond oil has high potassium content. It is also low on sodium content which helps to regulate the blood pressure and maintains the cholesterol level in the blood, thus preventing the development of any heart-related issues.
18. Boosts Immunity, Effective Laxative & Aids Digestion:
Almond oil is known to boost immunity. Regular consumption ensures that your body is ready to fight common infections like cough, cold, fever, stomach infections etc. It is also an effective laxative and aids digestion which is particularly a better option for aged people who have to rely on medicines to aid digestion. Two tablespoons associated with neat almond fat taken twice a day can be helpful, but you shouldn't consume this for the greater part of the week.
19. Boost Memory & Strengthens Nervous System:
Almond oil boosts memory and strengthens the nervous system. Just add a few drops every day in a glass of milk and consume it regularly. Also, it is a great source of omega-3 fatty acids and monounsaturated fats which makes it ideal for consumption and a great substitute for olive oil as well.
In case you do not like to consume it with milk or you are lactose intolerant, use it as a salad dressing.
Just mix 3 tablespoons of almond oil with 1 tablespoon vinegar, 1 tablespoon maple syrup and 1 tablespoon Dijon mustard, some salt and pepper to taste and add it to your favorite salad. The only thing you need to ensure is that you don't consume unprocessed almond oil, as it might contain several harmful bacteria in it.
20. Enhances Blood Circulation & Helps in Child's Healthy Bone Development:
Massaging with Almond oil not only helps in enhancing the blood circulation but also helps in a child's bone development. Giving your baby a regular massage with almond oil helps in keeping the baby's skin soft and helps in healthy bone development. You can also use it to massage your baby's hair.
21. Relieves Pain & Stress in Muscles:
Almond oil has analgesic properties. It helps in relieving pain and stress from strained muscles. Just heat a few tablespoons of oil and massage it to the affected area to get instant relief. It also helps in getting rid of joint pain and other related issues for elders.
To get rid of pain in the neck or knee joint pain, get a hot almond oil massage for the affected area. In case you have had a long day and your feet are killing you, take a bowl of warm water, add a few drops of almond oil in it and soak your feet till the water seems cold. This will not only help you to get rid of the foot pain, but also ensure that your feet do not dry after being treated in warm water.
Now that you are equipped with all this knowledge about the numerous benefits almond oil has to offer, make sure you add a bottle of this amazing oil to your shopping cart the next time you visit the super market. If you already have it in your kitchen, then what are you waiting for – go and grab it and start using it to get that glowing skin, the long lustrous hair and the healthy body you always wanted!
The only word of caution that I have for you is that always be careful when you're using almond oil and make sure that you are only consuming sweet almond oil and not the bitter variant. Bitter almond oil should also not be applied topically or used in skin care, as it has certain compounds present that can cause a lot of major skin and health problems.
Share on Facebook
Share on Pinterest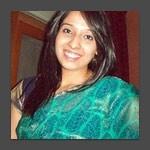 Hey I am aparajitha. A Delhi based bong. The face behind the blog Colors Of My Life. I am a Research analyst by profession and now a blogger by passion. I love writing about make and beauty.