Almond can do wonders to your skin, hair and general health.
This nut is antioxidant rich, high in vitamin E, fat and protein content along with containing many essential nutrients. The daily usage of this wonderful home ingredient can treat many ailments and treats various beauty and hair issues.
Amazing Benefits And Uses Of Almond Oil For Skin, Hair And Health:
Almond oil comes in two variants: sweet and bitter with the sweet oil being more popular. This variety is loaded with many skin, hair and health benefits, making it a popular ingredient in may beauty products.
Almond Oil for Skin:
Almond oil is a popular essential oil commonly used in aromatherapy and is suitable for most skin types. It is also commonly used in many baby skin care range of products also. Below are some of the benefits of almond oil for skin.
Benefit No. 1: Makes Skin Healthier
Almond oil is rich in vitamin A, B and E, which are great for skin health. In fact, most skin care products have these vitamins loaded in them. The oil helps maintaining moisture levels of the skin and gets absorbed in a jiffy without blocking the pores. Overall, almond oil for skin care helps:
Improve the complexion and retaining glow
Moisturize better and deeper
Soothe skin irritation and skin inflammation
Relieve dry and irritated skin
Nourish skin, making it softer and smoother
Cures chapped lips and body rashes.
Benefit No. 2: Reduces Dark Circles
If you are looking for a natural solution to get rid of dark under eye circles, almond oil is most suitable. Simply apply the oil before going to bed and allow it to work while you sleep. For optimum results do so regularly for a couple of weeks at least. The treatment will help you get rid of dark circles as well as reduce dark eyelids and crow's feet.
Benefit No. 3: Delayed Signs of Ageing
Almond oil is excellent to reverse and prevent signs of ageing by renewing skin cells and invigorating the skin, ensuring younger, fresher and more radiant skin.
Benefit No. 4: Removes Impurities and Dead Skin Cells
The skin tends to look dull due to dead skin cells that originate due to external factors like pollution, dirt, sweat, etc. In order to get rid of these dead skin cells and brighten the skin, make a pack by crushing 4-5 almonds, a teaspoon of milk, little lemon juice and gram flour. Combine the ingredients and apply on the face for at least 30 minutes before washing it off with water. Alternatively, a scrub can be made using a tbsp. of almond oil and a tsp. of sugar. Massage this scrub on the face in small circular motions to get rid of dead skin cells and blackheads.
Benefit No. 5: Good solution for Psoriasis and Eczema
Almond oil helps reducing inflammation, itching and redness of the skin. Make a mixture by adding 2 tbsp. of almond oil, 5 drops of German Chamomile oil, 5 drops of lavender oil and 3 drops of vitamin E oil. Apply the mixture to the skin several times a day to ease the symptoms and get rid of cracked skin and other skin problems.
Benefit No. 6: Reduce Tanning
Due to sun exposure, many parts the face and body tend to get darker and tanned. To remove the layer of tan, make a paste of almond oil, honey, lime juice and milk powder. Apply the paste on the affected area and leave it on for 20 minutes before washing with water. This will help get rid of the tan and also restore lost moisture of the skin.
The following two tabs change content below.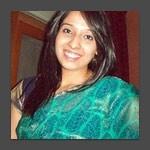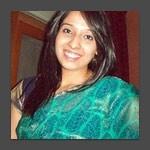 Latest posts by Aparajita Chattopadhyay (see all)