Almond can do wonders to your skin, hair and general health.
This nut is antioxidant rich, high in vitamin E, fat and protein content along with containing many essential nutrients. The daily usage of this wonderful home ingredient can treat many ailments and treats various beauty and hair issues.
Amazing Benefits And Uses Of Almond Oil For Skin, Hair And Health:
Almond oil comes in two variants: sweet and bitter with the sweet oil being more popular. This variety is loaded with many skin, hair and health benefits, making it a popular ingredient in may beauty products.
Almond Oil for Skin:
Almond oil is a popular essential oil commonly used in aromatherapy and is suitable for most skin types. It is also commonly used in many baby skin care range of products also. Below are some of the benefits of almond oil for skin.
Benefit No. 1: Makes Skin Healthier
Almond oil is rich in vitamin A, B and E, which are great for skin health. In fact, most skin care products have these vitamins loaded in them. The oil helps maintaining moisture levels of the skin and gets absorbed in a jiffy without blocking the pores. Overall, almond oil for skin care helps:
Improve the complexion and retaining glow
Moisturize better and deeper
Soothe skin irritation and skin inflammation
Relieve dry and irritated skin
Nourish skin, making it softer and smoother
Cures chapped lips and body rashes.
Benefit No. 2: Reduces Dark Circles
If you are looking for a natural solution to get rid of dark under eye circles, almond oil is most suitable. Simply apply the oil before going to bed and allow it to work while you sleep. For optimum results do so regularly for a couple of weeks at least. The treatment will help you get rid of dark circles as well as reduce dark eyelids and crow's feet.
Benefit No. 3: Delayed Signs of Ageing
Almond oil is excellent to reverse and prevent signs of ageing by renewing skin cells and invigorating the skin, ensuring younger, fresher and more radiant skin.
Benefit No. 4: Removes Impurities and Dead Skin Cells
The skin tends to look dull due to dead skin cells that originate due to external factors like pollution, dirt, sweat, etc. In order to get rid of these dead skin cells and brighten the skin, make a pack by crushing 4-5 almonds, a teaspoon of milk, little lemon juice and gram flour. Combine the ingredients and apply on the face for at least 30 minutes before washing it off with water. Alternatively, a scrub can be made using a tbsp. of almond oil and a tsp. of sugar. Massage this scrub on the face in small circular motions to get rid of dead skin cells and blackheads.
Benefit No. 5: Good solution for Psoriasis and Eczema
Almond oil helps reducing inflammation, itching and redness of the skin. Make a mixture by adding 2 tbsp. of almond oil, 5 drops of German Chamomile oil, 5 drops of lavender oil and 3 drops of vitamin E oil. Apply the mixture to the skin several times a day to ease the symptoms and get rid of cracked skin and other skin problems.
Benefit No. 6: Reduce Tanning
Due to sun exposure, many parts the face and body tend to get darker and tanned. To remove the layer of tan, make a paste of almond oil, honey, lime juice and milk powder. Apply the paste on the affected area and leave it on for 20 minutes before washing with water. This will help get rid of the tan and also restore lost moisture of the skin.
Benefit No. 7: Substitute for Hand and Foot Cream
Almond oil is a light and less greasy substitute for hand and foot creams. Due to its lightness, it is absorbed by the skin very quickly. Moreover, it also leaves a sweet fragrance behind. Due to its rich zinc properties, it is known to heal the skin and get rid of dry and cracked skin on all parts of the body.
[ Read: Home Remedies For Cracked Heels ]
Benefit No. 8: Ideal Makeup Remover
Almond oil is a light and less greasy option that acts as an ideal makeup remover. Almond oil effectively opens the pores and ensures all makeup is properly removed. Moreover, it averts the odds of acne and pimple occurrence and can be used for all skin types.
For soft and pink lips, a simple way is to use almond oil. Make your own natural lip balm by mixing almond oil and some honey. Store the mixture in an empty container and use it on the lips whenever they feel dry.
A simple almond oil recipe for enhancing skin health and its glow is:
Ingredients:
1 tablespoon almond oil
1 tablespoon honey
1/2 avocado
Procedure:
Mash the avocado and mix in all the ingredients to form a puree.
Apply the mix to the skin on all areas.
Leave it on for 15-20 minutes before rinsing with warm water and pat dry.
Benefit No. 10: Wrinkles and Fine Lines
Are those fine lines and crowfeet spoiling your whole facial look? Be prepared to pamper your skin with a weekend almond oil massage as this is one of the most well known benefit of almond oil. This will help in improving the blood circulation and tightening up your dull, aged skin.
Simply heat 2 teaspoons of almond oil and pour 2 drops of Vitamin E oil to it. After it comes to bearable heat, start applying this oil on your face and massage gently with finger tips in circular motion. Continue this process for about 10-15 minutes and wipe off your face with a soft towel or tissue.
Splash water and pat dry. You're done. This facial massage repairs skin and helps eliminating those wrinkles and fine lines with regular use. It also moisturizes and nourishes the dry skin.
[ Read: Homemade Face Packs For Dry Skin ]
Almond Oil for Hair:
Almond oil adds lustre and makes hair look and feel healthy. Due to many cosmetic benefits of the oil, it is used in a wide variety of beauty treatments. Below are some benefits of almond oil for hair.
Benefit No. 11: Long and Healthy Hair
Almond oil is a rich source of magnesium which is used in a variety of hair products. Deficiency of magnesium can result in heavy hair fall. Apply almond oil once or twice a week to moisturize the scalp. This reduces hair fall and improves hair quality. After massaging, soak a towel in hot water and wrap your hair with it. This ensures better absorption of the oil.
Benefit No. 12: Get Rid of Split Ends
A mixture of almond, castor and olive oil in equal proportions massaged into the hair will get rid of split ends. Apply this once or twice a week to notice a change in just a few weeks.
Benefit No. 13: Substitute for Shine Enhancers and Leave-In Conditioners
Almond oil is light in texture and makes a great substitute for shine enhancers or leave-in conditioners for hair. For those with dry hair, almond oil on hair has high moisturizing properties due to the essential fatty acids it contains.
Benefit No. 14: Leaves Hair Shiny and Soft
Make a mixture of mashed avocado and oil mask and apply it to the hair as a hair mask. Leave it on for 30 minutes before washing with your shampoo and conditioner. The mask ensures shinier and softer hair.
Benefit No. 15: Treats Dandruff
Almond oil works effectively to cure dandruff on the scalp by removing dead cells. A mixture of mashed gooseberry and almond oil put on the hair and left for 30 minutes, followed by a hair wash, is sure to soothe the scalp and ensure shinier hair.
[ Read: Almond Oil Is Helpful For Hair ]
Benefit No. 16: Reduces Scalp Inflammation
Our scalp is exposed to dust, heat, pollution, chemical styling products which leads to inflammation. And ignorance of this problem can lead to dandruff, scalp infections and hair fall. Almond oil should be regularly used on the scalp to reduce the inflammation. Due to its high content of fatty acids, it moisturises and softens the scalp tissues and improves the blood circulation, which helps in reducing the inflammation.
Health Benefits of Almond Oil:
Eating raw almonds is very beneficial. However, almond oil has its own set of benefits for health. Following are almond oil health benefits.
Benefit No. 17: Prevents Heart Ailments
Almond oil is rich in folic acids, unsaturated fats, protein and potassium. All these are proved to be beneficial for cardiac health. Simply add a teaspoon of sweet almond oil in your daily cooking to enjoy its benefits.
[ Read: Almonds for Weight Loss ]
Benefit No. 18: Regulates Blood Pressure and Maintains Cholesterol Levels
Almond oil has a high potassium content and low sodium content that helps regulate blood pressure and maintains cholesterol levels. This prevents development of and cardiac related issues.
Benefit No. 19: Boosts Immunity and Aids Digestion
Almond oil is known to boost immunity and regular consumptions makes the body stronger to fight common infections. It also proves to be an effective laxative and aids digestion.
Benefit No. 20: Boost Memory and Strengthens Nervous System
Almond oil boosts memory and strengthens the nervous system. Add a few drops of the oil to a glass of milk and consume it regularly. Almond oil is also a great source of omega-3 fatty acids and mono-saturated fats that make it ideal for consumption. Almond oil can also be used as a tasty salad dressing.
Benefit No. 21: Enhances Blood Circulation and Baby's Bone Development
Massaging with almond oil enhances the body's blood circulation and also helps development of the bone system in a baby. Give your baby a regular massage with almond oil for soft skin and healthy bone development.
Benefit No. 22: Relives Pain and Stress of Muscles
Almond oil has analgesic properties that helps relieve pain and stress from strained muscles. A few tablespoons of heated almond oil, when massaged in to the affected area gives instant relief from joint paints.
Benefit No. 23: Promotes Healthy and Strong Nails
To get healthy and strong nails, massage them with a few drops of almond oil. The potassium and zinc content leaves the nails stronger and more hydrated, making them less prone to peeling or breakage.
Beauty Benefit Of Almond Oil:
Benefits No. 24: Get Natural Big Flirty Eyelashes
If you always dreamt of having those big flirty eyelashes then make sure you have a bottle of almond oil.  You can simply use an old mascara wand, dip it in the almond oil and apply the oil on the eyelashes just like applying mascara. Repeat it a few times and ensure that all the eyelashes are covered in oil. You can do this simple recipe before sleeping or whenever you have some leisure time to get natural fuller eyelashes.
 [ Read: Remedies To Get Thicker Eyebrows ]
Now that you know the benefits that almond oil possess, do not forget to add this natural ingredient in your shopping lists. Let a few drops of this wonder oil work like a magic spell to transform a beautiful you.
Recommended Articles:
Did You Find This Article Helpful?
The following two tabs change content below.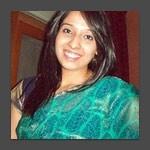 Latest posts by Aparajita Chattopadhyay (see all)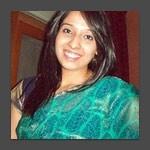 Hey I am aparajitha. A Delhi based bong. The face behind the blog Colors Of My Life. I am a Research analyst by profession and now a blogger by passion. I love writing about make and beauty.