Best Astringents For Oily Skin – Our Top 10 Picks
Open pores, acne, pimples and blemishes are a nightmare for people who desire to have beautiful and healthy skin. These perils are known to bother people with oily skin more frequently than other skin types. Excess oils on the skin invite microbial attacks and promote blockage of the pores by accumulated dirt, sebum and dead cell build up. These lead to expansion of the pores, making them visible on the skin and inciting acne outbreaks that leave unwanted blemishes on the face. What one needs to relieve these skin issues is a potent astringent.
An astringent is a chemical substance that causes shrinkage of body tissues like the skin pores. Cucumber, witch hazel, lime etc. are well-known natural astringents. There are cosmetic astringents and toners, easily available in the market, which help to cleanse, tighten and soothe the skin. A healthy skin care regime involving regular cleansing, toning and moisturizing can help you achieve the healthy dream skin that is flawless, radiant, smooth and beautiful. Few toners which are highly effective in treating the skin are:
1. Neutrogena Clear Pore Oil Eliminating Astringent:
This well-known astringent, containing 2% salicylic acid is ideal for treating oily skin. It removes the excess sebum blocking the skin pores and cleanses the skin thoroughly. A non-skin irritant with anti-microbial and anti-inflammatory properties, it helps to relieve the skin of inflammations, acne breakouts and also restricts its reoccurrence.
 [ Read: Homemade Toners For Oily Skin ]
2. Kaya Purifying Spot Corrector:
This pen-shaped astringent is a perfect solution for oily and acne-prone skin. It helps to exfoliate the skin's pores by removing the accumulated oil, dirt and dead skin build up effectively. It thus helps to battle acne issues and its overnight application soothes the skin, dries and fades blemishes from the derma.
3. Himalaya Purifying Neem Cleansing Astringent Toner:
This toner, enriched with neem, lodh and lemon extracts is the ideal remedy to tackle the perils faced by oily skin such as acne, rashes, inflammations etc. The inflammatory properties and soothing effect of lemon and lodh help to calm the skin of inflammations and skin bumps, and tighten the pores. The neem extracts purify and cleanse the skin effectively.
4. The Clinique Clarifying Lotion:
This dermatologist-formulated, non-drying, non-stinging, alcohol-based toner has many benefits for oily skin. It helps to purify your skin pores off pollutants, dulling flakes and excess oils, and also reduces their size. It helps to block blemishes to create cleaner, healthier and flawless skin.
5. Garnier Pore Purifying Astringent:
This astringent, enriched with zinc and other purifying agents, is a perfect toning solution for oily skin. Regular application of this clinically-tested astringent helps to cleanse and tighten the skin pores to create smooth, flawless and radiant skin with ease. It also aids in drying blemishes and evens out the skin tone.
6. Vlcc Skin Defense Punarnava Astringent:
This astringent created by VLCC helps to cleanse, tone, soothe and refresh the skin. Suitable for the oily skin type, this product has antiseptic properties that help to keep skin infections like acne at bay. It helps to tighten the skin pores, smoothes the skin and makes it look clear, even and youthful.
7. The Body Shop Nutriganics Refreshing Toner:
Enriched with organic babassu oils, this non-drying astringent helps to clean the skin thoroughly. It's 98% natural formula helps to remove dirt, impurities, excess oils and make up completely from the skin. It rejuvenates and revitalizes the derma and creates healthier, cleaner and luminous skin.
8. Lotus Herbals Rosetone Skin Toner:
This product from Lotus Herbals contains natural astringents like basil leaves and active ingredients like rose that help to clean, refine and regulate the skin pores. They also render antiseptic properties that help to prevent skin infections and acne. Aloe Vera gel and vetiver present in it have healing properties that help to moisturize, revitalize and rejuvenate the skin, making it look beautiful.
9. Biotique Cucumber Pore Tightening Freshener:
Vital cucumber extracts in this product have a clarifying and cooling effect on the skin. Cucumber, a natural astringent, along with coriander, peppermint oils, nut galls etc have multiple benefits on the skin. They help to refresh, soothe, cleanse and tighten the pores, and eliminate excess sebum accumulation on the skin to enhance the dermal health and appearance.
10. Lakme Fundamentals Skin Balancing Toner:
This astringent contains ingredients like lavender and witch hazel extracts that are natural toners. They help to maintain the pH balance and hydration levels of the skin while cleansing and tightening the skin pores. It clears the skin of dirt, excess oils and impurities and thus, is an effective toning treatment for people with oily skin.
Have you tried any of these products? Do share with us by commenting below.

The following two tabs change content below.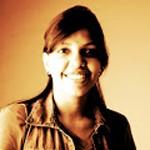 Latest posts by Shruti Goenka (see all)