Ayurvedic Shampoos are the new rage in town as they are completely natural (do not contain chemical ingredients) and help keep your hair healthy. Here are the top 10 Ayurvedic shampoos available in India.
Top 10 Ayurvedic Shampoos
1. Khadi Amla and Bringraj Shampoo:
Khadi is a well known brand which deals with only pure herbal products, produced by the Khadi Gramudyog and certified by the Government of India. This shampoo contains the natural extracts of amla, almond oil, bringraj, reetha and neem. It is suitable for people suffering from perennial hair fall problem. The natural ingredients work like magic on the hair as they make it soft and smooth and also help to prevent premature graying of the hair. This shampoo helps in combating hair fall to a greater extent, with regular use.
2. Khadi Herbals Honey and Almond Oil Shampoo:
As the name suggests, this shampoo contains the natural ingredients such as honey, almond oil, shikakai and henna. The shampoo is suitable for people having dry to normal hair. Honey and almond oil nourishes and moisturizes even the driest hair and also helps to repair them. Honey is a natural humectant, thus smoothens the cuticle and makes the hair soft and shiny. Almond oil contains fatty acids, which helps to prevent hair loss, hair thinning and hair greying.
[ Read: Most Popular Tea Tree Shampoos ]
3. Khadi Saffron Reetha Protein Herbal Shampoo:
The shampoo is highly suitable for dry and dull hair. It contains the natural extracts of saffron, reetha, tulsi and shikakai. We know that shikakai and reetha are natural hair cleansers, which also impart a healthy shine to the hair. The is one of the best ayurvedic shampoos that revives the dull and damaged hair, thus giving it a healthy shine and bounce. It effectively cleanses your scalp and hair, therefore suitable for daily use.
4. Kama Ayurveda Patchouli Shampoo:
This ayurvedic herbal shampoo is a mild cleaner which contains hibiscus extracts, neem and a beautiful blend of the essential oils such as lavender and patchouli. The lavender soothes and calms the scalp, and also the shampoo has a strong essence of it which lingers for a long time. The patchouli has antibacterial properties, which prevents any scalp infection and thus keeps the scalp healthy. The shampoo naturally nourishes, moisturises and protects the hair while cleansing effectively.
[ Read: Ayurvedic Tips For Hair ]
5. Biotique Bio Green Apple Fresh Daily Purifying Shampoo:
This is a unique combination of shampoo and conditioner in one bottle, thus saves a lot of time to do each of them separately. The shampoo has a blend of green apple, shikakai, sea algae and almond oil as the major ingredients. It is loaded with natural minerals and proteins which purifies and nourishes the hair and the scalp. With every use, the hair feels refreshed and is full of healthy shine and bounce. The special pH balanced formula makes it ideal for daily use.
6. Jiva Papaya Shampoo:
It is quite evident from the name; the shampoo contains the natural extracts of papaya and amla. Papaya maintains the pH level of the hair cleanses the pores of the scalp and makes the hair smooth and shiny. The shampoo works perfectly for dry and damaged hair, as it helps in smoothening the cuticles of the hair. It doesn't dry out the hair and also combats hair fall to some extent.
7. Arish Anti-Dandruff Shampoo:
All the products under the brand of "Arish" are ayurvedic propriety medicine. It is an anti-dandruff shampoo which effectively cleanses away the flakes and with regular use it also ensures that the flakes do not reappear again. The shampoo contains the extracts of neem, amla, tulsi, reetha, rosemary oil and fenugreek. It also acts as a clarifying shampoo and removes the excess oil and sebum from the scalp.
[ Read: Hair fall ]
8. Himalaya Herbals Protein Shampoo:
This is a mild shampoo which is ideal for daily use as a cleansing shampoo. It is enriched with protein-rich herbs such as chickpea, amla and liquorice. With regular use, the shampoo provides strength, protects from everyday damage and reduces the hair fall. This shampoo works well for colored treated hair or chemically treated hair, as it is a mild shampoo and does not leave the hair dry.
9. Lotus Herbals Kera Veda Shampoo:
Lotus Herbals Kera Veda shampoo is a unique blend of the natural ingredients like shikakai, amla, reetha and behra, which is suitable for dry to normal hair. It removes the oil and impurities from the scalp and maintains the natural pH balance of the hair. The shampoo is ideal for normal to oily hair and has a strong fragrance which lingers for a long time.
10. Biotique Bio Walnut Bark Fresh Lift Body Building Shampoo:
If you are suffering from thin and limp hair, then this ayurvedic shampoo is ideal for you. It contains walnut bark, amla, musk root and soap nut, which adds body and bounce to your hair. It cleanses and revives the hair for a thicker, fuller and lifted look. It gives a squeaky clean feeling after every wash and a watery consistency with a purple tinge to it.
[ Read: Top 5 Natural Shampoos ]
Here are the top 10 ayurvedic shampoos for you to attain a healthy and shiny hair. Which one is your pick from these products? Do leave us a comment. Stay happy, stay gorgeous!!

The following two tabs change content below.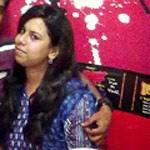 Latest posts by Ankita Biswas (see all)