Best Copper Hair Colour Products – Our Top 10 Picks
The trend of colored hair is big and happening! Hair color, just a few short years ago, was only used to cover the grays. But not any more! Highlights, streaks and global coloring are a rage and people are looking for different shades that will look pretty with Indian skin tones. Copper is one color that suits most skin tones, especially the Indian ones. However, before you can indulge in any of them, you need to know about the top notch brands that offer this amazing shade!
Top 10 Copper Hair Colours In India
1. Majirel- 7.43 Copper Gold:
Majirel is an in-salon product trusted not only by the normal populace, but also by professionals around the globe. When applied, it gives a perfect finishing from the root of the hair till its tip. The hair color leaves your hair shiny and provides a natural bounce to it. Majirel not only colors your hair, but also deeply conditions it.
2. Schwarzkopf- 6-70 Dark Natural Copper Blonde:
Schwarzkopf is a trusted brand across the world and has formulated a unique oil and cream hair color. This color not only provides full gray coverage but also protects your hair from pollution. It provides a long lasting stay of color and shine to your hair.
[Read:Streax Hair Colours In India]
3. Loreal- 6.46 Natural Light Copper Red:
This hair color by L'Oreal Excellence contains pro-keratin treatment. The pro-keratin treatment provides shine, strength, and bounce to your hair. This hair color has been specially designed keeping in mind the Indian skin tone. The hair color is priced at Rs. 520 only.
4. Revlon Colorsilk- 45 Bright Auburn:
Revlon hair color is enriched with the goodness of coconut oil that provides deep conditioning to the hair while it colors. The color leaves your hair shiny and bouncy. The color has a non-drip formula that softly works on your hair. This hair color is priced at Rs. 400 only.
5. Garnier Color Naturals- Copper Red 5.64:
Garnier Color Naturals has been enriched with the goodness of olive oil. It is a permanent hair color that provides a full gray coverage. The color will leave your hair deeply conditioned and will bring back its lost shine. This hair color is priced at Rs. 155 only.
[Read:Best Hair Colour Sprays]
6. Streax- Intense Copper Blonde 7.44:
Along with providing a huge range of products, Streax is particularly known for its long lasting formula and the effective way it keeps the hair protected. This product is priced at Rs. 320 only.
7. Wella Kolestint- 5/0 Medium Brown:
This product can really make your hair look different. The hair color is free of ammonia and other chemicals. This is an easy to use hair color that you can use within the comfort of your home. This product is priced at Rs. 489 only.
8. Matrix- 8CC Medium Blonde Copper:
Copper hair color is hot these days and what can be better than to select the very best hair color product, Matrix. It colors your hair gently while maintaining the shine and bounce in your hair. It gives a full gray coverage and can be applied as highlights on your hair too! This product is available for Rs. 500 only.
[Read:Best Plum Hair Colours]
9. Color Mate- Golden Copper 8.34:
Color Mate is a cream based hair dye that provides an even color coverage—from the root till the tip. It covers the gray hair properly and also maintains the pH balance of hair. The color penetrates deep and makes the hair soft, shiny, and silky. This product is tagged at Rs. 200 only.
10. Godrej- Copper Blonde/ Copper Red:
Godrej has ventured into creating cream based hair dyes. This is the newest kid on the block and has completely dominated the Indian market. This hair color has a formula that is non drip and also offers a range of exciting shades for you to choose from.The product is priced at Rs. 30 only.
If you want to hide your grays or are simply looking for a change of hair color, these beautiful copper shades will look great! Go grab these shades and color your world copper!
Have you ever tried copper shade of hair color? Did it look good? What was your experience? Do share with us in the comments section below!

The following two tabs change content below.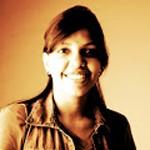 Latest posts by Shruti Goenka (see all)