Best Drug Store Moisturizers For Dry Skin – Our Top 10 Picks
One of the most common problems in winter season is dry skin. Dry skin can neither store the required amount of water nor does not produce enough oil.
Dry skin can be a permanent or a temporary problem affecting you only in winters. People with severe dry skin should consult a doctor especially when they have flakes, redness and itching.
Before choosing a moisturizer for dry skin, know the extent of dryness that your skin experiences. Most of us rely on regular moisturizers to beat the dryness, but depending on one's skin type, the choice of moisturizer should vary.
What Should You Look for in a Drug Store Moisturizer for Dry Skin?
For dry skin, choose a moisturizer for Day and Night separately.
Day cream must have SPF for sun protection.
Avoid Night creams with SPF.
The best moisturizer for dry skin should have the following ingredients to help the skin hold water and soothe the dry skin
Ceramides
Glycerine
Lanolin
Mineral Oil
Petroleum Jelly
Moisturizer must be thick and greasy.
Using oils jojoba oil, almond oil, extra virgin olive oil, lavender oil, coconut oil, argan oil as moisturizers.
Shea butter is good option especially because of its consistency and moisturizing property.
Moisturizers are of four types: oils, creams, lotions and serum.
Choose cream if you have moderately dry skin, lotions for mild dry skin features, serums to cure red and dry skin.
Some of my favourite and best drug store moisturizers for dry skin in India are:
Today to discuss the top 10 brands of best moisturizer for dry skin to make your skin appear supple and hydrated.
Top 10 Brands of Drug Store Moisturizers for Dry Skin:
1. Lubriderm Daily Moisture Shea + Enriching Cocoa Butter Lotion:
This lotion will soothe dry skin, and is surely the best. It simply works like magic. Use it every day for best results. It really works and makes your skin feel like a baby's bottom. The softness lasts all day long.
2. Cetaphil Moisturizing Lotion:
For dry and itchy winter skin, this cream is the best remedy. This is super rich and the cream formula soaks into your skin instantly without feeling heavy or sticky. This lotion also calms inflamed skin.
[ Read: Cetaphil Moisturizing Lotion Review ]
3. Lacto Calamine Skin Balance Oil Control Nourishing Lotion:
This is a lightly-scented lotion that soothes and moisturizes the skin. The scent of this lotion is quite addictive. Its light, absorbs quickly, and leaves your skin as smooth as silk until the next shower.
[ Read: Best Moisturizers for Skin ]
4. Neutrogena Oil-free Moisture for Combination Skin:
This is the ultimate therapy for dry skin. It keeps your hands nice and soft the whole day, even after you wash your hands. This one seeps deep into the skin and helps heal the surface; you can see immediate improvements in your skin's texture and appearance.
5. Olay Ultra Moisture In-Shower Body Lotion:
You will be shocked the way this lotion works. It will leave your whole body feel soft and smooth. This is the perfect solution for dry skin.
 [ Read: Moisturizer for Oily Skin ]
6. Nivea Smooth Sensation:
This lotion lives up to its name. It leaves your skin very soft, smooth, and silky and absorbs into the skin as soon as you apply it. This lotion works is a miraculous way and the scent is to die for. It's thick enough to lock in moisture for a whole day without feeling oily or clogging your pores.
7. Johnson's Baby Lotion:
This is the most widely used lotion in any part of the world. Best used for extremely sensitive skin that's prone to acne or eczema. This lotion says "baby" on the label, but it's great for all ages. This lotion will make your skin as smooth as a baby's bottom. It's also great for sensitive, acne-prone skin and eczema all over my face and body. This also helps calm the eczema and doesn't clog my pores. This lotion also doesn't irritate skin.
8. Clean and Clear Skin Balancing Moisturizer:
Clean and Clear Skin Balancing Moisturizer is another budget drug store moisturizer for dry skin. This is an oil-free creamy moisturizer that helps oily acne prone skin. This is the only moisturizer which contains Salicylic Acid, an acne-fighting ingredient.
This should be avoided for dry, flaky areas (around the nose, between the eyebrows) as it contains Salicylic Acid. This can cause more peeling and irritation in these areas.
[ Read: Best Moisturizers for Sensitive Skin ]
9. Kaya Skin Clinic Skin Nourisher:
This moisturizer is used for oily acne prone skin. It contains aloe vera, rose extract and almond oil. This can cause acne for some beauties, hence do a patch test before using on the entire face.
This lotion is also useful for stretch marks and uneven skin tone. It's super moisturizing formula smells just like chocolate. This will turn winter skin from dry to glowing with just one application.
10. Vaseline:
The most widely used lotion in India. This brand gives you a wide variety to choose from.
And do you have any drug store moisturizers for dry skin that can help us? If yes, then do post in the comment box and spread the message.

The following two tabs change content below.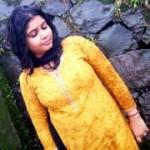 Latest posts by Jayshree Bhagat (see all)