During pregnancy, it becomes increasingly important for women to remain healthy and fit in order to reduce any incidents of pain. It is highly recommended that women should exercise during pregnancy for at least 30 minutes a day for at least 5 days a week. This will help them to build up stamina for the delivery process. Here are some easy and effective exercises for women to keep in shape during their pregnancy.
Exercise During Pregnancy – Top Effective Exercises
1. Pilates:
Pilates are generally performed by women during their second trimester. Therefore, this form of exercise is not strenuous at all. It helps women to remain strong and flexible. It involves lying down on a mat preferably, and performing various breathing exercises and pelvic thrusts. Alternatively, this helps in minimizing any back pain or muscle strain that is a natural consequence during a pregnancy. Breathing exercises during pregnancy are also important and these are being covered in this pilates.
2. Prenatal Yoga:
Prenatal yoga utilizes yoga postures that will help pregnant women to relax, stretch their muscles and also help them connect with their baby in the womb. These exercises are appropriate for any trimester. There are a couple of breathing exercises that are involved to ensure a calming effect. As the name itself suggests, this is a perfect pregnancy exercise.
[ Read: Upper Back Pain Exercises ]
3. Kegel exercises:
Kegel exercise during pregnancy is absolutely essential to strengthen the pelvic floor muscles which help during the delivery process. These kegel exercises during pregnancy should be performed in a sitting posture. They involve contracting the pelvic muscles. Women can also do quick contractions or they can alternatively hold contractions for 10 seconds before releasing it. This process is repeated for at least 10-15 minutes.
4. Abdominal exercises:
Abdominal exercise for pregnant women involve lowering the rear end until the body assumes a flat posture during pregnancy. This is followed by tightening the abdomen and lifting up the abdomen slowly from the mat and transferring that weight to the spine. These exercises reduce the incidence of back pain by strengthening the back and shoulder muscles.
5. Stretching Exercises:

Stretching exercises are important for blood circulation and preventing back pain during pregnancy. Stretching exercises are usually performed on a mat or a chair and involve reverse shoulder exercises, leg stretching with the help of a band, and neck tilting from side to side. These exercises are to be performed with care to avoid muscle pulls.
[ Read: Physical Exercise for Kids ]
6. Pregnancy squats: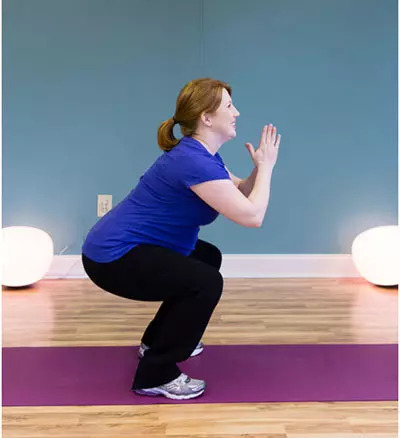 Performing squats during pregnancy is important for gluts and legs. Stand shoulder width apart. While you lower your body, push your rear end back and it is important to tighten your abdomen. Also, ensure that your knees don't go past your toes. These exercises should be repeated at least 15-20 times.
[ Read: Exercise During Pregnancy Video ]
7. Cardio Exercises:
Cardio exercises during pregnancy are vital to keep you in shape and ensure that back pains and abdominal strains do not become a major cause of worry. You can start by lifting your knees and then kicking with your legs for better results. This is followed by swinging your arms gently from side to side along with the kicking. These exercises will increase your heart rate and keep you fit during pregnancy. It will also increase the blood flow to your baby.
8. Wall push-up exercises: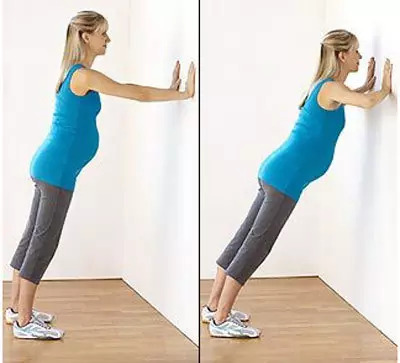 Wall push-up during pregnancy helps in toning the arm muscles as well as strengthening the legs and back of women during their first two trimesters. All you need to do is place the palm of your hands on a wall and push up and down. Ensure that your back is inclined and your rear is in line with your back for effective results.
9. Cycling: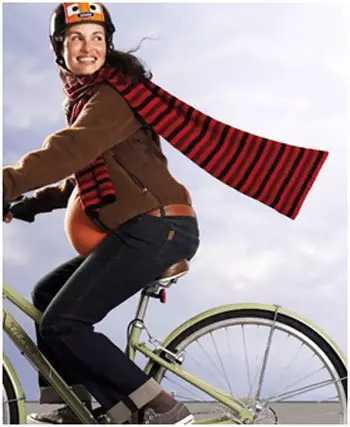 Cycling during pregnancy is also a great way to exercise. All you need to do is ensure that you cycle slowly to ensure good blood circulation in your legs. While peddling, try to raise your knees and put all your weight forward. Also, keep breathing while you cycle. This will strengthen your back and keep your knees and legs strong as well as reduce pain.
10. Lunges:
Lunges are beneficial during pregnancy as they strengthen the pelvis, abdominal muscles and also provide a good workout for your knees, gluts and legs. Take a long step forward and then go down on one knee, and while you push yourself up, exhale. Ensure that your chest and shoulders are straight. This motion should be repeated at least 10 times on each leg.

The following two tabs change content below.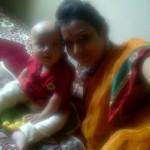 Latest posts by Khushboo Mehta (see all)