Best Chanel Nail Polishes – Our Top 10Best Chanel Nail Polishes – Our Top 10How to Apply Foundation on Face?How to Apply Foundation on Face?10 Amazing Benefits Of Papaya Juice10 Amazing Benefits Of Papaya Juice
Many years ago, Chinese experts' recommended and classified green tea as a health tonic. This refreshing tea fights against free radicals thanks to its antioxidant properties. Its benefits include cure to cancer, heart diseases, unhealthy cholesterol levels etc.
Do you know the top green tea brands?Find it here – the best flavor and aroma for you.
Here are the top 10 green tea brands in India:
1. Lipton Green Tea: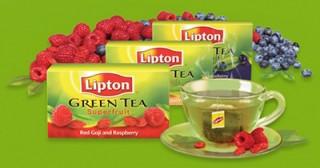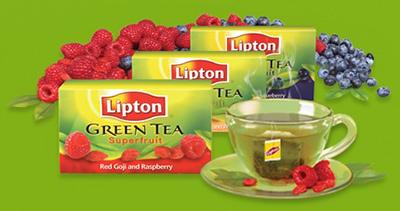 This green tea is pure and simple and is made from the finest tea leaves from the world. It contains flavonoids and is 100% natural without any preservatives or coloring. It has a very wonderful taste with subtle aroma. The color of the tea is beautiful pale green and is best for daily consumption. This is undoubtedly the best green tea brand in India.Other flavors:
Cranberry pomegranate green tea
Orange passion fruit jasmine green tea
Lemon ginseng green tea
Honey green tea
Mixed berry green tea
Pyramid green tea with mandarin orange
Purple acai blueberry green tea
White mangosteen peach green tea
Passion fruit coconut green tea
Acai dragonfruit melon green tea
Decaffeinated green tea
Price: Rs.100
 2. Yogi Green Tea: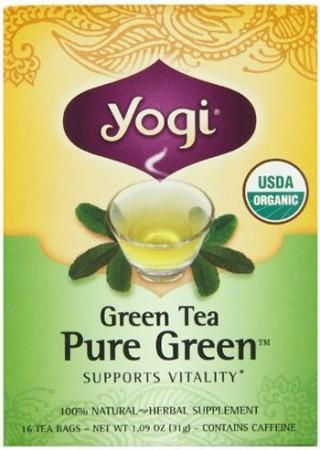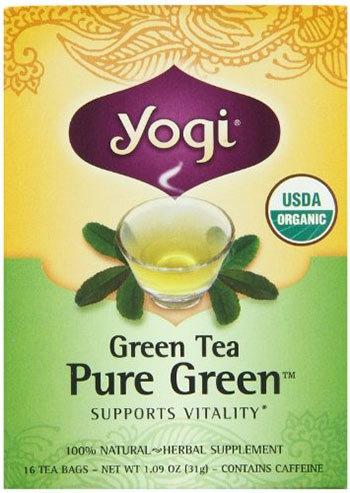 This is an antioxidant tea which gives support to our natural defense system. This also contains caffeine to some extent. Yogi tea is a well known organic green tea brand in China, India, and Sri Lanka. It has a very good taste with subtle aroma.
Other flavors:
Yogi Tea Echinacea
Yogi Tea Green Energy
Yogi Tea Ginger Lemon
Yogi Tea Throat Comfort
Price: Rs 315 – Rs 284
3. Tetley Pure Green Tea: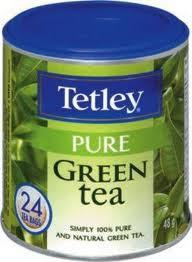 This green tea refreshes, calms and energizes your body. The color of the green tea is mellow green and has a very nice taste. Every Tetley tea bag has 2 grams of green tea that quickly infuses the best flavor. It contains antioxidants that fights against harmful chemicals and maintains good health. This is suitable for daily consumption to make you feel fresh, relaxed and rejuvenated. This also helps to reduce stress and adverse pollution effects.
Other flavors:
Green tea – Plain
Green Tea with Ginger, Mint & Lemon
Green Tea with Lemon & Honey
4. Taj Mahal Green Tea: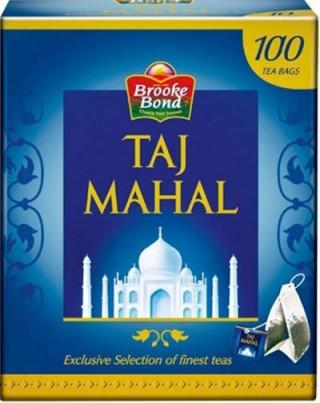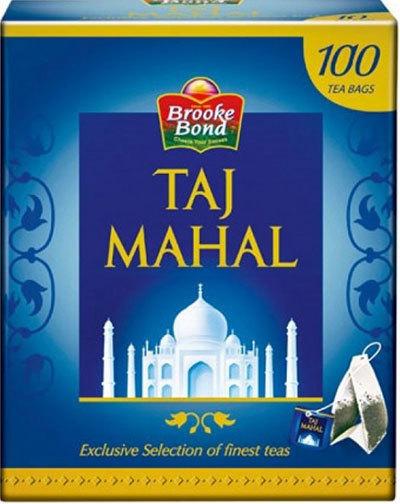 Wah taj! This is a premium tea brand from Brooke Bond Taj. This green tea is very rich in anti-oxidants and aids in maintaining a healthy body. This has a very refreshing flavor. The Taj Mahal Darjeeling Green Tea contains the classic long Darjeeling leaves and sensual aroma. The tea leaves are selected from the finest gardens. This gives the tea a superior taste.
Other flavors:
Honey Lemon Green Tea
Earl Grey Green Tea
Darjeeling Green Tea.
Price: Rs.80
[ Read: Green Tea for Reduces Weight ]
5. Twinings Green Tea: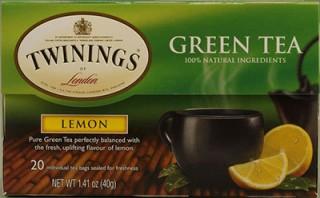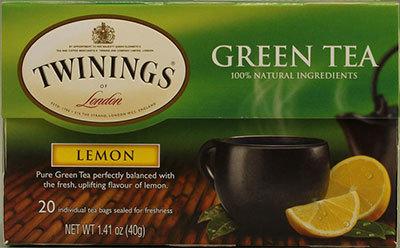 This green tea has a lemon yellow glow and is bright in color. It contains the nature's best antioxidants and is also very low on calories. It has a very grassy flavor that rejuvenates your senses. The tea leaves have been picked from the finest tea estates for best flavor.
Other flavors:
Green Tea & Lemon
Green Tea & Mint
Earl Grey Green Tea
Jasmine Green Tea
Price: Rs.100
 6. Organic India Tulsi Green Tea: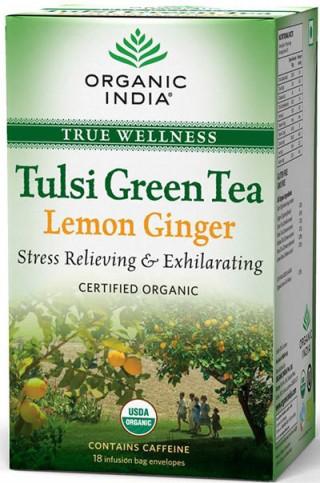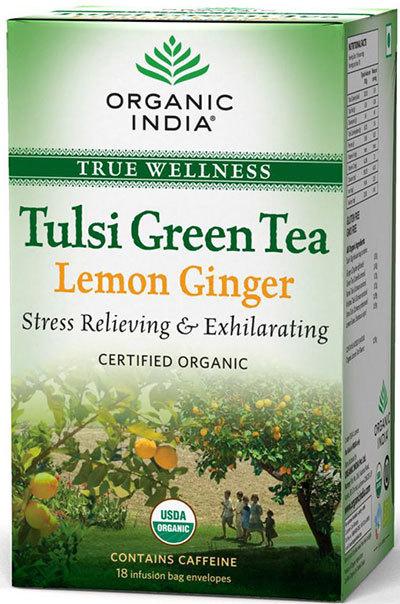 This is very rich in antioxidants and many other nutrients. It can be consumed to reduce stress, cough & cold. It enhances stamina and builds immunity. This is best for those wanting to lose weight as it helps in weight reduction. It helps to increase metabolism and burn fat. This tea contains the goodness of Vana Tulsi, Green Tea, Rama Tulsi, Krishna Tulsi.
Price: Rs.200
7. Tea Garden Green Oolong Tea: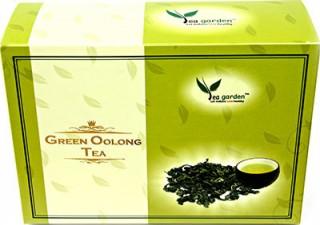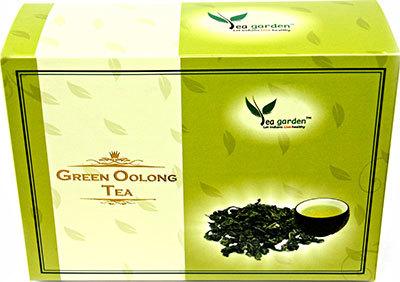 Tea Garden Green Oolong Tea has the richness of black tea, aroma of herbal tea and the goodness of green tea. It aids in boosting metabolism, reduce fat and maintaining a good and active lifestyle. It is an abundant source of antioxidants and Vitamin C that helps to lower bad cholesterol. This also lowers high blood pressure, boosts immunity, rehydrates, regulates body temperature and reduces any skin irritations.
Price: Rs.480
8. Chamong Premium Darjeeling Green Organic tea: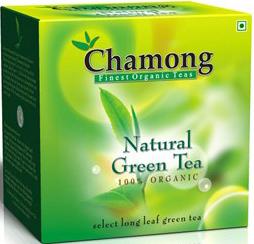 Chamong Premium Darjeeling Green Organic tea contains all the goodness of green tea to relax mind and revitalize the soul. It is 100% organic and contains strong antioxidant properties.
Price: Rs 150
[ Read: Canola Oil India Brand ]
9. JAY Green Tea: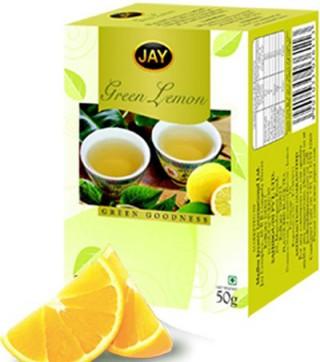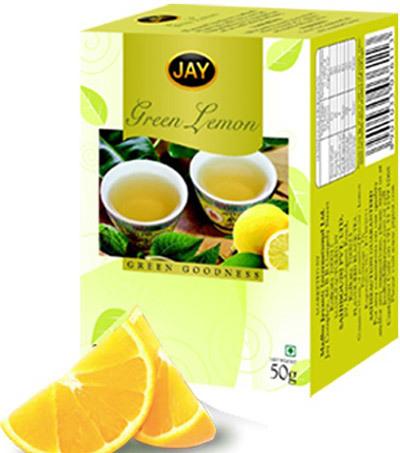 JAY Green Tea is a least processed tea brand and contains antioxidants for health benefits. It has many benefits like:
Lowers risk of cancer.
Cures infections
Reduces acne
Slows the aging process
Eases rheumatoid arthritis pain
Stabilizes your cholesterol levels
Slows the onset of Alzheimer's and Parkinson's disease
Reduces cardiovascular disease
Boosts your immune system
Weight loss
Reduces tooth decay.
Effective in the management of multiple sclerosis
Price: Rs 150
10. GAIA Green Tea: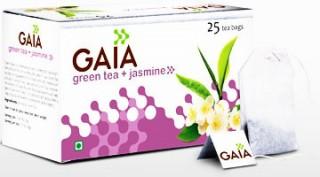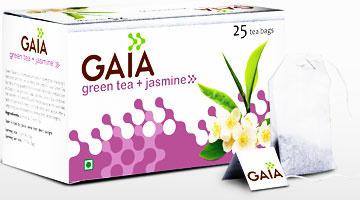 GAIA Green Tea contains antioxidants to manage health benefits of curing cancer and promoting longevity. It helps to make you feel rejuvenated and active. It is also useful to burn fats and it reduces weight. It can also give boost to your immune system and delays the signs of aging.
Price: Rs 125
Have we missed out something? Let us know which is your favourite brand in the comments below.
If You Enjoyed This Post, Sign Up For Newsletter
(And get your daily dose of Beauty & Wellness tips straight to your inbox)
The following two tabs change content below.
Latest posts by Jayshree Bhagat (see all)
Love you stylecraze for this platform. Hy there, I am Jayshree from Mumbai, director of Milestone plm solutions pvt ltd-vasai. I basically love to read and write about make-up, beauty & fashion in ma spare time. That's my hobby you can call. Hope you love my blog and articles. Do leave your valuable feedback! Stay Beautiful!!