Oil is a vital element for your hair. It helps to maintain healthy hair, reduces hair loss and stimulates hair growth. You can massage oil on to your scalp, prepare masks or use them with any other hair care product. The best oils, argan oil, castor oil, olive oil, avocado oil, mustard oil or coconut oil, are popularly known for inducing hair growth.
Hair regrowth oil must possess a few of such qualities:
Non- sticky
Stimulate hair growth
Prevent hair fall
Best Hair Growth Oils
Here is the list of top 10 oils for hair growth:
1. Khadi Tulsi Hair Growth Oil:
This herbal Ayurvedic oil for hair growth helps to reduce hair fall and stimulates new hair growth. It has the goodness of amla, tulsi, kapoor, neem, shikakai and shankhpushpi that detoxify, eliminate infections, treat the scalp to free it from dandruff, psoriasis etc. This also contains a good amount of vitamins, minerals, calcium, magnesium, vitamins E, A and D. This is safe and effective for all hair and skin types. It makes the hair strong, naturally black, long and healthy. It also prevents hair loss and promotes hair growth. This is the best oil for hair regrowth.
Price: Rs 85 for 210ml
2. Khadi Ayurvedic Hair Growth Oil – Rosemary & Henna (Paraben Free) Hair Oil:
This oil from Khadi has the goodness of rosemary and henna to stop hair fall. This helps to prevent premature hair loss, baldness, split ends and breakage. This oil works best for preventing hair fall and promoting hair growth. It is ideal for men and women and does not contain any mineral oil or parabens.
Price: Rs. 250 for 400 ml.
[ Read: Best Shampoo for Thin Hair ]
3. Cantharidine Hair Oil:
Cantharidine hair oil is manufactured by Bengal Chemicals. It has a lingering fragrance. It is golden colored oil for preservation and growth of hair. Apply this daily or on alternate days for at least a month to see the required results. This doesn't strip off the natural moisture of your hair and it also stimulates hair growth.
Price: Rs 214 for 320ml
4. Biotique Bio Bhringraj Fresh Hair Growth Oil:
Biotique Bio Bhringraj Fresh Hair Growth Oil has a very light, lingering fragrance. It nourishes the scalp and strengthens each hair strand to stimulate growth and reduce greying. This oil gives silkier and smoother hair. The oil is slightly greenish in color.
Price: Rs. 159 for 120 ml
[ Read: Hair Gel for Women ]
5. Bajaj Almond Drops Non Sticky Hair Oil With Vitamin E:
Bajaj Almond Drops Hair Oil comes in a glass bottle and the color of the oil is like beer- dark pale yellow. This is the best oil for hair growth that gives proper nourishment due to the goodness of almonds. It is light and non-sticky. Bajaj Almond Drops has 300% more Vitamin E than coconut oil. This will nourish the hair roots and make them strong and healthy. It also contains mineral oil, vegetable oil, perfume, sweet almond oil and Vitamin E. It helps to prevent hair fall and make the hair stronger.
Price: 200 ml – Rs. 67/-
6. Arnica Hair Oil:
Arnica, another best hair oil for hair growth comes in a transparent bottle. The oil is non- sticky and light. It controls hair fall, increases hair growth and increases the blood circulation in the scalp area. Use it regularly to moisturize hair and reduce hair loss.
Price: 159 for 200 ml
[ Read: Vlcc Hair Care Products ]
7. Himalaya Herbals Revitalizing Hair Oil:
The color of the oil is a pale yellow-green and it has a runny consistency. It is a non- sticky oil and has a sweet smell. This oil is not tested on animals and doesn't contain any harmful chemicals.
Price: Rs.220
8. Trichup oil:
Trichup oil contains Bhringraj, Amlaki, Neem, Gunja, Til and coconut oil. This stimulates the hair follicles and induces growth. The oil is very sticky, but it decreases greying, hair fall and dandruff, lends shine and promotes growth of hair. It also helps to prevent damage from dust, UV rays, chemicals and pollutants.
Price: Rs.192
[ Read: Revlon Hair Care Products ]
9. Parachute Advanced Scalp Therapy for Hair Fall Control:
The color of the oil is yellowish and it has a perfect consistency. It has a very medicinal smell. It has the goodness of coconut oil, mineral oil, Vitamin E and B, brahmi, amla and hibiscus that make hair soft and healthy. It helps to reduce hair fall and stimulates hair growth. This is non sticky and hence can be even applied while going out.
Price: Rs. 149 for 250ml
10. Aroma Magic Stimulate Blended Hair Oil:
It contains the pure essential oils of ylang-ylang, cedar wood and rosemary. The oil comes in a small brown-colored glass bottle and the color of the oil is clear and transparent. It is lightweight and doesn't feel heavy on the hair. It has a very strong aromatherapy oil fragrance that calms, cools and soothes your scalp. This hair growth oil reduces hair loss and infections.
Price: Rs. 500 for 250 ml
[ Read: Hair Regrowth Products ]
Have you used any of these hair growth oils? Share with us in the comments section below.
Recommended Articles:
The following two tabs change content below.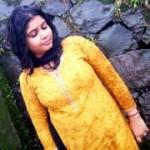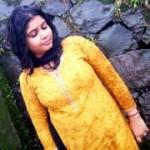 Latest posts by Jayshree Bhagat (see all)