Best Hair Oils For Dry Hair – Our Top 10
Some had rightly said, "If your hair is done properly and if you have on good shoes, you can get away with anything". Women love their hair more than any other thing on this planet – this is a fact and there's no two way about it. Whether it's their first date or an official interview, they must look their best. So, it's only natural that women will do anything to flaunt their healthiest hair.
Now, if you're a woman and reading this article, you'll surely identify yourself with what I'm saying. However, a typical condition like dry and messy hair can turn your beautiful dream into a nightmare. Dry hair is very tricky to damage and it's also embarrassing to move around exposing your dry hair all the time.
Luckily, you can treat your dry hair in India with some of the top hair oil brands, offering products exclusively for dry hair condition. Let's take a look at the top ten oils for dry hair available in the market.
Find out your best oil for dry hair among the following top oils!
1. Dove Elixir:
Assuring your hair's health and beauty to its best, Dove adds yet another saga to beautiful hair – Elixir hair oil; Dove's own range of prized hair oils. Made from the world's selected natural flowers and ingredients, Elixir's Hibiscus and Argan oil is sure to add some magical elements to your locks in just thirty minutes. The healing traits of hibiscus and argan oil leave your hair absolutely soft and nourished, enhancing your overall elegance. It imparts a mirror like shine to your hair, which lasts till your next hair wash. It's available at just Rs 185/- for 90 ml.
[ Read: Clove for Toothache ]
2. Bajaj Almond Drops:
Available in a beautiful get up, this oil helps treat your dry hair to the best. Non sticky and aromatic, its application leaves your hair nourished, strong and mesmerizing. If you're suffering from acute dry hair problems, try using it at alternate day basis. Its main ingredients are vegetable oil, mineral oil, vitamin E, sweet almond oil and perfume. Available at just Rs. 100 for 300 ml, it nourishes your hair root and scalp.
[ Read: Almond oil ]
3. Parachute Advanced Hot Oil:
Loaded with the goodness of coconut and other ayurvedic ingredients like rosemary, thyme and patchouli, Parachute advanced hot oil treatment boosts your hair with extra nourishment. Its special warming ingredients keep the oil hot from within. On application to your scalp, it penetrates deep within and nourishes the follicles from within; hence, leaving your hair strong, beautiful and glowing. Available at just Rs 35 for 90 ml, this oil for dry hair treatment is extremely effective and pocket-friendly.
[ Read: Coconut oil ]
4. Shalimar Coconut Hair Oil:
When talking about a natural way of hair conditioning, coconut oil is the best. Shalimar coconut hair oil is the perfect blend of modern technology as well as tradition. The perfectly pure coconut oil is blended with Vitamin A & E, which strengthens and nourishes the tresses of Indian beauty. What's more, it makes your hair black and glowing – the ideal look for beauty pageants across the globe. Its price is around Rs 99 for 500 ml. Beauty at an incredibly affordable price – isn't it?
5. Garnier Ultra Doux Hair Oil: 
With natural ingredients of wheatgerm, coconut and almond oil, it's a perfect daily care treatment for your dry hair. Its softening and nourishing properties leave your hair feeling unbelievably light. With regular application, you can easily control your dandruff problems. Its smooth, non-greasy texture easily washes away without any stickiness, leaving your hair soft and manageable. It's available at just Rs 80 for 200 ml.
6. Nihar Coconut Hair Oil:
The perfect blend of cononut oil and vitamin A & E, this hair treatment is best hair oil for dry hair and frizzy tresses. Besides nourishing and moisturizing your hair roots, it helps combat dandruff problems as well. Available in fragrances like jasmine, lavender and rose, it has a healing effect on your senses as well. It's available at just Rs 62 for 200 ml.
[ Read: Treatment for your dry hair ]
7. Aroma Magic Hair Oil:
Enriched with the goodness of herbal extracts and plant oils, this aromatic hair oil does magic on your dry hair. Your hair feels absolutely nourished, giving you a light feeling.
8. Shahnaz Husain Shalocks Ayurvedic Hair Oil:
Made of natural ingredients like amla, shikakai and brahmi extracts, it's absolutely perfect for your hair. Besides nourishing the roots, it stops dandruff and pre-mature graying problems.
9. Khadi Ayurvedic Hair Oil:
Loaded with the goodness of henna and rosemary, this light ayurvedic hair is the perfect treatment for your frizzy hair. It strengthens your hair and promotes their growth.
[ Read: Stops dandruff ]
10. Kama Ayurveda Bringadi Intensive Hair Treatment:
Besides making your hair smooth and manageable, it helps treat scalp infections as well. With regular usage, you'll get glossy and healthy hair.

The following two tabs change content below.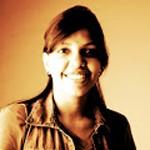 Latest posts by Shruti Goenka (see all)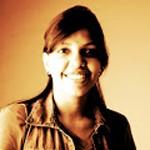 RELATED ARTICLES
Top 13 Conditioners For Dry And Frizzy Hair

For most of the women living with dry and frizzy hair is a daily battel that makes you tired & frustrated, isnt it? Fret not, the best conditioners list is compiled for you

Hair Serums – What Are They & Why To Use Them?

What is hair serum? We've seen numerous ads featuring products that instantly transform dull, dry hair into beautifully smooth, silky and stunning hair. With our hectic schedules and fast-paced lifestyles, anything that helps to get an instant result for the hair is a big relief.