Manage your luscious locks!
Dark clouds and pouring rain bring an end to scorching summer. We all long for a shower of relief after months of perspiration. But as they say, every coin has two sides. So while you enjoy your rain-drenched evenings and monsoon-special snacks, the humid climate takes a toll on your hair. Monsoons demand special attention for your hair.
Most women complain of dull and frizzy hair. Hair fall and dandruff become their regular visitors. To combat these, a simple hair care routine is all you need. But as always, what to do what not to do remains the question. So here is simplest hair care routine for monsoons.
[Read: Best Hair Serum for Oily Hair]
Hair Care Regimen For Monsoons
1. Shampoo and conditioner:
During monsoons, your mane stays humid all the time, especially if you have curls. Regular use of shampoo and conditioner is the best way to control this. It is best advised to use a frizz-control shampoo and conditioner. Try Toni and Guy Frizz Smoothing shampoo and conditioner (it is always better to use hair products from the same range for best results).
2. Hair serum:
Hair serums control frizz, fly-away's and add shine to hair. In short, it makes your hair way more manageable. It is important to use a serum with light consistency, to avoid hair from weighing down. You can try Garnier Fructis Smoothing Serum-Silky Straight for satisfying results.
3. Hair masks:
Due to humidity and frequent washing, our hair tends to lose it vital nutrients. Hair masks come to rescue in such situations. Prepare home-made nourishing hair masks for best results.
Recipe:
Mash half or full banana (depending on your hair length)
Add one tablespoon honey
One teaspoon almond oil
Mix all ingredients well
Apply the mask to your hair shafts and leave it for half an hour
Wrap a moist hot towel around hair for nutrients to penetrate deeper
Wash your hair well using shampoo, followed by a conditioner
[Read:Home Remedies for Frizzy Hair]
4. Hair oils for deep conditioning:
Due to excess humidity during monsoons, our hair tends to stay frizzy and damp all the time. Deep oil conditioning is a great remedy for tackling your hair problems. For a good hair oil conditioning:
Take any oil, coconut or olive oil and any other oil you prefer
Warm the oil a little
Apply some warm oil to your hair and scalp
Leave it on for an hour before taking a shower. This will ensure frizz-free hair even after you shampoo
General Tips For Stronger And Healthier Hair
Always use a wide toothed comb to untangle your hair. This will prevent split ends and breakage. Especially is you have wavy and curly hair.
Drink extra water to keep your hair well-hydrated and nourished. Thus, controlling hair fall and damage.
Include protein-rich foods like carrots, eggs, dairy products, green vegetables to your diet. Proteins play an important role in making your hair stronger.
When the rain god showers his benevolence, don't let your hair act as a rebel. Tell us about your monsoon hair care routine and leave your comments below. And soak in the goodness of monsoon!

The following two tabs change content below.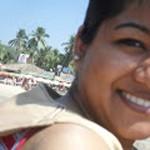 Latest posts by Ritu Rajput (see all)