Do you remember the hair advertisement, "Aunty, aunty!" which appeared on TV during our childhood? Surely, we would never want to be called aunty or uncle, especially prior to our age.
There are different treatments available for men and women to counter hair loss and baldness. Usually these problems result due to emotional problems, aging, medical illnesses or hereditary reasons. Do you hate baldness? Well, worry not since here are some best products for hair regrowth:
A good hair regrowth product must possess a few of such qualities:
Easy application
Non messy
Non allergic
Hair Regrowth Products
1. Jovees Regrowth and Revitalizing Hair Pack
This hair pack contains ingredients like Palasheej, Bhringaraj, Jatamanasi, Amla etc. This aids hair regrowth and prevents the hair from greying prematurely. It adds an extra luster and sheen to the hair and acts as a conditioner to give volume and strength to the hair roots. It has the lingering fragrance of herbal heena and amla and is blackish-brown in color. The texture of the paste is thick and it promotes hair regrowth to some extent. This leaves your hair soft, silky, shiny, frizz-free and manageable. It is easy to apply and removes excess oil from the scalp. This is without doubt the best among the best hair regrowth products in India.
Price: Rs. 155 for 200 gm.
2. Bhringraj Regrowth Hair Oil
Bhringraj Regrowth hair oil is a product from the renowned brand, OxyGlow. It is enriched with the goodness of groundnut oil, coconut oil, bhringaraj oil and flax seed oil. This nourishes the hair follicles and boosts hair growth. The oil is colorless and smells good.
Price: Rs. 150
[ Read: How To Use Protein Pack For Hair ]
3. Lotus Herbals Kera-Veda Grow Oil – Herbal Oil for Falling Hair
This is a herbal hair oil from the popular brand, Lotus Herbals. This contains the goodness of brahmi, bhringraj, harad, nagarmotha and padmakh extracts which promote healthy hair growth.
Use this regularly to reduce hair fall and to get soft, shiny and lustrous hair.
Price: Rs 275
4. Livon Hair Gain Tonic
This Hair Gain Tonic from Livon makes way for easy and beautiful hair regrowth. This can be used by both men and women. It claims to stop hair fall in fifteen days and promotes hair growth and texture. It contains active root energizers and hair regrowth molecules, which penetrate the roots of the hair follicles and clear all debris. This indirectly helps to restore proper blood flow to the follicles. It is clinically tested by dermatologists to prevent any side effects.
Price: Rs.617
5. Biotique Bio Bhringraj Fresh Growth Therapeutic Hair Oil
Biotique Bio Bhringraj Fresh Growth Therapeutic Hair Oil gives you back your lustrous and lovely hair. It is suitable for all hair types. It contains the goodness of Bhringraj, Amla, Centella, Coconut Oil, Mulethi and Brahmi which promote hair regrowth. This also contains essential nutrients and vitamins to strengthen the roots and reduce hair fall. This hair oil is best to treat alopecia, itchiness, greying of hair, dryness and flaking. This cleanses and gives visibly smooth and silky hair again.
Price: Rs.159
[ Read: Alopecia Hair Loss Treatment ]
6. TVAM Henna Hair Growth Tonic
This amazing hair growth tonic is from the brand TVAM, targeted to treat all hair growth problems. It contains henna as the core ingredient and can be used by men and women. It stops hair fall, improves the texture of your hair and thus promotes hair regrowth.
Apply it gently on the scalp to get instant results. Continue to do this till you see the results.
Price: Rs.1023
7. Biotique Bio Mountain Ebony Fresh Hair Growth Stimulating Serum
This is a good hair stimulating serum from Biotique for obtaining thick and healthy hair. This is a unisex serum and can be used on all hair types. It is an organic serum and contains Mountain Ebony Extracts, Long Pepper, Glycyrrhizin, Euphorbia Tree Extracts and Himalayan Water to strengthen and boost hair growth from the roots to the tip. It is chemical-free and can be used daily to reduce hair fall, scalp irritation, and dryness. It increases the volume of the hair so that it may appear thick and visibly fuller. This serum conditions the scalp, smoothens the hair and leaves it clean. It is dermatologically tested and is safe to use. It has a watery base texture and doesn't cause any hair fall or stickiness. It has a good lingering smell.
Apply a small amount on to clean hair and massage gently.
Price: Rs.80 for 9 ml
8. Aloe Veda Brahmi Hair & Scalp Vitalizer Hair Oil
Aloe Veda Brahmi Hair & Scalp Vitalizer Oil is very effective in treating fragile and dull hair. This contains brahmi, bhringraj, coconut milk and oil japapatti leaves to protect your hair against lice infestation, hair fall and dandruff. This helps to moisturize and nourish the scalp, soothe the cuticles and improve elasticity so that you get smooth, silky and manageable hair. It also protects your hair from UV rays, hair color side effects, pollution and heat. This oil thickens thin hair and gives healthy hair with its conditioning effect.
Heat the oil and apply with cotton onto your scalp and massage before shampooing.
Price: Rs.1350
9. Khadi Ayurvedic Hair Regrowth Tonic – Henna & Thyme (Paraben Free)
This tonic is the best remedy to treat dandruff, premature greying, itching and flaking. This Ayurvedic formula contains the extracts of henna and thyme to prevent the loss of hair, to condition the scalp and to promote healthy hair growth. It is paraben-free, non-oily and contains no mineral oil.
Apply the oil and massage it gently on to scalp and hair. Leave it overnight and rinse off.
Price: Rs 300
[ Read: Hair Growth For Baldness ]
10. Dr. Reddy's Mintop Hair Fall Solution
The solution is colorless and evaporates when exposed. This definitely shows results with regular application for a month. It acts towards reducing hair fall and aids the growth of new hair. Avoid using this with any other oil.
Price: Rs.180 for 2% solution
Here ends the list of the 10 best hair regrowth products in India. Hope you found this article useful. Let us know if you use or plan to use any of these products.
Recommended Articles

The following two tabs change content below.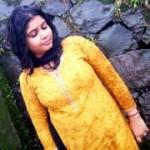 Latest posts by Jayshree Bhagat (see all)