The triangle face shapes are usually narrow at the forehead, and widest at the jawline. This kind of a face shape tends to have its focus on the pointy chin that over all invariably gives the face a mean and angry look. Definitely not something you want to look like at all times! So the best hairstyles for these people are cuts which accentuate their foreheads & cheekbones and which take away attention from their pointed chin.
Best hairstyles for triangle face
Short hairstyles for triangle shaped faces:
We Indians love long luscious hair but if you have triangular face shape, then it's best to keep your hair short. Why? Because long hairstyles tend to accentuate the pointed chin and make the face look more triangular.
Short hairstyles are best for this face shape. Short hairstyles with waves and bangs are also great. The trick is to take attention away from the chin. But do keep in mind that straight hair is not good for this face shape so keep your short hair in curls or waves. Try some romantic vintage curls or waves.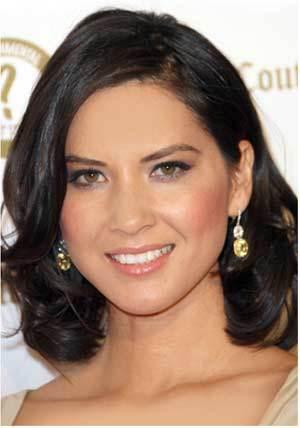 This shape looks great as it has a great mix of waves and the bangs which fall near the eyes also look great.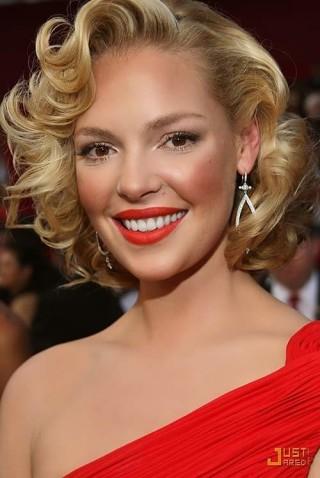 This style also looks great. Here vintage curls are used for a soft romantic and elegant look.
Medium length hairstyles for triangle shaped faces:
Medium length is also good for triangular face shapes but they need to keep in mind that some layers have to be incorporated round the face to take attention away from the chin.
The main aim is to make the face look proportionate. The styles we love for medium length hair on triangular face are: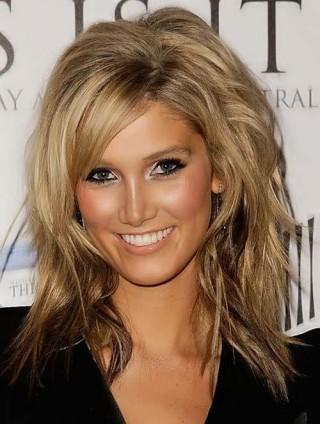 Here the layers add to the look as well as the waves which take away attention away from the face. The shoulder length hair also adds to the style.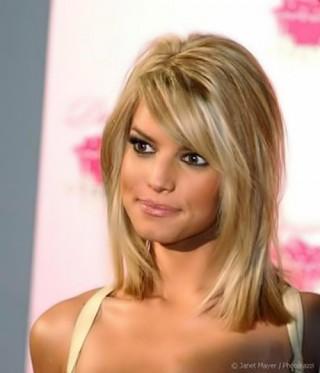 If you want to sport straight hair style, do it in a medium length bob. But always keep the front hair section away from the jaw line. Here we see the front parts ending near the cheeks which are not making the chin look more prominent.
Long hairstyles for triangle shaped faces:
If you have long hair or lust for it then, we also have some long hairstyles to help you enjoy your locks.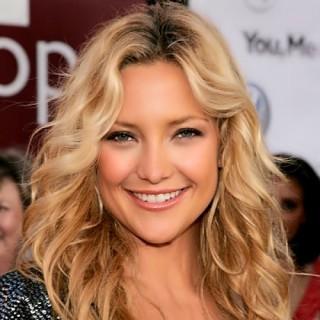 Curls and waves are very good way to hide the pointed chin and take away attention from it. The above style has loose waves to help take away attention from the jaw.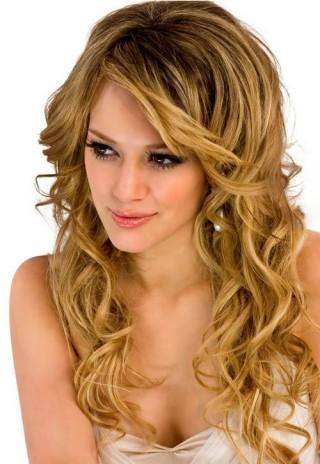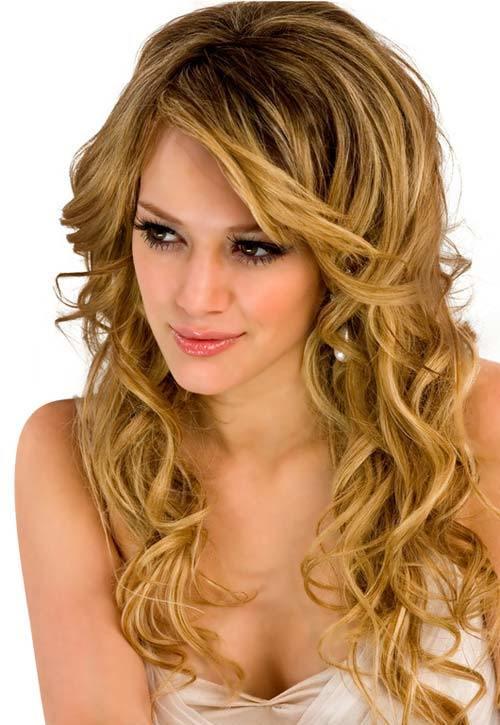 This is another example of long hairstyle which will suit triangular face shape. The curls are great as well as the front section which is away from the jaw line and helps not to draw attention to it.

 
Some Added Tips for triangle face shape hairstyles:
Keep the hairstyle short and keep the hair from coming close to the chin
When you want a medium hairstyle, opt for a layered look. Plain straight hair will not look good
Try asymmetrical bobs
Bangs are great but they should be side swept and not falling directly on the chin or near it
Recommended Articles:
If You Enjoyed This Post, Sign Up For Newsletter
(And get your daily dose of Beauty & Wellness tips straight to your inbox)
The following two tabs change content below.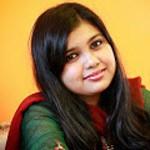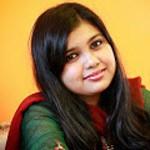 A Blogger, a writer, Makeup hoarder and makeup fanatic- I love writing and love love trying new products and sharing my makeup ideas with the world. .