For some girls the wedding bells have started to ring this season. And when it comes to Indian weddings, they are big fat weddings with extensive preparations and lavish by all means.
Being such a melting pot of different cultures, different wedding customs and different dressing styles are most definitely a part and parcel of things. Let's fall in love with some royal best wedding hairstyles for 2012, which are easy as well as can give you the royal airs.
Top 10 Wedding Hairstyles of 2012:
Style1:
Well if you have long hair you can always make a normal braid and adorned it with flowers. This is the most common bridal hairstyle in South Indian weddings.
Style 2:
Take a look at Shilpa's awesome yet subtle flowery hair style donned by a larger than life maangtika.
Style 3:
You can even use big chunky jewelry like flowers made of Sterling silver or pure silver or white gold since silver looks beautiful as a hair accessory studded with rhinestones. This is one of the best wedding hairstyles for fine hair.
Style 4:
The Chignon or the high bun never goes out of fashion.
You can bouffant your hair by teasing it (obviously you will be having a hairstylist at your wedding so not to worry; you can choose any style you want).
Style 5:
The high bun can again be decorated with jeweled chains and a magnificent maangtika if you are parting your hair in the middle parting, at side or back combing it. Strings of kanauti can also be fixed at the sides of the bouffant to give it that extra edge of style. Some avoid wearing kanautis but they serve as earrings with the advantage of a hair accessory also. One of the elegant wedding hairstyle for round faces.
Style 6:
You can also use big chunky floral jewelry on the on to the sides of bouffant. Or you can even use golden (or silver) artificial flowers at the sides of the high bun.
Style 7:
For a wedding that is to be held at the church, a high bun with small royal looking jeweled crown stuck at its front portion looks stunning.
Style 8:
You can keep the length of your hair in its flowing curls and then fix a crown.
Style 9:
You may even tie a high curly sexy bun after curling your hair and then use the jeweled crown.
Style 10:
If you have to cover your head with the dupatta or veil, then go for a simple stepped hairstyle paired with a big maangtika. It will look simple yet elegant.Heart any of these best wedding hairstyles for your wedding day or your engagement /reception or any post wedding parties and look your best.
Also check the video below on how to make a classy curly wedding bun!
If You Enjoyed This Post, Sign Up For Newsletter
(And get your daily dose of Beauty & Wellness tips straight to your inbox)
The following two tabs change content below.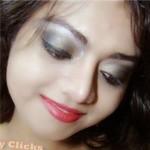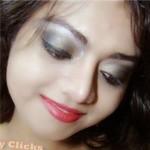 I love makeup,dance,dressing up,singing,writing ,acting (stage drama),eating and nail arts. I live life to the fullest and enjoy every moment as it comes.