Best Hairstylists In Delhi – Our Top 9 Picks
Delhi, apart from being the capital of the country, is also one of the most fashion and trend-conscious metropolitans in India. Delhites know their fashion and are picky about the clothes they wear and the hairstyles they sport! The fashionable city is home to a number of hairstylists. But nothing but the best for you, dear readers! So, here's a list of 10 best hair stylists in Delhi:
1. Ambika Pillai:
This Ooty-bred hair stylist has won many accolades for her hairstyling skills and work. These include national awards for her work in ad campaigns, photo shoots, fashion films, editorials, and ramp shows.
Physical Address:
South Extension
Wave Shopping Arcade, M- 4, 2nd floor, South Extension – II
New Delhi – 110049.
2. Jawed Habib:
Jawed Habib is the most popular name in India as far as hairstyling is concerned. This talented hair expert holds the record for the maximum number of haircuts in a day! He is by far the most well-known hair stylist in India, with salons spread all over the country. He is often credited with introducing hair colour to the youth of India after returning from London where he studied hair styling.
Physical Address:
Bldg 7/Unit 752, 5th Floor Solitaire
Corporate Park, Chakala, Andheri (East),
Mumbai, Maharashtra. India. Pin: 400093.
[ Read: Best Hairstylists In Mumbai ]
3. Jojo:
Jojo is one of the most sought after hairstylists and makeup artists in the Indian fashion industry. Having worked in more than 2000 fashion shows, and with ALL the Wills India Fashion Weeks in his kitty, he has won several national and international awards for his work. He is also consulted by different brands and a celebrity himself!
Physical Address:
Shop No A 5 , 1st Floor ,Brahmaputra Shopping Complex,
Near Gip Mall, Noida Sector-29, Noida – 201303.
4. Neo:
You can find Neo at Silhouette at The Oberoi. He's one of the most well-known and recommended best hair stylists in Delhi, especially to cut and style curly hair. He is said to have a way with curly hair! So, all you curly haired beauties, now you know where to go!
[ Read: Hair Stylists In Hyderabad ]
5. Samantha Kochhar:
Samantha Kocchar is a name that evokes something close to awe when it comes to hairstyling. Apart from hair styling, she's also an expert in makeup and body art. She teaches hair styling and makeup and also competes in body art competitions.
Physical Address:
5-6, Sardar Patel Marg,
In Pallavi Shopping Complex,
Chanakya Puri, New Delhi
6. Sumit Israni:
One of the most popular hair stylists, boasting a clientele as elite as Hillary Clinton, Sumit Israni's schedule is, as expected, hectic as ever. No matter your hair type, Mr. Israni is the one stop solution for all your hairstyling needs. His forte, if reviews are to be considered true, is edgy cuts. Apparently, he's also really good with setting cut hair.
Physical Address:
S 24, Green Park, Main Market,
New Delhi – 110 016, India
7. Nikhil Sharma:
Nikhil Sharma is another well-known name in the hair styling circuit in Delhi. Ambassador of a chain of posh hair salons is what he is also known for. He constantly updates his knowledge base with various evolving courses in hair styling and grooming.
Physical Address:
S-4, Main Market, Green Park, New Delhi, India 110016
[ Read: Best Hairstylists In Kolkata ]
8. Poonam Chandela:
If you have learned your trade at Habib's academy, it's already taken for granted that you're an amazing hairstylist! Poonam Chandela takes it up a notch though. She's not only an amazing and freakishly fast cutter of hair; she's also a great coach at the academy. She assesses each client's hair, takes into consideration their requests and proceeds to give them the haircut of their dreams.
9. Ashima Verma:
For someone who was into language interpretation, picking a career in hair styling seems a little too radical, doesn't it? Enter Ashima Verma, who, having been a technical advisor for a leading cosmetics brand, set up shop as a hair stylist. Her charm is infectious and she believes in styling hair practically rather than radically.
Well, that was the list of the top 10 hair stylists in Delhi that any man or woman looking for a trendy and stylish haircut should pick from. What are you waiting for? Snip away!

The following two tabs change content below.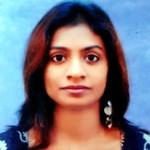 Latest posts by Maanasi Radhakrishnan (see all)