No woman can say no to nail polish.
Everybody is on the lookout for different brands that can give them unique shades at reasonable prices. And L.A. Colors promises both.
L. A. Colors has been involved in the beauty industry for almost 25 years. They are veterans of affordable cosmetics, establishing their name all over the world. Their aim is to bring women makeup in trend setting colors and styles. Their line of nail polish is the most popular. In addition, all L.A. Colors polishes are cruelty free.
At a price of just Rs.90 per 13ml bottle, it has great value for money. It is even cheaper than our local Indian brands!
It must already sound grab worthy.
10 Most Loved La Colors Shades
1. LA Colors Atomic:
Atomic is a gorgeous green polish that looks almost teal. It has a crème finish. The perfect shade of green nail polish that suits everybody is hard to find. But this shade is universal.
2. LA Colors Nuclear Energy:
Nuclear Energy is a gorgeous rich purple. It looks like the color of grape juice. It has a crème finish. The polish requires 3 coats; otherwise it will turn out streaky.
3. LA Colors Candy Sprinkles:
This shade is more for the girly girl. Candy Sprinkles is a pale pink polish with blue, green, gold, silver and pink hexagon glitters in various sizes. Although it looks great on its own, when it is used on top of a coat of pink, it really comes alive. It is an effective dupe for the shades from the Deborah Lippmann Candy Shop collection.
4. LA Colors Static Electricity:
The shade static electricity looks like the bright blue ocean. This shade is a bright, bright blue suitable for summers. It would look great on your toes while wearing flip flops. It has a gorgeous crème finish.
5. LA Colors Live:
Silver polished containing the right amount of shimmer is very difficult to find. But the shade Live delivers exactly that. It is a super shiny silver polish with the right amount of shimmer. The polish clearly mimics the aluminum foil look on nails.
6. LA Colors Jewel Tone:
Jewel Tone is a gorgeous clear polish filled with teal, fuchsia and purple glitter suspended in it. The flitter is fairly sparse, but very sparkly. It does not look that great over clear nails, but Layer this over a black or dark purple polish, or even a baby pink. You can switch up the look by changing your choice of base color.
7. LA Colors Watermelon:
Watermelon is a pretty sorbet shade. It is a dark red polish with some pink shimmer in it. It is richer and more youthful than normal reds. It is a great shade for a young, but sophisticated manicure. It has a crème finish.
8. LA Colors Enchanting:
Enchanting is a truly enchanting duochrome shade. It has shades of pink and lavender. It almost looks copper in some lighting. It is a truly unique shade without any high end/low end dupe.
9. LA Colors Force:
Force is a pretty metallic copper polish with some shimmer in it. It can be described as a burnt metallic orange. It is a true fall shade. This one is a refreshing change to the regular gold.
10. LA Colors Energy Source:
Energy source is a white than leans towards a greyish undertone. It is best suited for those who are shy of wearing stark whites. It can also work great as a base for layering other shades on top.
No matter what color you are looking for, L.A. Colors are sure to have something right up your alley!
Check them out and let us know your favorites from this brand! You can also check and download the free nail art app for neon nail polishes, matte, sheer, pearl glitter, metallic and many more nail polish ideas. Comment below.
The following two tabs change content below.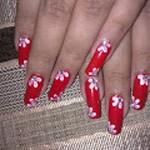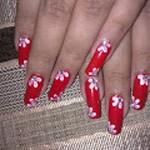 Latest posts by Neha Mane (see all)