Best LA Colors Nail Polishes And Swatches – Our Top 10
L. A. Colors has been involved in the beauty industry for almost 25 years and have been making superior cosmetics, establishing their name all over the world. They aim to bring women makeup in trend setting colors and styles. Their line of nail polishes is quite popular and at 13 ml, their bottles are quite affordable. All L. A. Colors polishes are cruelty free. Here is a list of some of their most hot and happening shades of la girls nail polish swatches that will surely make you want to go and grab some: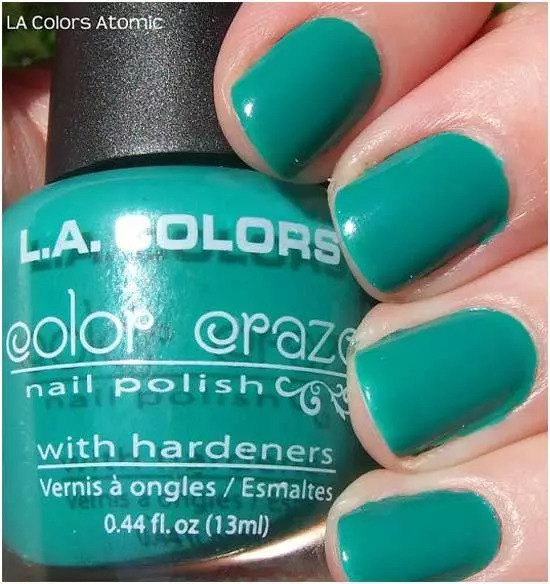 LA colors nail polish
1. LA Colors Atomic:
Atomic is a gorgeous green polish that shifts towards teal in a creme finish. It is always difficult to find a good green polish but this one will work for everybody. Requires three coats.
2. LA Colors Nuclear Energy:
Check out what a pretty purple this one is. Nuclear Energy is a grape purple in a crème finish. Requires three coats.
3. LA Colors Candy Sprinkles:
This is my favorite polish as it has glitters in a tinted base. Candy Sprinkles is a pale pink polish with blue, green, gold, silver and pink hexagon glitters in various sizes. Requires two coats but you can also layer it over a regular pink polish.
4. LA Colors Static Electricity:
Bright, bright blue for summers! Static Electricity is a blue polish in a crème finish. Requires three coats.
5. LA Colors Live:
Silver polishes with adequate shimmer in it is difficult to find but Live delivers exactly that. It is a super shiny silver polish with lots of silver shimmer. The polish almost looks like foil on nails. Requires two coats.
6. LA Colors Jewel Tone:
Jewel Tone is a gorgeous clear polish filled with tonnes of fine blue and magenta glitters. The polish is extremely glittery and one coat is enough to get maximum glitter on your nails. Layer this or a black or dark purple polish.
7. LA Colors Watermelon:
Watermelon is a pretty dark red polish with some pink shimmer in it. Quite a twist to the simple, regular reds. Requires three coats.
8. LA Colors Enchanting:
My favorite duochrome. Enchanting is a pink – lavender polish which shifts to copper. This one is a unique combo. I wish I can get my hands on this beauty. Requires three coats.
9. LA Colors Force:
Force is a pretty metallic copper polish with some copper shimmer in it. This one is a refreshing change to the regular golds. Requires three coats.
10. LA Colors Energy Source:
Energy source is a white polish that leans towards grey in a crème finish. This one is good for those who are shy of wearing regular bright whites. It is also a nice base to layer glitters on. Requires three coats.
Love Nail Art?
(Subscribe to get Beautiful Nail Art Ideas daily)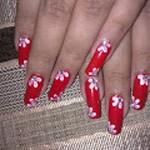 I am a degree college professor who loves hoarding makeup. Totally addicted to nail polishes and nail art :)