If bright, funky colors with loads of glitters and textures are what you love, here is the perfect brand for you. LA Girl polishes come in a huge variety of colors, crackle polishes, matte finishes, magnetic polishes and much more to choose from. All their polishes are cruelty free. Here is my list of the top 10 LA Girls nail polishes from their huge variety.
LA girl nail polish swatches
1. LA Girl Rockstar: Overdose
If you love glitter as much has I do, this is the polish you should have. Overdose is a mixture of blue, magenta, purple and a little silver glitter. It almost looks like foil on application. You can get an even coverage in about three to four coats, but this would look best layered over a purple or black polish for the glitters to really stand out.
2. LA Girl Cracked: Fracture
Crackle polishes refuse to go out of style since they first came out. Here is another one to the long list of crackles available. Fracture is a bright metallic purple crackle polish. Pair this with a lighter shade or a gold or silver polish for a pretty look. A single coat of semi thick polish will get you the crackle effect.
3. LA Girl Magnetic: Magnetic Field
Magnetic Field is a bright metallic blue magnetic polish. Some of the advantages of L A Girls magnetic polishes as compared to others is that each polish comes with a different magnet design and the magnet can be removed from the top of the lid. Magnetic Field has what is called as the Star Burst pattern. Apply a thin coat and let it dry. Follow it with another coat and when it is still wet, immediately use the magnet. You get the advantage of a metallic and a magnetic polish in one. If you don want want the magnetic effect, you can even apply the polish on its own.
4. LA Girl Addict: Disorder
Of late, greys have become preferable for my to layer glitter polishes on instead of black. Disorder is a pretty grey polish with a hint of gold shimmer. A rare combination, I think, to pair up grey with gold. Requires three coats.
[Read:French Tip Nail Art]
5. LA Girl Addict: Sensation
Of course this list would be incomplete without pink. Sensation is a bright fuchsia pink with some gold shimmer in it. The gold shimmer is nice and prominent in this one.
6. LA Girl Fruity: Sparkling Peach
Sparkling peach is my favorite of the lot. It is a gorgeous flaky polish that flashes from purple to pink to orange to gold. It might not look that impressive in the bottle, but layer it over a dark polish to see its actual beauty. You can layer as many coats as you want, depending on the amount of glitter desired.
7. LA Girl Fruity: Blissful Blackberry
Another gorgeous polish to wear for a night out. Blissful Blackberry is a wine colored polish with red and gold shimmer. This one will look beautiful for festive occasions too. Requires three coats.
8. LA Girl Metal Metallic : Antique Gold
Bright golds are commonly available in nail polishes but antique golds are quite rare. This is a greenish – gold polish with a metallic finish. Requires two coats.
[Read:Diamond Nail Art Tutorial]
9. LA Girl Metal Metallic: Copper Alloy
Copper Alloy comes from the same family as Antique Gold. A pretty metallic orange – coppery polish that would be perfect for autumn. Requires two coats.
10. LA Girls Glitter Addict : Nostalgic
Last but not the least, loads of glitter! Nostalgic is a slightly tinted clear polish with fine and chunky teal glitters. You can wear the polish on its own but layering it on black would look great. Number of coats varies with the amount of glitter required.
These are the best in my opinion! Do let me know if you agree in the comments below.
The following two tabs change content below.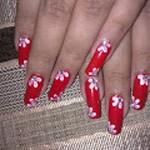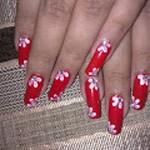 Latest posts by Neha Mane (see all)