10 Best Leave-in Conditioners: 2018 Reviews & Guide
Do you suffer from curly hair that's dry, damaged, frizzy, or uncontrollable post-shower? Then you are desperately in need of a good leave in conditioner. Sometimes your hair needs more than the usual shampoo and conditioner to leave it silky and smooth. So here comes the role of leave in conditioners.
Why Leave-in conditioner?
Leave-in conditioner can be a worthy addition to your hair care regime.The best part about these leave-in conditioners is how they add moisture and deeply hydrate hair without leaving it greasy or weighing it down. It also provides just the right amount of taming with a pleasant scent.
So if you want to flaunt long, luscious locks, then it's perfect for adding that hint of moisture for your hair during this harsh winter season.
Check out the top 10 leave-in conditioners for your hair.
1. Bumble and Bee Leave In Conditioner:
This super effective conditioner is ideal for fine and thin hair. It is a very light weight product, which detangles the hair effectively without any breakage. It can be used either as a detangler, which you should apply and rinse after 5 minutes or you can also use it as a leave-in conditioner for that extra shine and nourishment. Apart from detangling, it also makes the hair soft and smooth. This is undoubtedly the best leave in conditioner in India.


2. Garnier Fructis Sleek and Shine Conditioner:
Garnier Fructis sleek and shine conditioner tames fizzy hair, giving you the freedom to try out any hairstyle that you like. This leave-in conditioner provides deep nourishment to the hair. This is ideal for thick and coarse hair and is a great buy for daily use. Avoid this conditioner if you have thin and fine hair, as it may weigh down your hair due to its strong concentration.


3. Neutrogena Triple Moisture Silk Touch Creme:
People with fine and thin hair generally think that they do not benefit from leave-in conditioners. Well, i guess they haven't used Neutrogena triple moisture conditioner yet. Its ultra light conditioning formula nourishes, softens and strengthens your hair. The best part of this conditioner is that it does not weigh down the fine hair making it limp. It also repairs damaged ends of the hair. This great product has a sweet coconut smell.


[Read:Natural Conditioners For Curly Hair]
4. Herbal Essence Soothing Creme:
Herbal essence has recently launched its new range of leave-in conditioners for all types of hair. The conditioner is an incredibly versatile product which helps to tame fizzy hair. Apply this cream before you start styling your hair. This leave-in conditioner has a sweet floral smell which lingers for at least a day.


5. Redken Smooth Detangling Crème:
This is one of the best leave-in conditioners available in the global market. This detangling cream makes the hair luscious and smooth. The conditioner leaves a nice musk smell on your hair. The best part of this conditioner is that it tames fizzy hair even in high humidity. It is light weight, non-greasy and provides the right amount of moisture to the hair.


6. Living Proof Leave-In Conditioner:
This conditioner is ideal for dry and damaged hair, which lacks moisture and hydration. It contains intense moisturizing formula which repairs and restores the moisture and hydration in the right amount for dry and damaged hair. It is also very beneficial for colored and chemically treated hair.


7. Charles Worthington Moisture Seal Leave-In Conditioner:
Charles Worthington moisture seal leave-in conditioner work wonders for your unmanageable hair. Its unique formula penetrates deep within the hair shaft to nourish and tame the unruly hair. This is one of the best hair moisturizers available in the market.


[Read:Best TRESemme Conditioners]
8. Infusion and Renew Leave-In Treatment:
Infusion is a brand which has been popular all around the world for its hair care products. This magical product is suitable for all hair types. This conditioner strengthens the hair against damage and prevents hair breakage and split ends.


9. Nexus Weightless Leave-In Conditioner:
Nexus leave-in conditioner is best option for those who are looking for a unique product which gives salon type results at home. It detangles your hair and provides a smooth and shiny finish. This conditioner is suitable for all hair types. It offers you the salon quality at a reasonable price.


10. Tigi Rockaholic Leave-In Detangler:
This product can be used whenever you want the touch-up on your hair before a party or a meeting. It gently detangles your locks and gives the required shine and bounce.


*Subject to Availability
So what's your favorite leave-in conditioner? Try these products to achieve healthy and fizz free stylish hair. Just leave a comment below on how you felt it effective.
Recommended Articles:

The following two tabs change content below.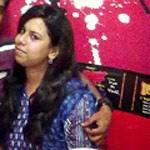 Latest posts by Ankita Biswas (see all)