Hair straightening creams are very popular these days in parlours and for use at home. This makes your hair silky, smooth and soft in no time! But, every hair straightening cream is not suitable for everyone. Hence, it is very important to select the right hair straightening cream. This can depend upon the hair type, condition and texture. There are many hair straightening creams in India, but L'Oreal tops the list in this range.
L'Oreal Hair Straightening Creams
Here are the Top 10 L'Oreal hair straightening creams which you must definitely try.
1. Studio Line Silk & Gloss Hot Straightening Cream:
This will not only straighten your hair, but protect them from external damage as well. The Hot Straight Cream is from the range – Studio Line. It is specially formulated for easy use with straightening irons and hairdryers. Thus, it easily straightens your hair and makes them look silky and shiny. The effect is long-lasting. This also protects the hair from harmful heat damage.
Price: 200 ml for Rs.300
2. New L'Oreal X-Tenso Hair Straightener Cream – Very Resistant:
This product can be used by both men and women. This is the best straightening cream for highly resistant natural hair. This makes your frizzy, curly or wavy hair straight and preserves the hair's health. This can be achieved in two steps; two products come in the package:
Smoothing Cream – 400ml
Neutralizing Cream – 400ml
Apply this properly as per the instructions mentioned for best results.
Price: Rs.500
3. X-TENSO Cera Thermic:
X-TENSO Cera Thermic is a straightening cream that is developed by L'Oreal Professional. This will give you silky, soft and straight hairs. The results of this crème last for up to six months and then it requires re-application. This is used in different techniques as per the hair type and the required result:
Ultimate Straight – for perfectly straight hair
Naturally Straight – for long lasting blow dried effect
Boho Straight – for straight roots to curly ends
The Halo Effect – for anti-frizz straightening for the top layers
Target Straight – for targeting problem areas
4. Studio Line Hot Straight Creme:
This makes your hairs look hot straight just like heat-activated straightening. This cream is specially developed for using with straightening irons and hairdryers to help and improve straightening results. This gives you a long lasting silky look and protects the hair. It has Thermo-protect technology, which is best when used with straightening irons / hairdryer.
Price: Rs.154 for 150 ml
5. L'Oreal Paris Tec Hot Style Iron Finish Straightening Cream:
This product range was launched in the year 2012.  L'Oreal Tec Hot Style Iron Finish Straightening Cream makes your hair perfectly smooth with a silky feel. This is a thermo-activated cream that makes your hair smooth. This also protects your hair from heat and gives an ultra straight look with a medium hold.
Price: INR 155 for 150 ml
6. L'Oreal Professionnel Steampod Replenishing Smoothing Cream:
This shampoo is specially formulated for normal or slightly sensitized hair. This gives you a complete frizz-free finish which lasts for up to three days. This contains Pro-Keratin technology, which protects your hair for a steam pod session and makes them slick and soft to give you a salon-fresh look.
Price: Rs.1109 for 200 ml
7. L'Oreal Studio Line Heat Seeker, Hot Straight/straightening cream, Curl/frizz control: 
This L'Oreal straightening cream protects your hair from dryness and damage caused by heat and styling tools. It contains smoothing silicones and Thermo-Protect technology to maintain your style. It locks out the humidity to fight frizz.
Price: Rs.1892 for 400 ml
[ Read: Matrix Permanent Hair Straightening Cream ]
8. L'Oreal Professionnel Tecni Art Hair Mix Supreme Smooth Nutri Smoothing Cream for Dry Hair: 
This leaves your hair super glossy, moisturized and under control. This is a medium hold smoothing cream used to hydrate your hair and contains ceramides and yucca derivatives to strengthen and provide an anti -frizz protection to the hair.
Price: Rs.588 for 200 ml
9. L'Oreal Paris Studio Line Silk & Gloss Hot Straight Cream:
L'Oreal Paris Studio Line Silk and Gloss Hot Straight Cream will give you glossy, shiny, silky to-the-touch hair. It contains silk mirco fibers that smoothens hairs for 48 hours and help in anti-frizz. This comes with Thermo protect technology to give you straight and protected hair. This is developed to be perfectly used with straightening irons and hair dryers.
Price: 300 INR for 200 ml
10. L'Oreal Professionnel Tecni Art – Smooth Iron Finish:
This is a heat protective straightening cream that will give you silky, smooth, straight and frizz-controlled hair. This makes your hair appear as if with an iron finish without heat. It maximizes styling performance. It makes your hair extra smooth and extra shiny for perfectly straight and sexy hair.
Price: 150 ml for Rs.930
[ Read: Hair straightening creams ]
Have you tried any of these Loreal hair straightening creams? Don't forget to leave us a comment below. Till then, keep it stylish!
Recommended Articles:

The following two tabs change content below.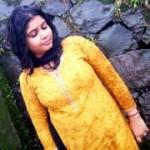 Latest posts by Jayshree Bhagat (see all)