No one wants to compromise on their makeup. Skilled use is obvious, but when it comes to the right finish, even the brands and their products play such a key role. And who doesn't love MAC cosmetics? It's one of the most desired makeup brands for every woman across the world.
The top 16 hot-selling MAC cosmetics are enlisted below with a preview of their prices.
Best MAC Cosmetics Products
1. MAC & Nicki Minaj Pink 4 Friday Lipstick
This is one of the best-selling products that made this brand famous. It adds texture along with the required color to the lips and does not contain lead, unlike other brands. It's available in several shades, but MAC red is the best shade and is available at all times.
2. Eye Shadow – Pro Palette Refill Pan
This product comes in the form of pigmented powder. It blends well into the skin providing a smooth and even tone. It comes in containers that can fit into the palettes and are thus very portable.
3. MAC Tinted Lipglass – Lychee Luxe
Tinted Lipglass is a unique gloss which is available in several shades. It is packaged in a bottle that comes with a sponge applicator. It is used to spread out the gloss evenly on to the lips. It can be applied to boost your regular lipstick or can be used alone to gain extra shine and smoothness.
4. Haute and Naughty Too Black Lash
This MAC cosmetic product is a two-in-one mascara that comes in a carbon black color. It intensifies the eye contour. It possesses dual viper system that has the potential of defining the lashes and making them more beautiful.
5. Fix+ Brume Fixante/ Rafraichissante
This exclusive product provides a finishing touch to the makeup. It makes the makeup look radiant and also nurtures the complexion.
6. MAC Eyebrow Crayon in "Spiked"
This product from MAC works like a pen to define the eyebrows by shaping, coloring and defining. This applicator can be easily toted and does not require a sharpener.
7. MAC Brush Cleanser Nettoyant Pour Pinceaux
This product is made to clean the tools of makeup like the brush so that they last longer. It is available in the form of a solution that is easy to use. It keeps the brush clean and fresh. They are specifically used for the high-quality brushes.
8. MAC Harmony Powder Blush (Matte)
This excellent product is used to add color to the face and cheeks. It is not only available in various shades but is also composed with various formulas. It can be used to give different looks to the face by highlighting the cheekbone. It is an integral part of the makeup kit and is available separately as well.
9. MAC Pro Longwear Eyeliner Black Ice
Eyeliners under this line of products are excellent for the eyes. They are long lasting and can resist water up to 12 hours. They move smoothly over the skin of the eyes making it very easy to use. This eyeliner does not smudge, so one gets a clear face always.
10. MAC Pro Longwear Spf 10 Foundation
This forms an amazing base for the makeup as it blends perfectly into the skin. It can last up to 15 hours in any environment as it is very comfortable and smooth. It helps the skin breathe easy and controls the oil. Thus, it helps in making the makeup flawless.
11. MAC Studio Fix Foundation Powder
Of all the MAC beauty products, this product has gotten hands down the greatest support from everyone! Works wonders on oily skin and is best applied with a brush but the sponge or puff doesn't give it too bad an effect either. It completely takes away the oily sheen leaving you with a matte finish that is simply perfect.
12. MAC Studio Fix Concealer
The best concealer in the market! Amazing coverage and it blends so easily into your skin that all the blemishes or dark circles are simply gone. Rather they are very well hidden away.
13. MAC Mineralize Satin Finish SPF 15 Foundation
This fluid blends with the light reflecting properties of the micro mineral leaving you with a smooth satin finish providing a low to medium buildable coverage. Best suited for normal to dry skin types, it has SPF 15. The icing on the cake you ask? It is long wear!
14. MAC Plush Lash Mascara
Foundations and concealers are obviously important but how can we ignore our beloved mascara. We can never complete our eye makeup without it! And if the aim your mascara is to add volume to your lashes then the MAC plush lash is what you need!
15. MAC Neutral Eye Shadow
As much as we might want to add some color to our look every day, when it comes to dressing up for work, it is impossible. And this where the MAC neutral eyeshadows come to our rescue! Of course the most loved of shades in this list is the soft brown and the woodwinked. The Soft brown has a nice peachy undertone to it which allows it to brighten up the look immediately. Whereas the woodwinked has a bit of antique gold touch to it that adds some color to the look. This suits most of the skin tones as well.
16. Purple MAC Eyeshadows
Neutrals are good for the day. But what about when you want to hit a party and the occasion demands for a bold color? Considering the color of the season, it's definitely time to bring out the purple MAC shades.
These are some of the most demanded MAC products ever! Are these your favorite too or do you love any other product they stock? Do let us know in the comments box below. We would love to hear your views.
The following two tabs change content below.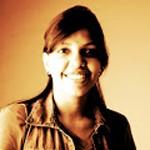 Latest posts by Shruti Goenka (see all)