Apart from their wonderful makeup line that everyone loves, Mac also makes some real wonderful  nail polishes. They make their polishes in three finishes: creme, sheer and frosted with multiple shades in each category which will leave you spoilt for choice. MAC polishes ensure a no streak and no chip finish that you will love. They also have conditioners and these offer UV protection. Here is a list of some gorgeous MAC polishes ranging from glitters to frosted finishes and shimmers. Take your pick as to which one is your favourite. And we sure you will love all the shades :D
Mac nail polish
1. Everything that glitters:
Since we are talking about the best polishes, we definitely have to start with the ones that have glitter. And this one is an outstanding glitter polish. Everything That Glitters is a dark black polish with pink, blue and gold glitters. Simply gorgeous. It requires two coats. This tops every list of the best among the MAC nail polish colours.
2. Rich Rich Rich:
This one is from the Marilyn Monroe collection. Rich Rich Rich is a dull gold glitter polish. Very sparkly. This polish is perfect for those who want to wear gold on their nails but at the same time wouldn't want it to be loud. You will love this shade. It requires two coats.
[Read:Nicki Minaj Nails]
3. Steamy:
As you can see in the picture, Steamy is a very pretty fuchsia pink polish in a creme finish. If pinks are your type of colour, this one definitely is a must have. Requires two coats.
4. Mean and Green:
My all time favorite !! Mean and Green is a true douchrome polish. It is originally an olive green, but shifts from purple to pink to orange. How can you resist this one ? This one requires three coats.
5. Nightfall:
Since I have started to like greys, this one has to be one this list. Nightfall is dark gunmetal grey with some silver shimmer that gives it a frosted look. This one is truly gorgeous and is a refreshing change to the regular blacks. It requires three coats.
[Read:Pink Nail Polishes]
6. Deep Sea:
Not a big fan of greens, but this one is gorgeous. Deep sea is a bluish – green polish, which leans more to the green side. Requires two coats too.
7. Sparks On Screen:
Another glitter polish from MAC that I think is outstanding. Sparks on the Screen is a slightly red tinted polish with tiny red square glitters and medium holographic hexagon glitters. Since it is a sort of sheer, it would be best to layer it over with other polishes or you will have to go in for multiple coats to achieve a full opacity.
8. Anti Fashion:
This one is a very different colour which is why I have added it to the list. Anti Fashion is a greyish brown polish with purple shimmer in it. I have not seen this combo before. Requires three coats.
[Read:Matte Nail Polishes]
9. Discotheque:
I extremely love shimmery silver polishes and this one is exactly one of it. Discotheque is a bright silver polish packed with silver shimmers. Look at the picture to see how glittery it is. This mac nailpolish requires two coats to it.
10. Morange:
Love the shade, love the name. A real bright orange in a creme base. Mac nail polish colors  are Perfect for summers. Requires two coats.
That is all of our favourite MAC nail polish swatches along with the colours for you! Ofcourse the MAc nail polish prices are on the higher end but then its MAC and its totally worth it! Which one of these is your favourite? Do tell!

The following two tabs change content below.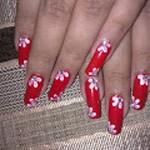 Latest posts by Neha Mane (see all)