Without a doubt makeup is an integral part of a well groomed woman's pursuit of perfection. Those dark mysterious eyes, scarlet painted lips, prominent cheekbones or that shimmery glam look is only best achieved with an amazing cosmetic product and an equally great makeup brush kit. In the arsenal of weapons that go on to create her killer good looks, a woman's makeup brush kit stands tall and proud.
A seasoned fashionista may ditch a good product for a better one, but she stays loyal to the set of makeup brushes that work best for her throughout her fashionably long life. So if your heart beats for beauty and your soul pines for that perfect makeup brushes and kits, you might just want to read on. Hopefully your quest ends here and now.
Top 8 Types Of Makeup Brushes
Type 1: Concealer Brush
If you are applying a stick concealer, then you are good with your finger tips or a makeup sponge but if you are using a cream based concealer then its best to use a concealer brush. It will help you cover and conceal the targeted spots and blemishes perfectly.
MAC 195: this is the best concealer brush ever!
Faces 2 in 1 foundation and concealer brush is also quite good for beginners and doesn't pinch a hole in the pocket.
Type 2: Blush Brush
Blusher needs to be applied very lightly with gentle strokes on to cheek hollows or on to the cheeks apples with gentle circular touch. You just cannot go wrong on selection of this brush, except for when you are applying a stick or cream blusher. For a stick blusher, you can apply with finger tips. For a cream blusher you need to use a separate concealer brush or a separate contour brush. Do not use sponge for this!
Below mentioned are the best makeup brushes can find.
MAC Large Angled Contour Brush 168
Type 3: Contour /Bronzer Brush
The name says it all. This brush can be used for using a darker colour of blush and also for bronzers on to the contour of cheek, on sides of chin and sides of forehead and also along the sides of bone line of nose for an extremely chiselled look. However if you are using a cream blush for cheek apples and wish to use a contouring brush for that, then keep separate contouring brushes for different colours of blush and also a separate one for bronzer application.
If you like using rounded tipped brush for contouring then try MAC 109
You can also choose an angled tip brush like MAC 168
Inglot 3P Angled Brush is also good
The following two tabs change content below.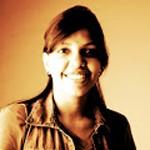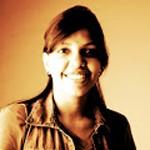 Latest posts by Shruti Goenka (see all)