Whoever said diamonds are a girl's best friends, didn't know about lipsticks
Who doesn't love to pucker up with beautiful colors and grab eye balls? When we enter the world of lipsticks, there are a million types out there – glossy, long wear, matte and what not! But I have always been a fan of matte lipsticks. I mean, they are perfect for office and college wear. They are subtle yet effective and are not in-your-face. Also, matte lipsticks are relatively long wear and do not smudge as easily as glossy ones do. Also, they are less transferrable
Here I am listing the top 10 matte lipsticks shades available in India.
1. MAC Impassioned:
Source: indianvanitycase.com
This, by far, is the best matte lipstick ever. It's a super gorgeous shade with pink and coral undertones. The color is very buildable and you can control the intensity. Easily available in all MAC outlets, this MAC matte lipstick tops my wish list
2. Colorbar Velvet Matte – Bare:
Source: indianvanitycase.com
Colorbar Velvet Matte lipstick gets all credits for affordable matte lipsticks in India. I think matte, I think Colorbar. Bare is a daily nude-brown and is My Lips But Better color. It hugs your lips like a cute little cushion and has a good staying power.
[ Read: Best Berry Lipsticks ]
3. Inglot Lipstick 106:
Source: indianbeautycentral.com
This is another wonderful brand that makes good matte lipsticks. 106 is a peachy, coral shade and can be easily carried off.
4. Lakme Absolute Matte Lipcolor – Peach Carnation:
Source: peachesandblush.com
Another pretty product from Lakme, this lipcolor is a winner. This color can be worn for college and office without any fear of inappropriateness
Peach Carnation is a misnomer, though. The Lakme matte lipstick color is more of a pinkish brown and leans more towards nude.
5. Chambor Powder Matte Rose Fresque:
Source: makeupandbeauty.com
This lippie is a lovely shade of pink with warm undertones. The staying power is decent and is non drying.
6. Deborah Milano Red Shade No.9:
Source: indianvanitycase.com
This by far, is the best pink-red lipstick ever made in matte. It gives a gorgeous, gorgeous finish and stays like forever. It is intensely pigmented and the case is crazy adorable too!
[ Read: Best Lakme Lipstick in India ]
7. Faces Satin Jazzberry Jam:
Source: peachesandblush.com
Do I love this lipstick's name? Or do I love this lipstick's name? Such a cute title for a lippie, right? The color is super pretty too. It's a wonderful everyday My Lips But better aka Nude shade and is one of my favorites to college
8. Nyx Soft Matte Lip Cream in Addis Ababa:
Source: fromnatalietoyou.blogspot.com
This, my friend, is the holy union of lipstick and cream and matte finish. A wonderful fuchsia pretty pink in a wet stage, it transforms to matte finish on lips and gives an incredible staying power. The only complaint is that it settles into fine lines after 3 hours, but that is so okay with the pretty color right?
[ Read: Best Lipsticks Brands In India ]
9. Make Up For Ever Rouge Artist Intense Lipstick in Matte Flesh:
Source: Temptalia.com
This is a nude-brown lipstick which is super matte and a little drying. Apply some lip balm beneath to avoid the dryness because this lipstick is absolutely amazing with its staying power and color pay off.
10. Bourjois So Delicate Lip cream in Rose Veloute:
Source: makeuptomakeout.co.uk
This is again similar to Nyx lipcreams and offers a great range of colors. Do check it as its super pigmented, offers a lovely staying power and is affordably prices.
So girls, let me know your favorite matte lipsticks shades, shoot in a comment!
Stay gorgeous!
The following two tabs change content below.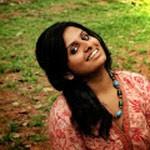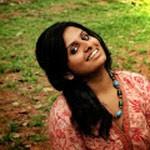 Hello there :) *waves* Namita here - 19, from Bangalore. Aquarian. Engineer in making. Standard Indian Height. Loves to pose and pout :3 I blog about everything :D You can find product reviews, book reviews, DIYs, home remedies, recipes, fashion related articles, Outfits of the Days, rants and lots more! Oh, I am a creative writer too :)