As the saying goes 'Beauty lies in the eye of the beholder'. Taking is this very literally, women pay special attention to their eye makeup. If correctly done, eye makeup can really help accentuate one's overall makeup and features. There are different types of eye makeup and different cosmetics are used for the same. However, an eye liner always plays a crucial role here.
Maybelline is a cosmetic brand from New York and it has always been liked for its innumerable products and their superior quality. Eye liner is one such cosmetic product that Maybelline is loved for.
Here are the top 10 Maybelline eyeliners
1. Maybelline Unstoppable eyeliner in Onyx:
You will fall in love with the packaging of this one, not because it is too funky but because it is really simple. It can be applied very easily because of the creamy texture and doesn't hurt the eye lid much. It is smudge proof so you can relax and forget about touch ups the whole day. The eye liner comes with a twistable body which makes it easy to use.
2. Define A-line eyeliner:
This one is for defining those beautiful eyes in your own way. Whether you want thin or thick lines, winged lines, smokey lines – this one would serve all your purposes. You can be rest assured that it won't smudge and see you through the day. It even comes with a built-in smudger to make your smudgy look even better.
[ Read: How To Do Eyeliner ]
3. Maybelline liquid eyeliner:
This eye liner's applicator is extremely soft which helps in precise application. This 5 ml bottle gives you jet black eyes and can be worn through the day. It is water proof and can be removed easily using a good eye makeup remover.
4. Maybelline stiletto eyeliner:
Known for its affordable price and longer stay, this liquid eye liner from Maybelline comes with an extremely flexible tip that aids application. It doesn't get flaky or rub off that easily. Great for defining your eyes, unlike most other liquid liners, this one works equally well on oily eye lids and is safe for sensitive eyes too.
[ Read: Best Liquid Eyeliners ]
5. Maybelline express eyeliner:
The sponge applicator of this liner makes it excellent for application. The pigment is gorgeous and it stays for really long, as long as 8 hours in a day. You may use it as your everyday liner also because it does not harm sensitive eyes too.
6. Maybelline lasting drama gel eyeliner:
This gel-based liner makes for an excellent all day eye liner. It is easy to apply because of the gel content and the brush applicator. It is highly pigmented and so you can get those black eyes. It can last almost through the day without even smudging a bit. The brush makes it easy to apply it in the corners of the inner eye as well.
[ Read: How To Apply Gel Eyeliner ]
7. Maybelline master drama eye studio eyeliner:
Available in six different shades, this creamy textured eye liner comes in a twistable body and the price is nearly reasonable. The super black pigment of the liner is what people really use this for. Lasts for about 3-4 hours, it glides on the water line smoothly.
8. Maybelline Expert wear brow and eye liner:
This eye liner serves a dual purpose of an eye liner and brow pencil. It is creamy and easily applicable. The pencil can be sharpened and it doesn't wear off very soon.
9. Maybelline eye studio master duo 2 in 1 glossy liquid eye liner:
Available in 6 different shades of color, this liquid maybelline liner comes with an innovative tip with a flat disc on the end. You may use it to get a thin line or to a wider one. It has a glossy touch to it which renders quite a shiny effect and lasts longer.
10. Maybelline eyeliner hyper glossy liquid:
Maybelline came up with this product for those who do not want their eyes to look dull. It has this intense black colour with high shine which makes it visible even from far away. It comes with a great smudge proof formula and can be worn all day long. The tip gives excellent control for achieving both thin and thick line.
Hope you liked the article. Please leave us a comment.

The following two tabs change content below.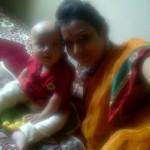 Latest posts by Khushboo Mehta (see all)