Maybelline started out as a small family owned business and has today become one of the top cosmetics company in America. Maybelline creates scientifically advanced formulas, revolutionary textures and up to the minute trend setting shades effortlessly, affordably and beautifully. Their nail polishes go wet to set in just 50 seconds and have an anti chip formula with exclusive control flow brush. They give your fingertips a fashion fix and let you indulge in your passion for fashion in the most colorful ways. Here is a list of some top Maybelline nail polish shades and textures that you would definitely love to have in your vanity.
Best Maybelline Nail Polish Shades
1. Maybelline Bamboo Yellow:
Wearable, not too loud yellows are so rare to find and this one is exactly that. Bamboo Yellow is a subtle and muted yellow in a creme finish. The yellow reminds me more of butter. I would love to wear this one. Requires three coats.
2. Maybelline Pink Glimpse:
Here is a pretty nude polish for just about anyone and for any occasion. Pink Glimpse is a peachy – pink polish in a slightly pearl finish. Perfect polish to wear to work. This one would also make a beautiful base for a french manicure. Requires two coats.
[ Read: Best Pink Nail Polishes ]
3. Maybelline Boho Gold:
This is my favorite polish among the lot. Boho Gold is a gold multichrome polish that flashes bronze and green. Quite a bold and shiny color. What is not to like about it? A close dupe to OPI's I Just Spotted A lizard. Requires three coats.
4. Maybelline Tulip Tango:
Pink- coral polishes look so girly and feminine and this one is no exception. Tulip Tango is a pretty pink – coral polish that will look great on everyone. It is a bright shade but not too much that you need to think before wearing it for certain occasions. I would love this to be my go – to polish. Requires two coats.
5. Maybelline Gold Accessory:
Gold in all its glory! Gold Accessory is a beautiful gold polish with quite a few gold shimmers in it. Not a gold polish for the faint hearted, this is one gold that is going to grab a lot of attention. Perfect to pair with some traditional outfits. Requires three coats.
6. Maybelline Blackened Teal:
I love this color! Blackened Teal is a really dark metallic teal color with teal shimmers in it. The polish mostly looks black in the shade but you will see the teal pop out in sunlight. An interesting polish to wear if you are tired of regular boring blacks. Requires three coats.
7. Maybelline Cool Couture:
Cool Couture is a bluish toned metallic grey polish with pretty green and blue shimmers in it. This shade would look gorgeous to wear on a night out, especially with a black outfit. The combination of colors in this one is really unique and mysterious. Requires two coats.
[ Read: Best Blue Nail Polishes ]
8. Maybelline Fun Is Fuchsia:
It sure is! Bright pinks are never enough for any polish lover and this one is a must have. Fun Is Fuchsia is a bright pink with some purple shimmers in it. The color is so bright and cheerful, a perfect polish to wear in summers. Requires two coats.
9. Maybelline Berry Best:
Berry Best is a purple toned berry polish in a creme finish. I quite like the purple – pink combo of this one. Requires two coats.
10. Maybelline Matte Brownie:
I never knew Maybelline had mattes till I saw this beauty. Matte Brownie is a gorgeous antique brown color in a matte finish. Inspite of being matte, there are a few silver shimmers in it. This Maybelline matte nail polish looks more bronze than brown to it, but still is very pretty. Requires three coats.
[ Read: Best Matte Nail Polishes ]
These are some of the best maybelline nail polish shades India! Which one you want to try?
Image Courtesy: 1 , 2 , 3 , 4 , 5 , 6 , 7

The following two tabs change content below.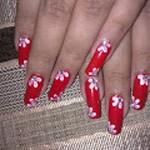 Latest posts by Neha Mane (see all)