Maybelline being the first company to bring the mascara to the commercial industry holds a special place in all our hearts. Not to mention the fact that it is one of the most affordable yet quality brands in India. I have been a Maybelline lover since as long as I can remember! They have been bringing out better and newer things every season and there are a number of products that have become by HG products. Here I am doing a run-down of what I consider to be 10 of the best Maybelline products ever. Most of them are new and still available, but some are not available in all stores, but I am sure you can buy them online.
So here is my rundown of top ten Maybelline products ever!
10. Maybelline Baby Lip Balms:
This product that has been welcomed with both hands by almost all the beauty bloggers in India. This is moisturizing, compact with no overpowering flavours. It has delicious flavours of traditional lip balm with good pigmentation. This is the best lip product for a beauty newbie or the makeup lover who doesn't want to fuss too much with her lips. My personal favourites are berry crush and Mango Pie.
9. Maybelline Colorama Nail Color:
It offers bright colours and good coverage and quality at affordable prices. This is what makes Maybelline Colorama Nail Color still a fan favourite of the average Indian girl. Priced at rupees Rs.85, this nail color comes in a variety of shades and the packaging is cute and convenient too.
[ Read: Top Maybelline Nail Polishes ]
8. Maybelline Watershine Lipstick:
If you wanted to try out brown shades or mauve shades, but never did because you thought it would look like the nineties, this is the lipstick for you. It has brown shades like chocolate icing that gives your lip that pretty rusty shade, but with a smooth and glossy finish that makes it look trendy. It is priced at Rupees Rs.230 and may not be widely available anymore. But some online shops still sell it.
7. Maybelline Eye Studio™ Lasting Drama™ Gel Eyeliner:
The lasting drama gel liner was the first gel liner ever in India. It is superbly intense, lasts long and causes no irritation when used on the waterline. These are enough reasons for it to become a staple item in any girl's vanity.
6. Maybelline Colossal Kajal:
Although many people have a love-hate relationship with this particular product, when considering the quintessential products, this Maybelline Colossal kajal definitely makes the cut as it is one of the most sold Maybelline products in India. Priced at rupees Rs.175, this has quickly become a crowd favourite.
[ Read: Best Baby Products ]
5. Maybelline BB Cream Stick:
Everyone expected great things from the Maybelline BB cream after the rave reviews they have heard on the international blogs about it, but they were pretty let down by the cream form .The BB Cream stick however was something that they expected to be draggy and patchy, but ended up being the next best thing to perfect skin. Priced at Rs.250/- this is one of the best products to hit the Indian markets in recent times.
4. Maybelline Color Tattoo:
Another first of its kind in the country in the Maybelline India products is the colour tattoo! Maybelline colour tattoo had taken the international market by storm when it was released because it provides high end pigmentation at drugstore prices. The same thing is happening in India too. This product gives more quality than its price of Rupees 350/-
3. Maybelline Colorsensational Lipstick:
All I have to say is One Word. My Mahagony! This shade in this collection has become almost the only shade to suit every single woman/girl who has tried it. This particular shade is universally complementing to all skin tones and the lipstick texture itself is very good. This lipstick is the perfect blend of creaminess and stickiness, to make it feel like there is nothing on your lips. The shades are to die for and the packaging and pricing has made this lipstick the third best Maybelline Product ever.
[ Read: Top Maybelline Lip glosses ]
2. Maybelline the Colossal Volum' Express® Mascara:
This mascara comes with one of the biggest wands I've ever seen in my life and at first I was so skeptical about it. But it grabs the right amount of product and plumps up your lashes without making it too clumpy. It gives volume and definition and lasts for a long time. All in all, this one delivers all that it promises without fail. It is priced at rupees 260/-
1. Maybelline Expert wear eye shadow Quad In Chai Latte:
This is the best quad I have ever seen in my life! It contains all the colours to do a perfect day time look and a night time look. I don't think a particular 'shade' of a product has had such popularity before or since Chai Latte. It also comes with a guide to help you create the look that you desire. It is seriously the only eye shadow quad that one should ever need in their kit!
I hope you all enjoyed this post on the 10 Best Maybelline products.
What are some of your favourite Maybelline products? Do share in the comments below.
[ Read: Best Hair Products For Indian Hair ]
The following two tabs change content below.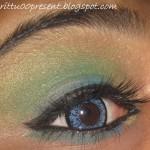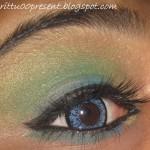 Latest posts by Fathima Abdul Kader (see all)