Of all the different types of nail polishes bombarding the beauty arena today, metallic polishes are the most popular. There is something very exciting about having your nails painted in shades that resemble metals or even regular colors when given a metal finish. Best of all, they are easily available.
So here is a collection of some really good metallic nail polish colours that you just can't resist adding to your collection.
Best Metallic Nail Polish Colors:
1. L A Colors Teal Metallic:
If bright colors are your thing, you can't miss this one. Teal Metallic is a bight teal in a metallic foil finish with tiny shimmers in it. A beautiful colour to wear if you are going to be spending your summer by the beach. Requires two coats and is considered to be one of the best metallic nail polish colors that is here to stay.
2. Deborah Lippman Chain Reaction:
The only reaction you are going to get with this one is WOW. Chain Reaction is a metallic green polish with pink, gold and red shimmers. This is one outstanding colour with a very rare combo of shimmers. Requires two coats.
[ Read: Best Neon Nail Polish India ]
3. L A Colors Purple:
A vampy shade with a difference!! Purple is a gorgeous dark metallic purple packed with blue and pink shimmers. Requires three coats.
4. Chanel Peridot:
This one has to be everyone's favorite of the lot. It comes from Chanel's Fall collection called Illusions d' Ombre de Chanel. Peridot is a beautiful monochrome metallic bronze-gold that shifts to green and yellow. Requires two coats.
[ Read: Best Matte Nail Polish ]
5. Zoya Kimber:
This beauty comes from Zoya's Summer Surf Collection. Kimber is a reddish – pink metallic colour with fine gold shimmer in it. I love this shade to bits. A perfect polish to add some girly fun in summers. Requires two coats.
[ Read: Best Black Nail Polish ]
6. Orly Foil FX:
If you love metallic polishes, you have to own at least one silver polish. And this one is perfect for it. Foil Fx is a metallic silver in a foil finish with lots of fine silver shimmer in it. The shade is really bright and shiny. Requires two coats.
7. China Glaze No Plain Jane:
No Plain Jane, this one is. It is a metallic duo-chrome that shifts from purple to copper or even pink. I never knew purple and copper in a combo could work, but this one is stunning. Requires three coats.
8. Revlon Gold Coin:
Gold polish fit for a diva!! Gold Coin is a beautiful dull gold polish in a foil finish and has loads of fine gold, silver and a bit of bronze shimmer. The metallic finish in this is very strong. Don't forget to take out the sunglasses while wearing this. Requires two coats.
[ Read: Nail Polish For Fair Skin ]
9. OPI Simply Smashing:
Simply smashing is a metallic lime green colour with fine shimmers in it. This one is from Their Grand Slam Collection. Now that summer is here, time to paint your digits in these colours. Requires two coats.
10. NYX Gold:
The name is a bit misleading but colour is gorgeous. Gold is a bright metallic copper with lots of copper shimmer in it. It almost looks as if it's glowing. Requires two coats.
I hope this article on metallic nail polishes helps you pick colors that you like to flaunt.
image source: 1 , 2 , 3 , 4 , 5 , 6 , 7

The following two tabs change content below.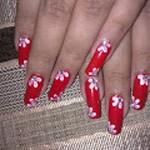 Latest posts by Neha Mane (see all)