Your makeup isn't done till your nails are done right!
We love color on our nails. Though we always had a choice in colours, it is no longer just about the color, nail art is the latest in thing in town.
You can do up your nails with some nice and happy designs to brighten up your day or to accessorize for a special occasion. An excuse is all you need. Keep subtle or go crazy and outrageous, you have a choice for everything. You can also try on stamp at home but the more intricate patterns should be left for the professionals! Nail art does not only decorate nails, but also corrects the shape (vertical pattern visually lengthens the nail, and French significantly shortens it). Skilfully performed design will make your nails unique.
Here I list the top ten nail care products which are easily available in India:
Professional nail care products:
1. O.P.I Nail Lacquer: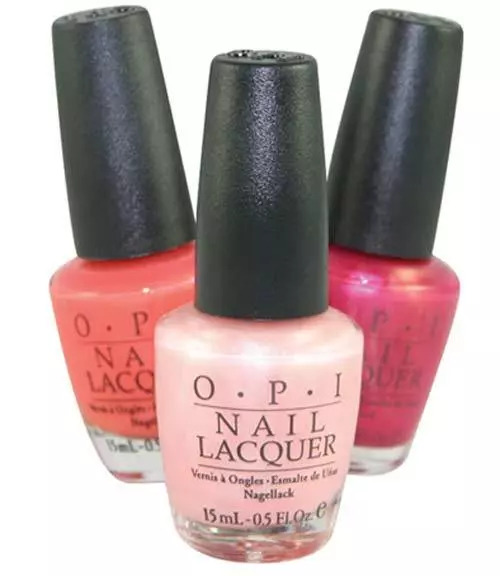 O.P.I, recognized internationally as the world's leading professional nail care brand market, offers a range of delicate and vivid shades, both shimmer and non-shimmer ranging from toffee bronze, soft pinks and vivid reds .O.P.I. nail lacquers are the finest quality nail paints available and are free from Dibutyl, Toluene, Phthalate and Formaldehyde. Carefully chosen and created with a great sense of style and boldness, none of their shades are ever out of vogue. The nail paint is easy to use, glides on smoothly, dries quickly, and gives the true colour in just one coat, does not chip off easily and last really long. Availability might be an issue but now-a-days they are easily available online. They are priced at Rs 550.
Here is a list of best OPI nail polishes.
2. China Glaze Nail Polish: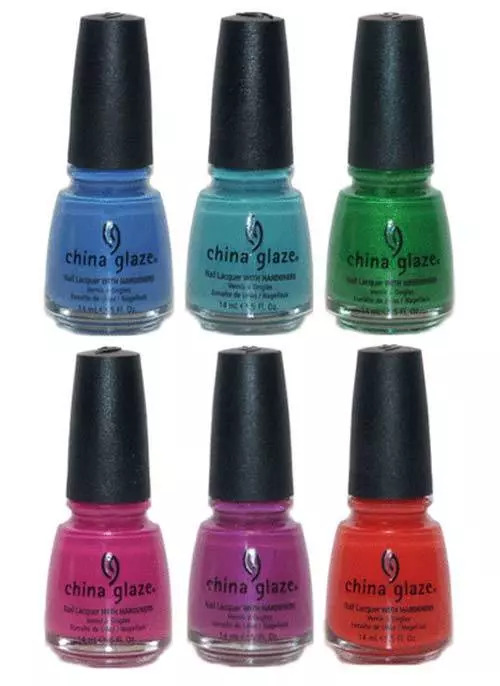 China Glaze is a professional level nail enamel, made with a special balance of polymers and resins that combine to create a nail lacquer that is long lasting, resists chipping and gives a beautiful shiny finish to the nails. When used with a top coat, the nail paint lasts for almost a week. Their polishes contain china clay as a nail hardener which is the material that gives porcelain its shiny finish. It's very difficult to single out one nail polish out of their huge range of shiny, metallic and glitter nail polish available.  They are also carcinogen free. They are now easily available in India for Rs 500.
Here is a list of best China glaze polishes.
3. Colorbar Crackle Top Nail Enamel: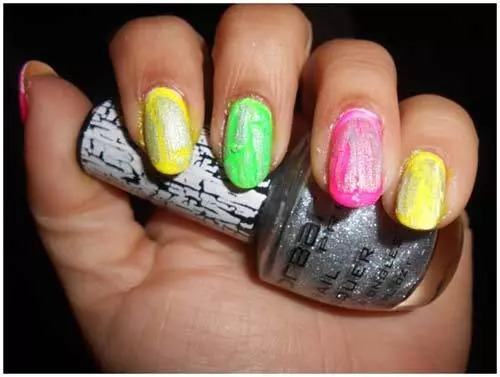 COLORBAR is the first Indian Company to launch crackle nail polish. COLORBAR Crackle Nail Enamel is available in three shades and retail Rs 499.The nail enamel splits and cracks as it dries to reveal the nail polish underneath. Its consistency is thick and dries super-fast and does not spread easily. The cracked effect lasts for almost a week.
Here is a list of our best Colorbar Nail enamels.
4. Lotus Herbals Colour Dew: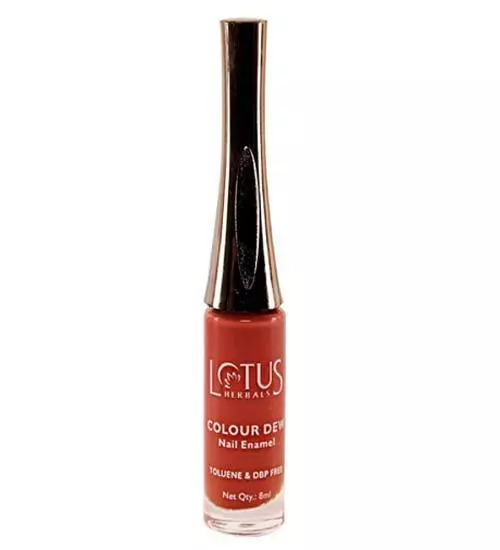 These are one of the best and the most affordable nail polish ranges available in India. The nail enamels are Acetone, Toluene, Formaldehyde and DBP free and are excellent in quality. They come in a sleek packaging with a long handle which gives a good grip and helps in easy application. The nails paints are extremely pigmented and with just two coats, you get the true color as you see in the bottle. The nail paint dries to a creamy, glossy finish. The only drawback I find with these nail paints is that it takes a bit too long to dry completely. The nail paints stays on for 4 days without any chipping. It is available in a wide range of colors and is priced at Rs 110.
[Read:Gradient Nail Art Tutorial]
5. Colorbar Glitterati Nails: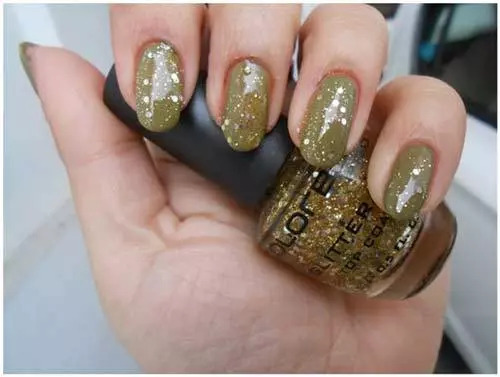 Colorbar Glitterati is a top coat glitter nail enamel with an innovative full coverage glitter formula that gives the nails a nice bling look. Colorbar Glitterati top coat has glints of glitters suspended inside an irresistible clear top coat which adds a little dazzle to your nails. The top coat can be applied over another nail color or layered alone for an intense glitter effect. Its 3 free formula is nail friendly and does not cause yellowing or chipping of nails. The best part is its double flat brush for one stroke fuss free application. These are available for Rs 350.
6. L'Oreal Paris Color Riche Le Nail Art Stickers: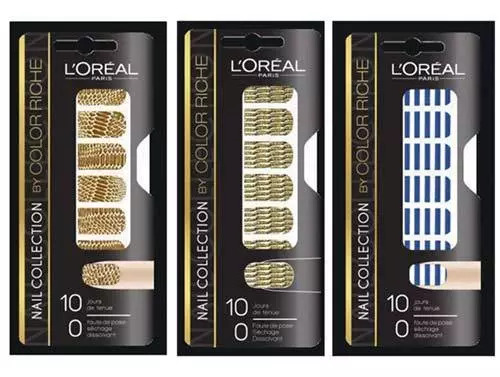 These stickers cost Rs 299 for a single pack of 18 stickers and come in different sizes that fit each nail. These stickers are very easy to apply. They are available in 8 fabulous designs; from stripes to polka dots, they have it all. They look pretty amazing and different than usual polish on the hands. It doesn't require a nail paint remover to remove it. When the tip starts peeling, just peel the whole thing off your nail. The stickers are safe to use and there is no damage to the nails after removing the sticker. Since they don't last long, these are best used for special occasions.
7. Faces Nail Favorites Airbrush Nails: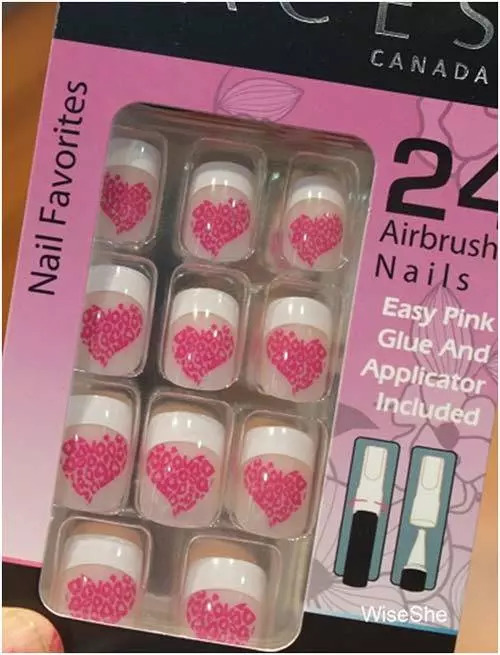 Faces Nail Favorites Airbrush Nails are easy to use artificial nails designed especially for the young and trendy divas who like to keep their nails long stylish and sassy. These are very easy to use and when applied they stay for the whole day. They have a nice finish and don't look artificial from a distance. Each set contains 24 nails of different sizes, so you get a lot of options to try and see which one fits your nail perfectly. The price range is between Rs 199 to 399.
[Read:10 Best Manicure Videos]
8. Sally Hansen French Manicure Kit: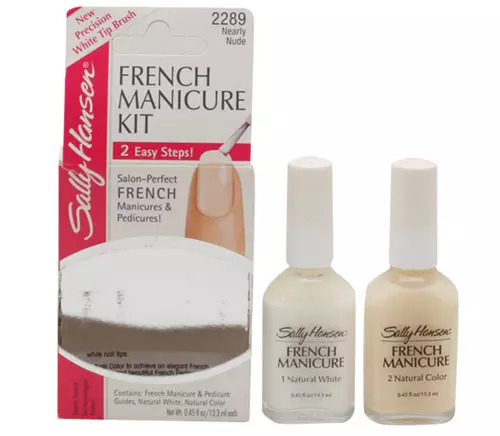 Sally Hansen is a very popular nail polish and nail treatment brand. Sally Hansen French Manicure Kit is for all the nail art lovers who love to flaunt neat and sophisticated French tip nail designs. A classic French Manicure nail has always been the ultimate statement of a refined, well dressed and classy woman. The French manicure look originated in Paris, generations ago and is even now is as fashionable and popular as it was ages ago. The kit consists of tip guide, a French white polish, a French base colour and a UV top cot.  Sally Hansen French Manicure Kit is available at all leading online stores at a price of Rs 750.
9. Konad Nail Art Stamping Set: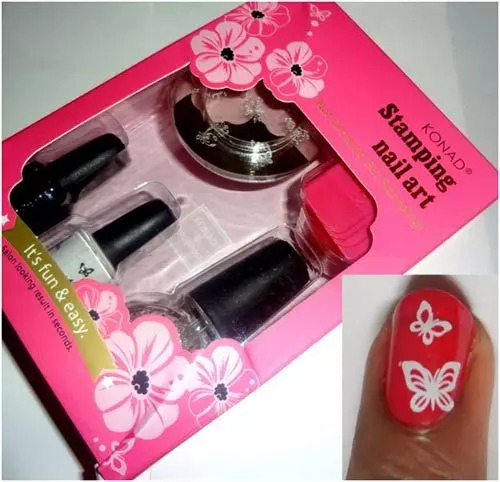 Konad Nail stamping Art enables you to make beautiful nail art by stamping pre designed images on nails in seconds. The kit includes 2 special polishes, 1 image plate, 1 Special top coat, 1 scraper and 1 stamp.  All you have to do is apply the nail polish that they include in the kit onto the template, scrape off the excess nail polish and use the stamp to transfer the design on the template onto the nails. The designs should be sealed with a top coat. Each design lasts for 2 to 3 weeks. You get loads of design to choose from and the application is easy albeit after a bit of practice. Konad Nail Art Stamping set is available at Rs 650 in all leading online stores.
10. Konad French Tip Guide: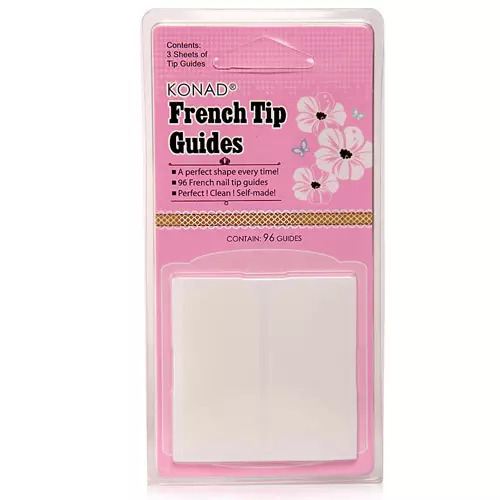 Konad French Tip Guides helps you to achieve salon style perfectly manicured nails at home. These are little strips which help you to paint the tip of your nail with perfection.The tip guides are neatly placed on the sheets. All you have to do is peel off the tips and apply carefully across the curve of your nails. Apply two coats of white to the area above the French tip guide. Gently take off the guide before the polish dries. This product is one of the basic essentials for a nail art lover. You get 96 guides in a single sheet for Rs 80.
The key to any successful nail design is starting with clean and well-shaped nails. Nails should be neatly trimmed and filed before painting. Even the most accomplished artist can't create an attractive design on nails that have been bitten down to stubs.
This is the list of the best nail care products in the market! Go shopping right away!
Image : 9
The following two tabs change content below.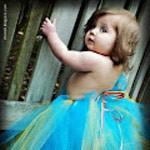 Latest posts by Arshi Ahmed (see all)