We all have our beauty secrets. The ones we hold close to our hearts, believing with all our soul that this is the one great thing that makes our skin or hair beautiful. Some of the secrets have been handed down to us by our grandmother's mothers, others we have chanced upon by ourselves. The extremely gorgeous girls in the StyleCraze team have generously shared their beauty secrets with us, letting us take a peek at how and why these women are as beautiful as they are! Psst…they are extremely beautiful anyway, but these natural remedies they opt for have taken their assets up a notch on the beauty meter. Let's take a walk down the beauty lane!
Kushneet Kukreja, The Science Whiz 
I owe my basic knowledge of home remedies to my mother. She is always on the lookout for the best solution to any ailment that she can concoct in her precious kitchen. So, obviously, I was introduced to the potential of onion juice to aid hair growth, and maintain hair quality and scalp health by her. Onion juice also causes fresh hair growth in areas of the scalp where there is scanty growth. Being a scientist, I always ask her for proof of the concept, and she did do so! A cousin had been using it for just a month or so and could see a marked difference. I gave it a try and now, I swear by this natural beauty tip.
Steal My Beauty Secret
All you need to do is grate half an onion, squeeze out the juice, and apply it on your scalp using a cotton ball. Leave it on for at least 20-25 minutes and rinse and condition your hair as usual. I know the pungent smell of onions can be a bit annoying, but there is no gain without some suffering! ;)
Meenal Rajapet, The Fashionista
I am not a person who religiously cares for her hair, but at the same time, I prefer keeping my hair long. I like to play with my hair, I bleach it, dye it, straighten it – it all depends on my mood! My carefree nature, when it comes to my hair, doesn't stem from my hair being healthy enough to all withstand all the chemical death that I put it through; rather, it is a product of my laziness.
I do not have enough patience to have a daily hair care regimen that will protect and nourish my hair, and that's why my hair often falls victim to dandruff and dryness. I have tried using multiple anti-dandruff shampoos, ranging from chemical ones to ones that are herbal. If there were any results, they were temporary.
The only thing that has worked for me so far is a mixture of olive oil and turmeric that I tried when I was desperate. I have known since I was a child that both these ingredients have many benefits for our body, skin, and hair. So I decided to give it a try, and it worked!
Steal My Beauty Secret
My usual method of use involves mixing 2 tbsp of olive oil with 1 tsp of turmeric and applying it to my hair and scalp. I leave it on for about half an hour and rinse it out with an herbal shampoo (you can use your usual shampoo).
Shirin Mehdi, The Yoga Junkie
They say beauty is skin deep! And yet, women fuss over their skin and hair and slog on for hours on end using various home remedies that do work, although they are time-consuming.
Being a writer, I am glued to my screen from Monday to Friday, and on the weekends, all I want to do is relax. That leaves me no time no time to pamper my skin and hair. Though I have never been the kind that cares much about my skin or hair, what I do worry about is detoxifying my body that will ultimately show its results on both my skin and hair.
Steal My Beauty Secret
About two years ago, a friend of mine recommended that we start doing the water therapy together. She wanted to do it and needed the motivation to keep the habit going. Water therapy requires you to drink a liter of water the first thing every morning, without brushing your teeth. You must then wait for an hour before you eat or drink anything else. The idea is that your mouth is full of good bacteria and acids, which benefit your body. So you put all these in your tummy where they can work wonders! Also, when you drink water on an empty stomach, it completely cleanses your system, especially your colons.
I drink that one liter of water every morning and follow it up with at least two more liters in the day. My system is cleansed, my skin remains clean and clear, and my hair is free of problems. Although I practice this therapy for better health, it is the only beauty regime I follow, and proudly advocate it to everyone around me.
Charushila Biswas, The Diet Diva
As a Bengali girl, I am blessed with naturally thick, black, and long hair. After moving out of Kolkata, the main problem that I faced was hair fall and dry hair. My hair problem was also accelerated by a protein-deficient diet. It was then that I started taking care of my precious inheritance. However, I keep my hair care routine simple.
Steal My Beauty Secret
 I heat up about 5-6 tablespoons of coconut oil and massage it onto the scalp and then on all of the hair. I leave it overnight, and then I wash it off in the morning. On Sundays, I apply an egg white mask. Egg whites do not smell and they are a wonderful natural hair conditioner. The egg white mask is so good that I don't even have to go for a hair spa! I do not style my hair often as that only makes my hair dry and frizzy. My hair is better than before now. What more can a girl want when her hair is complimented as an "ornament" (wink! wink!).
Jyotsana Rao, The Social Butterfly
Getting glowing and beautiful skin doesn't necessarily mean that we have to invest in expensive products every time. We can get equally satisfying results from the ingredients present in our kitchen.
Steal My Beauty Secret
Gram flour or besan is amongst my favorite beauty ingredients. I usually mix it with rose water until it becomes a smooth paste and apply it on my face and neck. After keeping the face pack for around 20 minutes, I wash my face with cool water in a circular motion and then pat dry my skin. I follow it up by applying a moisturizer.
I do this every day, and the combination of these two ingredients nourishes my skin and restores the oil balance.
Komal Kaviliga, The Makeup Maven
Almond oil is a recent discovery for me, and I can't rave enough about it. Ever since I've started using this oil, I've noticed a considerable difference in my hair. My hair is softer and silkier, and it feels so much healthier than before. I have an dry scalp, which means that it needs more moisture. Regular application solved this problem! Another huge plus – it works brilliantly for head massages. Whether you suffer from constant migraines like me, or you just want to de-stress and pamper yourself, a massage with almond oil will work wonders!
Steal My Beauty Secret
I don't have the time (or patience) to use it before every wash, but I do make it a point to apply it at least once a week, during the weekends. I would recommend that you use it before every hair wash. Also, try to leave it in overnight during the weekends. It really works!
Hiranmayee Bachu, The Hairstyle Pundit
Multani mitti or Fuller's Earth has always been my go-to skin care product. My skin tends to be very sensitive and allergic towards most products and fuller's earth has always been my safe bet. My skin is slightly oily, and thus, multani mitti helps in absorbing the excessive oil from it. It also prevents greasiness. It also helps in clearing blemishes and improving the texture of the skin. It is effective in getting rid of acne if applied on a regular basis.
Steal My Beauty Secret
I apply a paste of 2 tsp of multani mitti, 2 tsp rose water, and 1 tsp honey twice a week. Honey ensures that my skin doesn't dry up since multani mitti can be a bit drying. Rose water adds a touch of freshness and also acts as a natural toner. In addition to all this, multani mitti also helps me get rid of suntan and pigmentation. The multani mitti-honey-rose water regime makes my skin look fresh and supple, and also tightens the pores.
Tanya Choudhary, Connoisseur Of Fine Things
As the owner of super-sensitive skin, it gets really difficult for me to entrust flashy beauty products showcased on those attractive commercials. Anyhow, with minimum side-effects (only when you know the proper application method), natural ingredients have always been my first choice for my beloved (and very much prone to acne) skin. In this post, however, I would love to disclose my favorite beauty hack (shh…I'm sharing this secret with just you guys!). Curious? Okay, I'll drop some hints…..The basic necessity for all sweet lovers like me, which is blamed for making us all hyper and happy. Heh…heh…Yes, it's sugar!
Steal My Beauty Secret
I use this sweet thing in the form of a scrub. Looking for instant glowy skin? Want naturally rosy lips? Yes, sugar scrub is the answer for all your skin exfoliation needs. Just make sure to not to rub the crystals super harshly on the skin, or you can breakout. Mix 2 tbsp of sugar with 1 tsp coconut oil. Use this to scrub the skin, lips, feet…whatever! You can thank me later.
Ishani Karmakar, The Live Wire 
I have lots of bad habits…reading late into the night (What, it's dawn already?), eating junk (French Fries? OM NOM NOM), and not washing off my kajal before turning in for the night…a few days of these, and the skin under my eyes can make a raccoon jealous. Add to that my insane love for splashing about in chlorinated pools for hours in the name of swimming – and here it is! Perfectly dry, flaky skin.
Steal My Beauty Secret
So, I got this Aloe vera plant for my birthday (yes, my friends do that)…and one day, I just broke off a tiny part of it and smeared the gel on my face. After washing it off, my skin felt great! I started applying it after my every swim and guess what? My skin was back to what it was before I had started torturing it! Add to that my one good skin-friendly habit of drinking gallons of water every day, and I was skin-happy again. Do try this. Psst…when I travel, I carry one of those store-bought gels with me. I simply can't live without it now!
Much love, Team StyleCraze.

The following two tabs change content below.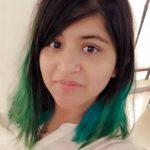 Latest posts by Ishani Karmakar (see all)