NYX nail polishes are one of the best quality polishes available for their price. Bright, bold shades in a variety of finishes and loads of glitters, it would be difficult to choose which ones you want. These polishes will look as if you just had a fresh manicure and pedicure form a professional salon. Their long lasting formula and extraordinary selection of colors fit your every mood and outfit to ensure that your nails dazzle all the time. The polishes come in quantities of 12 ml and 15 ml in a variety of pretty bottles.
The Best NYX nail polish colours
Here is a list of the top NYX girls nail polishes that will definitely make you want to rush to the nearest store to grab them all.
1.NYX Peach Avenue:
Peach Avenue is one of the first flakie polishes I have tried and I loved it to the T. It is a light peach tinted polish with irregular shaped flakes that shift from green to gold to orange. Looks beautiful when paired with a black or dark brown polish as you can see all the colors on a dark base. Three coats will give you the best effect.
2. NYX My Sunshine:
A must have color for summers, My Sunshine is a bright sunshine yellow in a creme finish. The yellow in it leans more towards mango, so anyone will be able to wear it without it looking tacky. Requires two coats.
3. NYX Royal Purple:
A truly royal color this one is. Royal Purple is a pretty purple polish with loads of fine blue shimmer in it. The combination of blue and purple simply looks awesome. Requires three coats for full opacity, but you can get away with two.
4. NYX Spotlight:
Spotlight is a clear polish with fine and chunky holographic hexagon glitters in it. A gorgeous polish, you can see its beauty when light hits it. Pair it over any polish you like to get your nails into the spotlight. Use as many coats as you want.
5. NYX Dark Glitter:
Two of my favorite colors, red and black, in one polish. Dark Glitter is a sheer black polish with fine and chunky red hexagon glitters in it. The polish looks really pretty on application and looks quite mysterious on nails. Wear two coats of it over a regular black polish to bring out the brightness of the polish or you will need three to four coats on its own.
6. NYX Sexy Plum:
This one is truly a sexy color. Sexy Plum is a reddish brown metallic polish with fine red shimmers in it. I love the dark and vampy look of it. Perfect to wear to a party. Requires two coats.
7. NYX Sunday Afternoon:
Sunday Afternoon is a really pretty silver polish packed with silver shimmers. The amount of shimmers makes it almost look like foil. Requires two coats.
8. NYX Boho:
Boho is a unique muted green color with silver and gold shimmers in it. A perfect green to wear, if you do not prefer the traditional grassy green colors. Requires two coats.
9. NYX Dark Beige:
This color simply reminds me of one thing : chocolate. Dark Beige is a light brown color in a creme finish which very much resembles melted chocolate. I am definitely going to get my hands on this one.
10. NYX Fire Amber:
You can never go wrong with reds. Fire Amber is a gorgeous dark metallic red with red shimmers in it. It almost looks like fire on nails. Another perfect polish to wear on a night out. Requires two coats.
Image source : 1 , 2 , 3 , 4 , 5 , 6

The following two tabs change content below.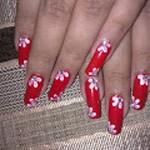 Latest posts by Neha Mane (see all)